There were medals galore in the inaugural Wagyu branded beef competition held as part of the Australian Wagyu Association's annual conference on the Gold Coast over the weekend.
More than 200 industry stakeholders attended the conference to hear presentations on a number of topics ranging from consumer perceptions of Wagyu beef to eating quality and the use of secondary cuts in the market place, and effective animal management practices in raising Wagyu cattle in Australia.
The wine industry's medals award system was applied in the breed's inaugural branded beef competition, where rather than awarding simple first-second-third placings, gold, silver and bronze medals were allocated on the basis of points score. This made it possible for more than one gold or silver medal in each category, for example.
Testament to the overall extreme high standard of eating quality and visual appearance among entries in all three categories, there were no less than five gold and five silver medals awarded among the 13 competition entries.
That's easily a record for this type of judging process in Australia. Compare the result with this year's Brisbane Show branded beef competition, where eight gold and silver medals were awarded, but across almost 30 entries – representing four grain and grassfed classes and a broad spectrum of breeds.
A total of 11 different Wagyu producing companies exhibited in the breed's first branded beef competition at last weekend's conference, some with entries in more than one class.
Judging was undertaken under strict taste panel testing protocols and stewardship of Meat Standards Australia, where each piece was assessed by a panel of respected beef judges. Points were allocated on the basis of visual assessment; as well as tenderness, juiciness, flavour and overall liking.
"This was a superb line up of Australia's leading brands who market Wagyu and Wagyu-infused beef throughout the world," the competition's chief judge, Russell Smith, told the gathering.
"I was very impressed in all of the entries and our panel of judges had an extremely difficult time in differentiating them in the competition," he said.
The competition consisted of three classes, for Fullblood Wagyu (100pc Japanese genetics, not bred-up from other breeds); Crossbred Wagyu (F1 to F4); and possibly for the first time in the world, grassfed Wagyu. A full list of medal winners is provided at the bottom of this page.
Cha Cha Char Wine Bar and grill Fullblood class:
Gold medals were awarded to the Australian Agricultural Co's Master Kobe fullblood brand, and Scott de Bruin's Mayura Station brand, produced out of South Australia.
Master Kobe is AA Co's flagship Wagyu beef brand, reserved for carcases exhibiting a marbling score of 9 or 9+, the highest possible under the AusMeat marbling score assessment.
Master Kobe is derived from Fullblood and purebred Wagyu cattle that have spent 500-plus days on a specialised Japanese-style ration. AA Co operates the largest full-blood Wagyu herd in Australia, and arguably the world, with more than 30,000 Wagyu and infused animals on feed at company-owned and controlled feedlots in Central Queensland and on the Darling Downs.
AA Co's general manager Wagyu and feedlots, Greg Gibbons, said the results were a strong reinforcement for the company's innovative breeding program, implemented eight years ago.
The winning Master Kobe product was bred from AA Co's 003 Tajima line, which was world-renowned for its superior meat quality, he said.
AA Co's beef group general manager Pat Dempsey said the company was proud to be recognised in the inaugural competition.
"The Wagyu Branded Beef competition not only provides a unique opportunity to showcase the very best Wagyu in Australia, but also raises the profile of the Australian Wagyu industry," he said.
"These awards are testament to the quality and usability of AA Co's products and reinforce the company's focus on quality, food safety and consistency throughout the entire supply chain."
"They also recognise the dedication of our people and innovation in our breeding, genetics, backgrounding and lotfeeding programs."
The latest result continues a strong sequence of results for Master Kobe, which last month was judged champion Wagyu/other breeds exhibit at the Sydney Royal Fine Food show in September, behind that competition's ultimate grand champion, another Fullblood Wagyu entry from Cabassi & Co.
Master Kobe also earned a gold medal and grand champion of show at the 2011 Royal Queensland Food and Wine Show and achieved a gold medal at the 2011 Sydney Royal Fine Food Show.
A Fullblood class gold medal for Mayura Station in this year's AWA branded beef competition is a fitting tribute to the de Bruin family's unique vertically-integrated Fullblood Wagyu breeding, feeding and marketing program based near Millicent on SA's Limestone Coast.
Mayura Station imported its first Fullblood Wagyu cattle from Japan in 1998 with a vision of producing and marketing highly consistent, premium quality Wagyu beef, drawing on the knowledge of experienced Japanese producers.
A herd of about 1100 Fullblood breeders are mostly AI-mated to high marbling performance Wagyu bulls on 3000ha property which also supports a specialised 600-head Wagyu feedlot, where cattle are fed 500 days-plus to optimise marbling expression.
A high degree of traceability and product integrity is assured by the unbroken sequence of supply chain control, from growing the feedlot's grain and forage requirements to breeding the feeder cattle, feeding them on-site, and marketing the cuts into high-end food service markets around the world.
In 2010, Mayura Station received a gold medal at the prestigious Delicious Produce Awards, following another gold medal at the 2009 Vogue Entertaining + Travel Produce Awards.
See a summary of the Mayura Station's Wagyu production system in an upcoming article on Beef Central.
Bovine Dynamics Crossbred Wagyu Class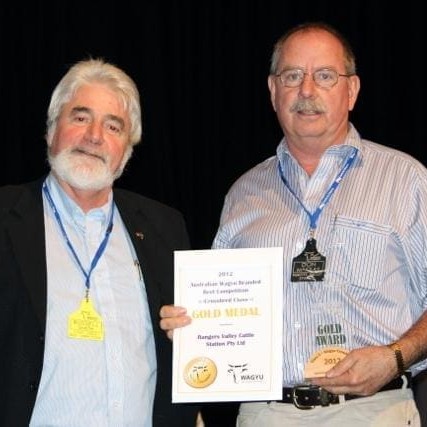 In the competition's largest class, three gold medals were awarded to Stockyard Beef, Rangers Valley and J.F. Warmoll and Co.
Rangers Valley owns and operates a 32,000 head feedlot near Glen Innes in the New England region of NSW, and currently produces a mix of high quality, niche products including an expanding crossbred Wagyu program.
Wagyu production had grown from very small numbers four years ago to about 7000 head today, managing director Don Mackay said. Rangers Valley Wagyu is now sold into 17 countries around the world.
"It's an important part of our business, so this competition was a great opportunity to gauge our beef against the country's best, as well as to showcase the high quality of Australian Wagyu," he said.
"It's a great achievement to be recognised by the judges, especially amongst such high quality competition. The recognition is also testament to the hard work and dedication of our staff."
Stockyard Beef has been one of the pioneers of crossbred Wagyu production in Australia, supplied in part by a novel contract breeding program involving dairy farmers, producing Wagyu x Holstein F1 calves. Holstein x Wagyu is the dominant form of F1 Wagyu production in Japan.
The company's Stockyard Black brand entry, producing a marbling score of 9, was out of an F1 program fed for a minimum 400-days, using Fullblood bull Excel Ichiryuno as semen donor. Stockyard Black is sold across the world, with a strong presence in the Middle East and North and South Asia.
David Wormoll's Australian Certified Wagyu Beef Pty Ltd/Jack's Creek Wagyu business is a vertically integrated enterprise concentrating on Tajima Wagyu bloodlines. The company breeds, grows, feeds, processes and markets Wagyu crossbred beef across the world.
Hughes Pastoral grassfed Wagyu class
The Hammond brothers, Keith and John, who recently launched their Robbins Island grassfed Wagyu brand to great acclaim, earned one of two Silver Medals awarded in the grassfed class.
The other went to Goorambat Wagyu, operated by Dom and Jo-Anne Bayard in the Benalla district of northern Victoria.
Full results:
The Cha Cha Char Wine Bar and Grill – Wagyu Fullblood Class
Gold Medals: Australian Agricultural Company; Mayura Station
Silver Medals: Moyhu Wagyu; Cabassi and Co.
The Bovine Dynamics Wagyu Cross Bred Class
Gold Medals: Stockyard Beef; Rangers Valley; J.F. Warmoll and Co.
Silver Medal: Australian Agricultural Co.
Bronze Medal: Andrews Meat Industries.
Hughes Pastoral grassfed Class
Silver Medals: Hammond Beef; Goorambat Wagyu