AFTER a somewhat quieter shipment period in April following the impact of earlier rain on cattle supply, Australia's beef exports during May have shot up again, reaching another all-time monthly record of more than 108,000 tonnes.
The result is not unexpected, given the sequence of enormous Eastern States weekly kill figures that have been produced for the past four weeks. Click here to view last week's Beef Central seven-day kill report on the subject.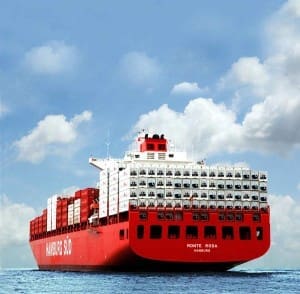 With just the month of June left to contribute to the tally, Australia looks set to absolutely smash its previous fiscal year beef export record.
The full previous fiscal year (2012-13) produced a beef export volume of 1.014 million tonnes, but with a month's trading left to go, this current fiscal year is already within 65,000 tonnes of that record, suggesting it should be exceeded by somewhere around 30,000 to 35,000 tonnes by June 30.
With the heavy direct consignment booking pressure that all export processors are currently experiencing, any monthly export volume for June below 100,000 tonnes would come as an enormous surprise, barring widespread rain.
Ironically, last month's record beef export shipment tally of 108,126 tonnes came despite a sharp drop in exports to China, reasons for which are explained in more detail below.
The May record as almost 11,000t above export trade the previous month, and close to 5000t better than May last year, by which time Australia's big kills were in full swing.
Calendar year-to-date figures give an equally strong impression of the depth of the current cattle turnoff cycle. January-May this year has produced exports of a little over 481,000t. The same period a year earlier saw tonnages almost 70,000t, or 15 percent behind that.
It's a reflection of the relentless drought-driven surge in beef slaughter over the past 16 months, which has seen eight consecutive in-month shipment records broken, on top of the overall 2013 export beef tally which hit 1.1 million tonnes.
US recovery continues
Export performance highlights during May included continued strong recovery in trade to the US and Japan, and solid growth in emerging markets like Indonesia and the Middle East.
The US accounted for just over 31,000 tonnes of Australian beef in May – the highest monthly figure seen since November 2008, and a spectacular 20pc rise over the previous month (25,000t). This time last year, the US took less than 20,000t, representing a 55pc rise, year-on-year.
Fiscal year to date, the US has now taken 236,000t of Australian beef, a 14pc rise year-on-year. Calendar year to date the rise is 124,000t, up 48pc, or almost 40,000t.
The reasons have been widely discussed in earlier Beef Central articles like this one, with the US hitting record-high domestic cattle and beef prices due to domestic beef herd reduction to 50-year lows.
Whereas the US for most of last year was being out-gunned on Australian grinding beef exports by other markets, leading to shipment volume lows not seen since the 1980s, currency movements and domestic shortages have seen the US step-up with more aggressive pricing on Australian product this year.
The May result means the US has surpassed Japan as Australia's largest market, by volume, for the fourth month in a row – a sequence that hasn't happened since 2004. Given the expectation of sustained demand from the US this year, shipments are likely to remain high for the coming months, analysts suggest.
Japan strengthens
Australia's beef trade with Japan during May reached 26,245 tonnes – a 26pc increase over April, partly driven by demand out of the Golden Week holiday period, but still well short of May last year, when exports topped 30,300t for the month.
Fiscal year-to-date, Japan has taken 254,000t, a concerning 15pc or 45,000 tonnes below the same period last year. The biggest factor is recent growth in imports from the US, particularly single cuts like shortplate and rib-meat that the US can supply in abundance.
China demand impacted by trade access tensions
There was a big check in Australian exports into China in May, with volumes falling to 8427 tonnes – contrasting sharply with exports of almost 14,000t the previous month, and 11,500t this time last year.
The reason? There has been nil drop in demand from Chinese food service and retail customers. Instead, the correction was entirely linked to uncertainty surrounding Australian exports, in the wake of China's reaffirmation of its policy on the use of HGPs in beef imports. The issue was discussed in detail in this earlier Beef Central article.
Exporters eligible for China remain on tenterhooks, as it is felt that any residue detection above allowable limits for synthetic (zero MRL) or natural (no higher than naturally occurring oestrogen) in the next month or two could add further setbacks for trade with China.
Noteworthy is the fact that 100pc of exports to China in May were in frozen form, following the earlier ban on chilled trade. This time last year, chilled represented about 17pc of all exports. Exporters remain hopeful of an agreement being reached over the resumption of chilled trade.
Another point worth noting is that 30pc of all exports to China in May were in carcase form, providing work for Chinese boning rooms set up earlier, which have since struggled to find local domestic beef on which to base their business.
Fiscal year-to-date China has now taken 152,000t of Australian beef, up 65pc from 92,000t for the same period a year ago.
Korea steady
South Korea took 12,500t of beef in May, not greatly changed from April and almost identical to this time last year.
Fiscal year-to-date, exports have totalled 143,000t, up about 5000t on the corresponding period last year, partly because currency movements have meant Australian beef is more competitive against US imports.
The result comes despite an increasingly onerous tariff on Australian beef imports since January 1, relative to our US export competitors operating under the US/Korea Free Trade Deal. The tariff difference being paid by Australia and the US now stands at more than 8pc, and will continue at that level, at least until Australia's own FTA with Korea is fully-ratified by both governments.
European Union, Russia
Exports to the EU member nations last month reached 2100t, up about 100t on April, and this time last year.
Fiscal year to date, the EU has taken 20,266t, about 3000t or 17pc on the same period a year earlier, as the expanding grainfed opportunity gains momentum.
Russia's suspension of Australian chilled and frozen beef in early April over alleged trenbolone growth promotant breaches meant there were zero exports recorded in May, on top of just 300 tonnes in April before the closure was enforced. Russia had been an important market for Australian beef previously, taking more than 24,000t for the 12 months ended June 2013 and 20,000t in the current fiscal year to the end of May.
Australia has been a traditional beef exporter to Russia since the 1970s and has had an impeccable record over more than four decades of meeting Russian market requirements at the time.
Indonesia stronger
After two years of being plagued with trade barriers associated with the country's politically-driven push for self-sufficiency in beef, Indonesia is re-emerging as a more significant customer for Australian beef.
Shipments in May reached 6029t, a 25pc rise over April, and approaching double where they sat this time a year ago. Fiscal year to date, Indonesia has accounted for 47,700t of mostly frozen beef. For the same period a year ago, exports were around 25,800t, an 84pc rise year on year.
It's the best performance seen since 2006-7, when exports peaked at about 70,000t.
In other Asian markets, Taiwan took 4300t in May, close to double the April figure; while the Philippines accounted for 2100t, back about 600t on April.
Middle East solid performer
The Middle East region continues to be a strong export success story for Australian beef, taking 6298t last month, up another 7pc on April and 4pc on this time last year.
Fiscal year to date, the Middle East region has taken 57,000t of Australian beef, up 34pc from a year ago.