RETAIL packs of beef have been sold through up-market pub bottle shop drive-throughs in the past, so it makes considerable sense for the nation's largest specialist retailer of barbecues and barbecuing accoutrement to offer customers a range of succulent steaks, juicy chops and briskets for slow-cooking.
With COVID driving many red meat lovers out of restaurants and hotels due to closures and trading limitations, big national retailers like Barbecues Galore have been doing a roaring trade this year in equipment upgrades for home barbecuing.
And this week, red meat processor JBS Australia has announced a partnership with the outdoor cooking equipment retailer, launching a trial offering a range of Riverina Angus beef, Great Southern lamb and Seven Point Pork products at three Barbeques Galore stores in Queensland.
Barbecues Galore has almost 90 large retail outlets across all Australian capital cities, and many larger regional centres.
For the past eight weeks, stores at Jindalee, Bundall, and Everton Park in Brisbane have stocked a range of seven lines of JBS product, suiting customers' needs from 'Fast-and-Hot', to Low-and-Slow'.
JBS marketing manager Brad De Luca said his team had been working closely with Barbeques Galore to complement its wide range of barbecues and equipment with a quality meat offering.
"Our team worked to develop this initiative in the hope of developing a new sales channel for our branded meat products, while also enhancing the customer experience of Barbeques Galore customers," Mr De Luca said.
"The partnership means the stores become a one-stop BBQ shop. Barbeques Galore provides the BBQ and BBQ essentials that allow customers to have a complete outdoor experience, and we provide the delicious, high quality beef, lamb and pork for customers to enjoy."
JBS Australia is in a unique position to supply Barbeques Galore with a full range of branded meat products across the entire quality spectrum.
"As a single business, JBS has the range to supply beef, lamb and pork products to fit with the needs of Barbeques Galore, and the scale needed to roll this out post trial to the national footprint of Barbeques Galore," Mr De Luca said.
Inside Barbecues Galore's Everton Park concept store is a large demonstration area known as "The Steakhouse", where employees can prepare demonstration meals for customers, now using the JBS Australia products.
"We're excited to be a part of this new path in retail. The trial period will also give us the opportunity to develop and refine the offerings available to retail customers," Mr De Luca said.
Barbeques Galore chief executive Angus McDonald underlined his company's aim to extend its connection with customers, and give them a truly unique experience.
"As we continue to refresh our stores and brand, we have started to introduce new formats
with an enhanced customer experience and extended range. Pairing Australia's best barbeques with high quality Australian meat is a partnership that simply made sense," he said.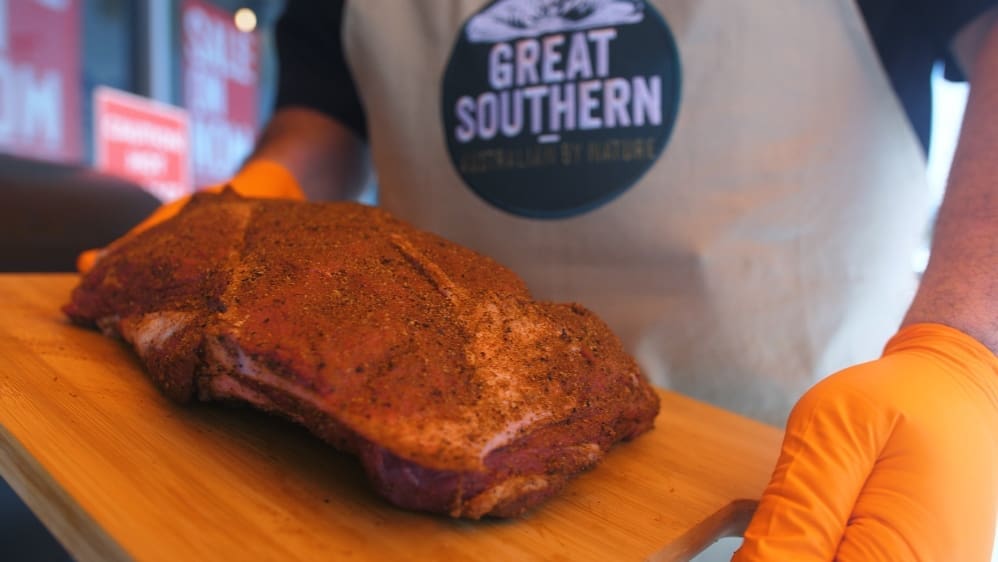 Source: JBS