AFTER years of negotiation, the Indonesia-Australia Comprehensive Economic Partnership Agreement (IA-CEPA) has passed its final hurdle, after the agreement was ratified by the Indonesian Parliament last Thursday.
Indonesian President Joko Widodo has arrived in Canberra to sign the trade agreement with Prime Minister Scott Morrison this week, and will deliver a speech to parliament today.
The Australian parliament ratified the deal in November 2019.
"My visit to Australia this time marks a new beginning of a new era in the Indonesia- Australia relations and a plan of action to implement a comprehensive strategy partnership for 2020-2024 has been completed," President Widodo said.
Both countries have also agreed to a 100 day action plan for the implementation of IA-CEPA.
Indonesia is a vitally important trading partner for Australia's cattle and beef industry, with exports of live cattle and processed beef worth over $1 billion annually.
Key benefits to the Australian beef and live export industries from the agreement include:
A quota (with a 0pc in-quota tariff) for 575,000 head of live male cattle – which will grow by 4pc per annum over five years to 700,000 head.
Live cattle Import permits will be issued automatically on an annual basis and without seasonal restrictions.
A review of the live expot trade will be conducted after five years to consider future increases in the quota, above 700,000 head.
Liberalised access for female live cattle exported to Indonesia, with 0pc tariff on entry into force of the agreement and no quota or import permit restrictions.
Immediate or gradual liberalisation of tariffs applicable to boxed beef and sheepmeat exports to Indonesia – whereby those tariff lines not already benefiting from 0pc tariffs secured under AANZFTA, will benefit from either a 0pc or 2.5pc tariff on EIF (down from 5pc) with the tariffs being eliminated altogether over five years; and
Similar advantages will be extended to frozen offals, with the 5pc tariff eliminated on entry into force of the agreement.
The new trade deal would benefit the sector in several ways red meat industry leaders told a Senate Committee hearing in September last year.
Chair of MLA's Indonesia market access task force David Foote said provisions within the IA-CEPA would be vital in overcoming the "stop-start nature" of issuing permits that have hindered trade for both countries.
"Part of IA-CEPA is to issue 12-month quota permits, which will provide significant surety to the process that hasn't been there since those awful days of 2011 (when the Australian Government suspended live cattle exports to Indonesia),"
The National Farmers' Federation said the agreement represents a huge win for Australian farmers as well as consumers in both countries.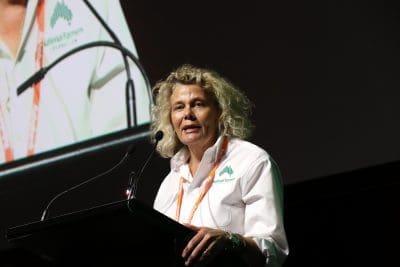 President Fiona Simson said the importance of the Indonesian market could not be overstated.
"Food consumption in Indonesia is predicted to have quadrupled by 2050.
"This agreement provides cattle, beef, grains, sheep meat, dairy, sugar, horticulture and a range of other commodities with significant new export opportunities.
"We would like to express our sincere gratitude to the Australian Government, and particularly to Trade Minister, Simon Birmingham, who has continued to work with his Indonesian counterpart to ensure this agreement came to fruition.
"After years of hard work, the Australian Government has achieved a deal which will materially strengthen our trade relationship with a critically important neighbour.
"As an industry which derives 70 per cent of its earnings from exports, ambitious free trade agreements like IA-CEPA are absolutely key to the strength of our sector" Ms Simson said.
"One of the key goals of the NFF's 2030 Roadmap – our blueprint for growing the industry to $100 billion over the next 10 years – is lowering the average tariff faced by agricultural exports to 5 per cent. The deal with Indonesia puts us one step closer to achieving this goal.
"With many Australian farmers are doing it tough at the moment, this deal provides a welcome morale boost," Ms Simson said.