ENCOURAGING statistics are emerging suggesting the food service sector (hotels, restaurants, cafés and catering) is getting back on its feet after COVID-19 closures.
Both in Australia and internationally, enjoying a nice steak in a restaurant is again becoming more common, as eating-out slowly re-emerges from closures and distancing measures forced by pandemic control.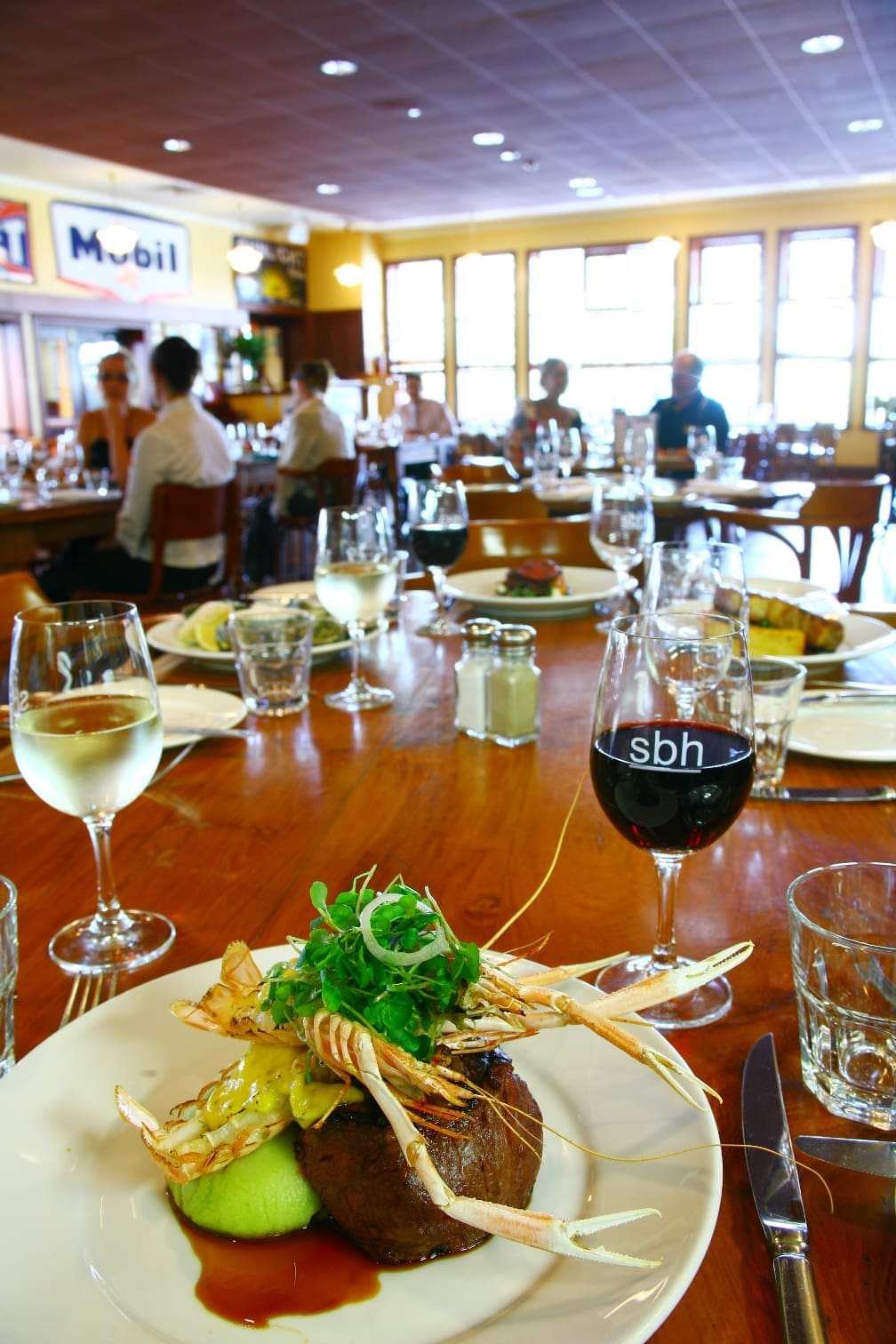 Red meat wholesalers and exporters told Beef Central yesterday that while food service trade within Australia was definitely picking up, inquiry among food service customers overseas was 'patchy' at best.
"Those Australian food service customers that are re-activating are very selective," one large wholesaler with a multi-state network said.
"It's very evident that food service customers currently do not want to hold too much stock, concerned about the prospect of a second wave of COVID-19 restrictions. Nobody wants to get caught with product they cannot use, if lock-downs happen a second time."
"A guy who might have bought three pallets of beef prior to COVID is now asking for a single pallet, made up of mixed items. That 'just-in-time' approach for a variety of small volume items is proving difficult, because there is not much meat in the market, at present, with reduced kills across eastern Australia."
A wholesale contact spoken to yesterday said his beef trade with Australian food service customers was now at 50 percent of pre-COVID levels – perhaps slightly less – while another trader put the figure at 'well above 50pc."
"While a lot more venues are now open for business again, the distancing restrictions for patrons mean that their red meat turnover is still well down on normal trade," he said.
He said there was still a fair quantity of product that had been frozen-down during the depths of the COVID closures that still had to 'filter through' the system. Some of it, especially portion-cut items, may be tempered, and sold as chilled, he said.
Food service customers returning
The Open Table online restaurant booking app compiles enormous amounts of data on customer bookings at restaurants and other eating outlets across Australia, the US and other parts of the world. More than 60,000 restaurants use the service to engage with their customers.
In a recent update, it suggested that close to 100 percent of Australian restaurants and cafes using the service were now taking reservations, as at week ending 17 June. That's up from just 50pc three weeks earlier. In the US last week, almost 60pc of restaurants were taking bookings, up from 30pc three weeks earlier. UK restaurant bookings remained very low, below 10pc of normal activity.
The number of seated diners sourced from online reservations, phone reservations and 'walk-ins' also continues to grow.
The Open Table data shows that in Australia, diner numbers are now less than 20pc below pre-COVID levels, after being -100pc for long periods in March and April. In the US, the figure remains high at -70pc, but showing signs of improvement. Monday and Tuesday this week (22/23 June) showed a slight rise, as new infection outbreaks occurred in Victoria and NSW.
Seated diners at restaurants are at 58.5pc of pre-COVID levels, globally, and 57pc in the US, compared with this time last year.
Shift in loin cuts
Typically, higher-value loin cuts are destined for food service customers, and with many major international markets experiencing shifts in foodservice demand in the wake of COVID-19, the distribution between export destinations for loin items has seen some significant shifts in recent months.
The COVID-19 induced drop in US domestic production has seen Australian beef exports to the US jump in recent months to help supply the market. Loin cuts were no exception, reaching 1300 tonnes in May, the highest level seen since 2015 (a time of elevated herd numbers and turnoff in Australia).
Similar to many markets, the US has seen a significant spike in retail demand and Australia, as a leading grassfed supplier to the retail channel, has benefited from this, MLA says. Australian grassfed loin cuts to the US market reached almost 5000t last month, growing 23pc year-on-year and representing 26pc of total grassfed loin exports.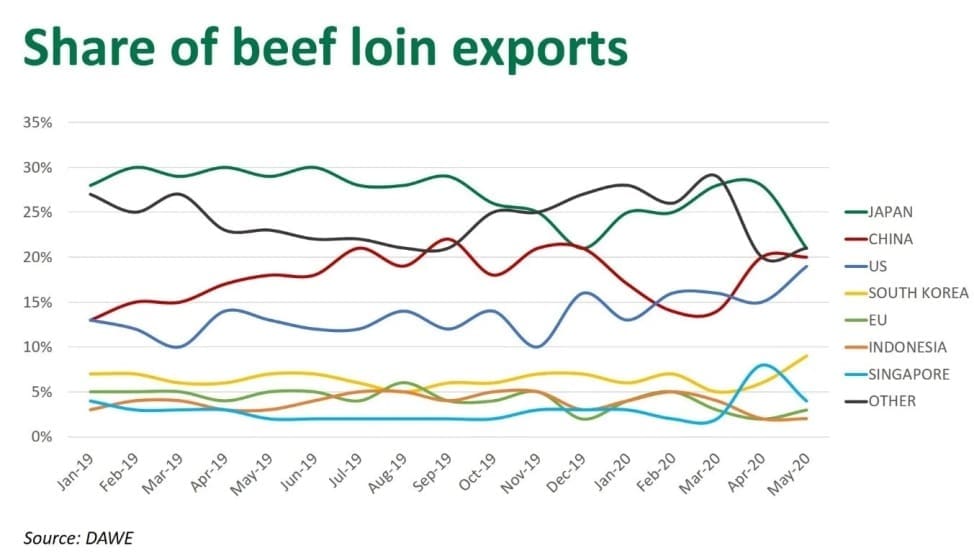 Japan
Although food service demand in the Japanese market has been subdued, improved retail performance has seen total beef exports remain stable for the year-to-date. Loin cuts have experienced a decline in recent months, affected by tight grassfed supply, however, this has been partially offset by grainfed volumes, which are firm year-on-year.
Korea
In the early months after the outbreak of COVID-19 in Korea, despite restaurants and other venues remaining open, the foodservice sector saw large decreases in sales. As the country continues to navigate the situation and new clusters of infections, many consumers still have a preference for eating at home rather than dining out with a group of people. This means that although food service has seen some increases in demand recently, it is still below pre-COVID-19 levels. In contrast, retail demand has been strong, and with recent further support by government relief funds, this is encouraging consumers to purchase from small and medium-sized businesses.
China
Demand for beef in China has remained firm this year, despite COVID-19 pressures. Consumers have been 'upgrading' their retail purchases as they seek products that boost their health and immunity, as well as relying more heavily on online channels for purchases.
There has also been a strong increase in Chinese consumers' preference for chilled product, associated with quality, taste, freshness and convenience. So far in 2020, chilled loin cuts to China have tracked above year-ago levels, almost doubling, albeit off a low base. This could be supported by consumers trying new recipes and cuisines including western style dishes, which call for different cuts to Chinese cuisine, while cooking more often at home.