Flatness in consumer demand for beef in the US is contributing to softer than expected imported grinding beef prices so far in 2013, indications suggest.
Commenting in Friday's US Cattle Buyers' Weekly, publisher Steve Kay says the demand side of the US beef market continues to trump once-tight live cattle supplies.
"Overly bullish expectations about live cattle prices are giving way to the reality of struggling beef sales," he said.
Analyst Andrew Gottschalk, from HedgersEdge.com told CBW that product sales at retail remained stagnant and disappointing.
"Despite the happy face that the press and the government are trying to present (regarding positive signs about the state of the US economy), the reality is that consumers are not purchasing. Retail is experiencing not only fewer sales but less customer interest. Foot traffic is down generally across the board," Mr Gottschalk said.
The slowdown was being seen across all US food sales, and not just beef however.
"People will still eat, so what are they consuming? Restaurant sales are slowing and protein items in particular are slow at retail. Chicken is holding its own but when that is the best trend and it is for the lowest priced item, concern is pre-eminent," he said.
Friday's weekly report on imported beef into the US market prepared by Steiner Consulting suggested imported beef traded 'sideways' last week, on light volume from Australia but higher supplies becoming available from New Zealand suppliers.
CIF values for lean and extra lean product eased a little from the previous week, but this was mostly due to more NZ beef trading at price points as much as 5c/lb lower than Australia.
US business was described as mediocre, with foodservice demand only fair and retail business struggling after major snow storms impacted business in major US East Coast population areas.
Currency impact
"The price of 90CL imported beef in the US has moved higher in recent years, in part due to the lack of supplies coming from traditional suppliers like Australia," Friday's Steiner Consulting report said.
"Monthly shipments of 90CL beef to the US market in 2007 averaged a little over 8000 tonnes a month. Supplies then declined dramatically in 2010 and 2011, in part because of the strong currency but also because sharply higher cattle values and herd rebuilding in Australia made it more difficult to ship product to the US profitably," the report said.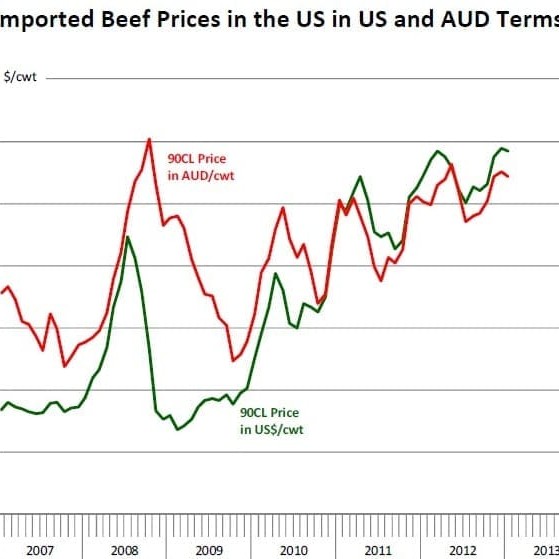 As can be seen in this graph, in A$ currency terms, the price of imported beef in the US in 2007 averaged about A$160/cwt (FOB US East coast). In 2011, the price averaged A$190/cwt, an 18.7pc increase.
The price of cattle in Australia in 2007 (EYCI), however, was 317c/kg but had jumped to near 400 c/kg in 2011, a 26pc increase.
"Australian cattle prices pulled back in 2012 and combined with strong prices for US 90CL beef in the US, it pushed more 90CL beef to the US market. For all of 2012, monthly shipments of 90CL from Australia averaged about 5000t per month, compared to 3350t /month in 2011," Steiner said.
"Cattle prices in Australia have pulled back recently and increased supplies should allow for more 90CL beef from Australia to come to the US market. Still, prices for grinding beef are higher across a number of export markets, and US will continue to pay higher prices in order to lure more supplies away from other destinations."