Independent retail butchers from five states shared in the glory during the 2014 National Finals of the Australian Meat Industry Council's ever-popular Sausage Kings competition, which was judged in the NSW Hunter Valley over the weekend.
Finalists from six Australian states competing in beef, lamb, pork, continental, gourmet and poultry divisions were drawn together for Saturday's National final, after earning the right to represent their states in earlier regional and state-final competitions.
Each entry is judged on presentation in pre-pack form, composition, raw and cooked appearance and finally, eating qualities including flavour, juiciness and texture.
Among the big winners on Saturday was Anthony Skara from Skara Smallgoods, Mt Barker, in South Australia's Adelaide Hills, who won the traditional beef category national final.
The artisan smallgoods manufacturer has diversified, opening two retail butcher shops in the past six months, and the win would greatly help underpin the retail business's standing with consumers, Anthony said.
Most of Skara's beef supply is sourced direct from local producers and Murray Grey cattle out of Kangaroo Island, as is pork, lamb and other proteins. In 2012, Skara Smallgoods became the first smallgoods manufacturer in Australia to become accredited under the Humane Choice accreditation program.
Anthony said although his business produced a second in last year's SA Sausage Kings state final, he was surprised to come up with a National crown so soon after opening the retail side of the business.
"We know we have a very good product, but there were some very strong competitors in each category," he said.
He said the secret to a prize-winning fresh sausage was quality raw ingredients, 'taking pride in what you do,' and having a passion and flair for food, generally. "There's a bit of science, too, behind producing a good fresh sausage," he said.
Other national division winners (full list of placegetters in six categories accessible at base of page) included:
Gourmet: Nathan Alcock from Mountainside Meats, Shoalhaven Heads (NSW)
Traditional Pork: Rob Glenny, Master Meats, Warana (Qld)
Continental: Pierre Mastromanno, The Steak & Wine Co, Highett (Vic)
Australian lamb: Jade Thompson, Pittsworth Meats, Pittsworth (Qld)
Poultry: Gary Leeson, Ocean Shores Quality Meats, Ocean Shores (NSW).
Everybody's sentimental favourite was young butchery apprentice Jade Thompson, from Pittsworth Meats, who won the Australian lamb category for the business, against seasoned veterans. Jade appeared on this morning's Channel 9 Today show with hosts Karl and Lisa, making sausages alongside MLA executive butcher Doug Piper.
Named National Apprentice of the Year during the awards dinner was Kyla Howard from Mondo's Butchers, Inglewood, WA.
Judge's impressions:
One of this year's National Finals judges was celebrity butcher, Anthony Puharich, from Victor Churchill's in Sydney, who judged three categories for traditional beef, lamb and continental.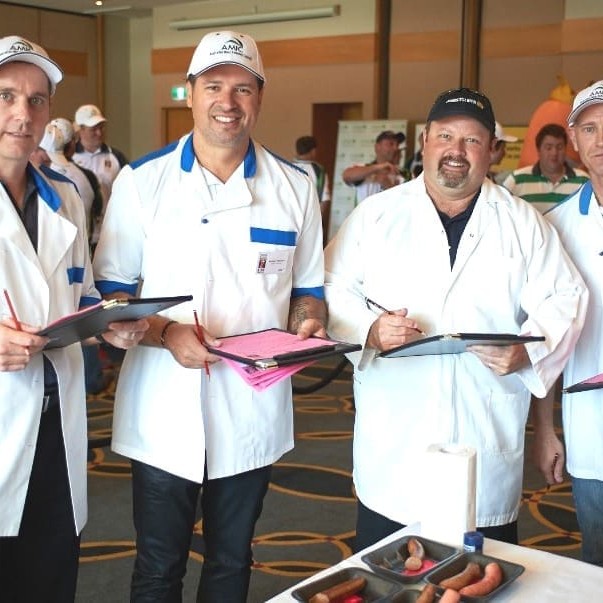 "Entries in all three were outstanding, but I was incredibly impressed with the standard of the sausages in the continental category," Mr Puharich said. "There were barely three or four points between each of the six state representatives – incredibly competitive."
"At a local regional level and state level, I'm sure there would be a lot more variance, but there was virtually nothing separating these entries at the national final."
Mr Puharich said competitions like Sausage Kings without question helped elevate the sausage out of the 'budget' end of the butcher's meat-case offer – perhaps an option to go for if nothing else appealed to the customer – into something more special.
"That's not to say that there is no longer a place for a keenly-priced basic sausage in the marketplace, but good butchers now are doing so much more with them," he said.
"There's no question that the quality of sausages has lifted substantially over the past five or six years – they've improved exponentially. Consumers now need to consider a really good sausage no differently than buying a piece of good muscle meat, and be prepared to pay for it."
"For example good natural casings aren't cheap – they can set a butcher back anywhere from $1.50 and $1.80/kg alone, and then you throw in good ingredients, labour and other inputs. I don't mind saying our sausages at Victor Churchill retail for more than $30/kg, which reflects what goes into them – a really good product produced with integrity and real workmanship."
"Making a good sausage is a specialised art. Our sausage maker, Romeo, was trained as a charcutier/boucher in France, and brings a lot of specialised skills to the process. Consumers should not be frightened about paying good money for a good quality sausage," Mr Puharich said.
Click here to view full list of winners and placegetters from your state, in all six divisions.