GLOBAL beef prices remained strong in the first quarter 2018 with increased global export supply expected throughout the rest of this year.
As Beef Central published earlier, 2018 is shaping up as an all-time record year for international beef trade volume, with large growth being seen in exports out of the US, various South American countries, and India.
The current global situation, analyst Simon Quilty believes, is due to a 'demand' driven market, as opposed to four years ago in 2014 which was a supply driven market. All current indications show that present international beef demand is strong, and at least for the balance of this year, likely to continue.
The challenge is trying to determine how sustainable these global prices are beyond 2018, and for what length of time, given global beef supply is likely to increase for the next 4-5 years.
As highlighted below in this report, 55 percent of all global exports now go to Asia, of which Greater Mainland China is the largest single market. The growing middle class is critical to maintaining demand throughout Asia.
There has been lots of discussion about the strength of global pricing and much anecdotal evidence to support it. The purpose of Mr Quilty's report is to measure this price strength and to try to understand what is driving it. Following reports in this series will look at how sustainable the increase in global demand is, and whether pricing is likely to continue to rise beyond 2018.
Mr Quilty's analysis suggests global beef prices on average are 6pc higher for first quarter of 2018, compared to the same period last year.
Super Demand Cycles (see this earlier Simon Quilty report on this topic) in the past have lasted only two years, but this current cycle may continue on into next year and beyond.
Points to note in this report:
Global export volume was up 4.5pc for Q1 2018 compared to the same period in 2017 – so not only are prices higher, but so is volume, which points to strong global demand.
Last year Greater Mainland China (China, Vietnam and Hong Kong) was the single largest buyer of beef globally taking 31pc of total exports.
Continued strength is expected in Q2 of 2018 due to the Northern summer demand. I believe due to poor weather in Q1, this has seen this traditional Northern hemisphere summer demand period delayed by four weeks.
Strong global demand is expected to continue in 2018 with Asia being the demand engine-room and the continued growth of the middle-class.
Australia lags behind the US in global meat prices – in 2017 this could be in part due to the temporary bans placed on six Australian meat plants into China, as well as the makeup of export items from each country, with Australia's exports including a greater proportion of trim/manufacturing meat as part of the export mix.
Note – the Q1 6pc higher global price figure I derived is from total exports and values across the four main export countries – US, Brazil, India and Australia. The metrics of these four countries are the basis of my analysis, because these are the largest export countries whose trends I believe reflect all global exports. I refer to the combined volume of these four countries as 'global exports' in this report.
Global beef export supply continues to grow and so do prices
Both global beef export supply and pricing increased in 2017 compared to 2016 by 24pc and 4pc respectively, and Q1 2018 is starting in the same vein with prices 6pc higher YOY and supply up 4.5pc.
Points to note:
The volume increase is driven mainly by India and Brazil
India traditionally has larger export volumes in the back half of the year, and last year Brazil exports were backlogged due to the meat scandal in March 2017 which also saw higher shipments occur in the back half of the year on the back of pent-up supply.
In 2014 beef export volumes and price increased though the year – Q1 export volumes were comparable to this year.
In 2017 Greater Mainland China (China+Vietnam+HK) was the single largest buyer of beef globally taking 31pc of total exports from Australia, US, Brazil and India both directly and via the grey channels.
Greater Mainland China in 2017 received 21pc of imports directly and 79pc via the grey channels – this ratio has changed since 2016 which saw 25pc come directly and 75pc via the grey channel.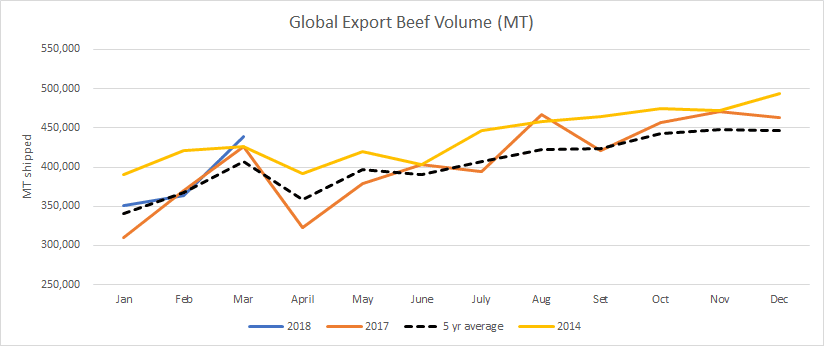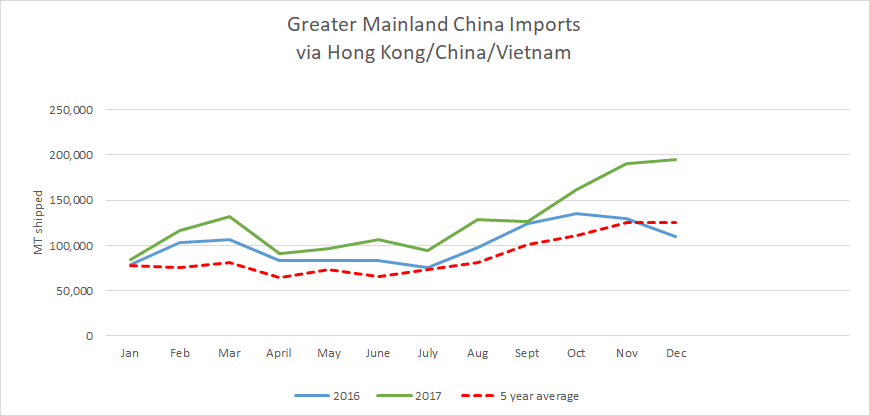 2014 is a comparable year but driven by different fundamentals
In 2014, global exports began the year similar to this year with a large Q1 volume. As the graph above highlights, export volumes continued to grow throughout 2014 and at the same time prices also rose 20pc by October that year. This market to me was a supply driven market, whereby tightness of beef supply in key supply and demand countries resulted in this dramatic price rise.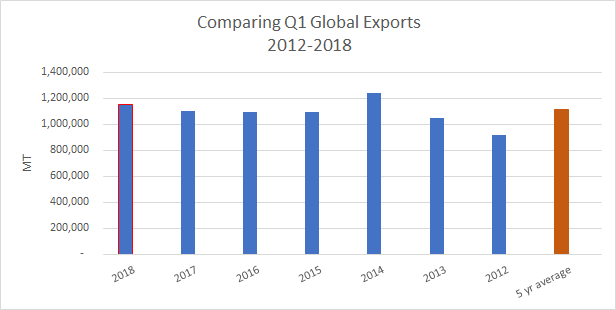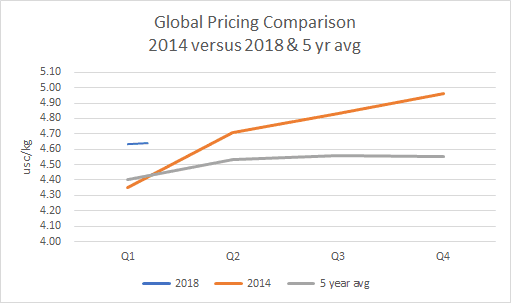 As stated the circumstances in 2014 was a result of a supply driven market.
Points to note:
The ability of global export supply growing and prices improving in 2014 was I believe attributed to falling herd sizes in key demand countries
Falling herd sizes in Foot & Mouth disease-free  supply countries such as Australia and the US saw a tightness in supply at the 'high value end' of global beef supply.
Overall supply increased that year but this was driven more by the 'lower price end' of supply whereby India's and Brazil's supply increased that year especially in the last half the year which increased by 17pc YOY.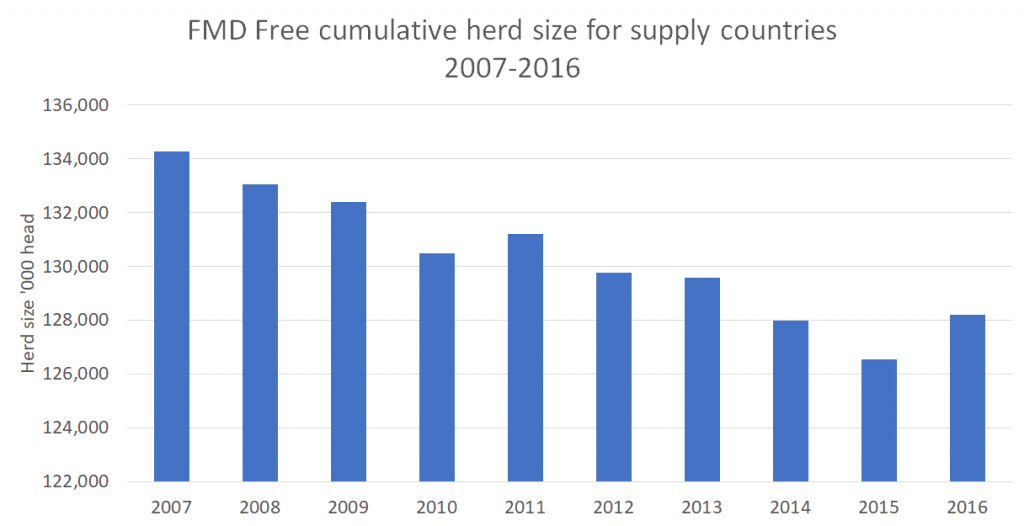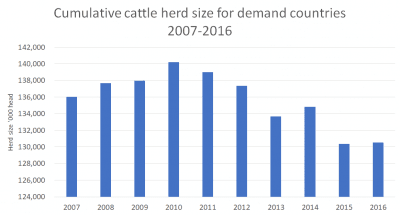 Today's market is demand driven
Today's global market I believe is demand-driven, with the growth in the middle-class driving this trend, and in particular the Asian middle-class is the engine room.
Research work done by the Brookings Institute estimated that currently 140 million people enter the middle class each year and that within five years, this will be 170 million people annually. The research highlighted that 88pc of the next billion middle-class entrants will live in Asia, made up of the following; 380m Indians, 350m Chinese and 210m other Asians.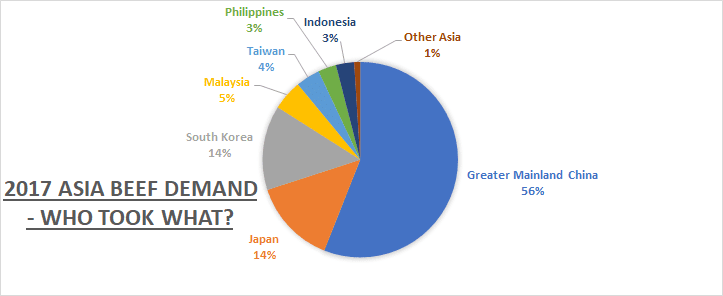 Points to note:
The pie chart above identifies Greater Mainland China (Vietnam, China & Hong Kong) as by far the largest importer of beef with 56pc of Asian market share followed by Japan and Korea which account for 14pc each, and the balance of 15pc is shared by Malaysia, Taiwan, Philippines and Indonesia.
China is currently the main driver of beef, pork and chicken demand with 2017 being a record year for Greater Mainland China imports with just over 1.5m tonnes of beef imported and as the chart below shows, the quantity of beef imports has doubled since 2012.
Australia aside, cattle herd sizes have grown globally since 2015, with global beef cow stocks today 10 million head higher at 210.3m head (source USDA). Therefore the increase in pricing that has occurred in recent years is even more impressive, knowing that global herd size is growing.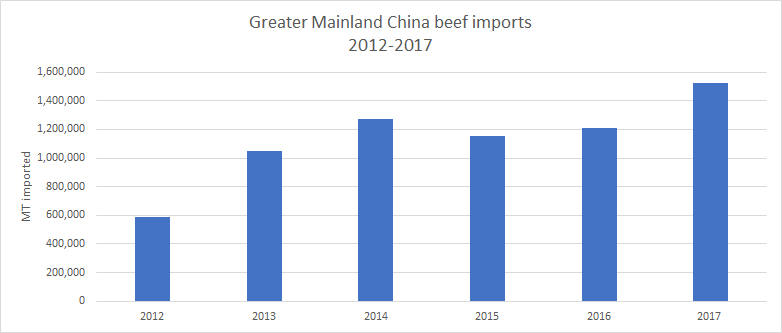 Recent price movements – US and Australian pricing
US export beef prices seem to be continuing to strengthen in February and March with all indications that April will be as strong if not stronger in pricing as buying for the Northern summer gets underway.
Points to note:
During the August to February period, US prices flat-lined. I believe the main reason for this was the impact of the Snapback (Safeguard) tariff in Japan, which was introduced in early September and saw tariffs on US beef into Japan (US's largest export market) increase from 38.5pc duty to 50pc – this was lifted after March 31, and the March pricing below reflects the reduction in tariffs and an increase in pricing as Japan importers pre-empted the reduction in tariffs and increase US imports.
Australian price levels seem to have dropped in comparison to US beef price levels since August last year. This could be due to the makeup of items shipped from Australia versus US beef items during 2017, but possibly also due to the temporary ban on six Australian meat plants into China, which may have also had an impact on Australia's top-end value during the months of August, September, October and even November (as lower price commitments were likely to have been on the books). During this period, chilled beef exports into China slowed dramatically which is Australia's second highest paying premium chilled grainfed market.
The Australian price spike in December was possibly driven by Japan and China – the reaction by Japan importers to US meats impacted by the snap-back tariff (a month delay in shipping to respond) and China's buying of beef prior to Chinese New Year and the lifting of the ban on six Australian plants in early November (also a month delay in shipments to respond).
The Australian low prices in January and February I put down to a slow start in the US market due to poor weather and a dampening on prices by a strong seasonal supply from New Zealand on lean meat.
The lift in pricing for Australia and the US in March is due to the long awaited Northern hemisphere summer demand starting to kick-in, given Brazil's lack of access to the US, Korea and Japan markets meaning they have not been able to enjoy the recent improved demand.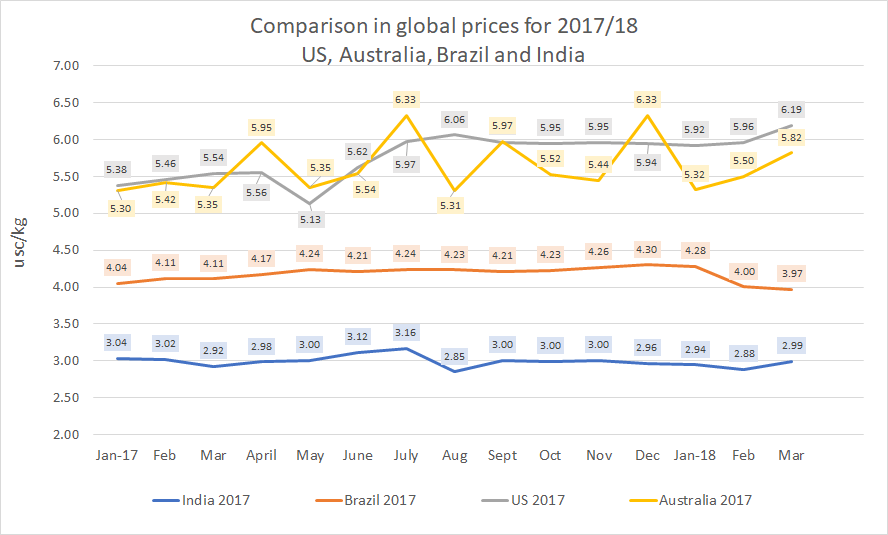 In upcoming reports in Beef Central, Simon Quilty looks to build a clearer picture of global beef supply from FMD-free and non-FMD-free supply and demand based countries; competing meats such as chicken and pork; and potential global economic growth to see if prices can continue beyond the traditional two-year cycle in demand that he alluded to earlier in his discussion about the Super Demand Cycle.