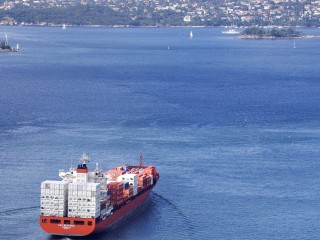 Stevedoring company Patricks has been notified by the Maritime Union of Australia that further action will be taken by workers at all four of its Australian container terminals, starting today.
The MUA says the industrial action will run for seven days in Sydney, Melbourne and Fremantle, with the Port of Brisbane – the nation's largest chilled and frozen beef shipping departure point – impacted for six days.
The action, in the form of bans and limitations, will stop the movement of an estimated 50 percent of Australia's containerised trade, directly impacting 32 vessels and 35,000 shipping containers, Patrick says.
The scaled-up industrial action follows an earlier 24-hour walk-out by the MUA reported on Beef Central on May 12. That dispute was the first industrial action mounted by MUA members since the major waterfront strike in 1998.
Patrick Director Paul Garaty said the flow-on effect of the MUA action would be felt by exporters and importers for months, as vessels are delayed and international schedules directly impacted.
"The impact of the bans will render us inoperative, and our Brisbane, Melbourne, Fremantle and Sydney Terminals will grind to a halt," he said.
"This will have a huge impact on Australian exporters and importers, hurting everyone from small businesses awaiting deliveries to Australian farmers exporting their goods to market, and the transport industry which is reliant on container trade to make a living."
"These businesses have already borne the brunt of the MUA's actions, including stoppages across our operations, more than a month of illegal strike action at our Melbourne terminal and labour availability issues at our Sydney terminal which restrict the use of our cranes," Mr Garaty said.
"We are again witnessing the actions of a union which is happy to hold the country to ransom in pursuit of its claims. The Union issued this action less than 24 hours after the Company put an offer to its representatives. Given the timeframe it is unlikely the MUA even had time to put our offer to its members before announcing another round of action against us," he said.
"Despite the MUA suggesting it has made big concessions in reducing its claim to $32 million (a cost of $32,000 per employee) it is pursuing a wage outcome far in excess of community norms and continues to ignore our need for productivity offsets. We are not close to an agreement," he said.
Patrick's most recent offer includes a 4pc wage increase with an additional 1pc offered if internationally recognised safety, productivity and efficiency targets are met, to ensure that the company remains competitive in a changed global trade marketplace.
The Company has also offered improved pay and working conditions for its permanent part-time employees and increased redundancy from 40 to 52 weeks for all employees.
Patrick says its employees currently work on average 35 hours/week or 185 days per year for an average annual salary of $100,000. It says the MUA's revised claim will cost the company $32,000 per employee without any change in productivity. The cost of the union claims over each of the three years is $32m, $39m and $50m respectively without productivity offsets, Patrick claims.
The story was broken on Beef Central on Tuesday.
To receive your free daily Beef Central news headlines alert as an email, simply fill in your details in the "Stay up to Date" section on the right-hand side of this page, or the home-page. The home-page is accessible from anywhere on the site by simply clicking on the leather patch logo at top left of each page.