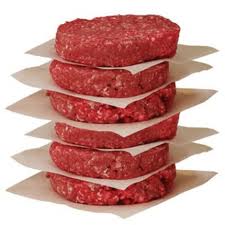 PRICES for imported lean grinding beef in the US have shown a softening trend recently, as heavy beef production in Australia is met by greater volumes coming out of New Zealand.
New Zealand's seasonal cattle turnoff, principally dairy animals, is beginning to gain momentum, which when added to current extreme high rates of slaughter out of Australia is lifting availability of manufacturing beef for US importers.
Some US end-users are opting to sit on the sidelines after filling their needs for forward time periods, Steiner Consulting suggests in its most recent imported beef report.
Meat & Livestock Australia quoted imported 90 CL manufacturing beef in the US on Friday at A677.3c/kg, down from 698.2c/kg a week earlier.
"The decline in imported beef prices came even as prices for domestic lean grinding beef were steady to stronger last week," Steiner's report said.
"The spread between domestic fresh 90CL boneless beef and imported frozen 90CL beef is around US8c. Market participants we contacted last week indicated that regular users appear content to sit on the sidelines at the moment having secured significant coverage for the holidays and early January," the report said.
As Beef Central's recent weekly kill reports have illustrated, throughput in Australia in the last couple of weeks has been around 175,000 head per week, a new all-time record high and 16pc above year ago levels, which were already well above normal.
As for New Zealand weekly slaughter, the latest numbers peg the national kill at 31,161 head, 17.6pc higher than a year ago.
So far this marketing year (four weeks), cattle slaughter in New Zealand is up 7.3pc from the same period a year ago. More importantly, however, NZ slaughter should be around 50,000 head by early December, and then rise to around 60,000 head per week by early February.
The expectation of higher shipments from NZ and continued strong exports from Australia have pressured prices for imported beef in the US in the short-term.
"While market participants recognise that lean beef will continue to hold a significant premium in the US market due to short domestic cow supplies, for now the focus is on absorbing the significant supply of grinding beef that has shipped out of Australia since July," Steiner's report said.
"Based on preliminary data, we project Australian beef shipments to the US in November will be around 39,000 tonnes. This volume is particularly large for November and if it proves accurate, it would represent a 120pc increase compared to year-ago levels."
Including November, Australian beef shipments to the US have increased by 115pc since July.
One factor that remains supportive of Australian and NZ beef exports to the US is the significant gains in the value of the US currency.
For every kilogram of meat that Australian and NZ packers sell in the US in US$, they now get back more when converting in domestic currency.
Today's exchange rate of just over US86c is almost 9pc below early September levels, which helps explain the acceleration in export volumes during the last three months.
New Zealand packers also have benefited by a similar decline in the exchange rate. Since mid-July, the value of the NZ$ has declined about 12pc against the US$. The issue for NZ packers in the last three months is that they simply did not have the beef to sell, given the seasonal decline in slaughter.
With slaughter numbers now picking up, there is a lot of interest in selling NZ beef into the US market, Steiner reported. Market participants indicated that they are seeing NZ product selling briskly on the lower end of the range, and this has contributed to the overall decline in quotes in recent days.
Softer foodservice sales
While US demand for grinding beef remains in good shape, in Steiner's view that has been led by retail demand for ground beef. Foodservice sales, on the other hand, have been more of a mixed bag.
"Some concepts continue to do well, especially fast casual restaurants, while the traditional fast food restaurant chains have reported disappointing sales," Steiner said. Click here to read Beef Central's recent report, "Dismal September quarter for McDonald's."  
The latest data from the US National Restaurant Association index showed both the foot traffic and sales benchmarks turn lower in September. The disappointing fast food performance has come at a time when the overall US economy has shown very strong growth and an improvement in employment numbers.
"For now, this appears to have translated in higher sales at retail, as well as better sales at higher-end restaurants," Steiner said.
"The challenge for imported beef is that at this point a significant portion of the supply still goes to service fast food restaurants, and thus it is tied to a certain extent to performance in that sector."
"Weaker fast food sales are a negative and likely will contribute to a widening of the spread between US domestic and imported lean grinding beef prices," it said.