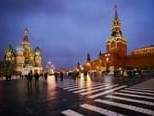 Not since the energy and resources-led boom in the pre-Global Financial Crisis days of 2008 has Australia exported so much beef to Russia.
Using latest trade figures released yesterday, it was revealed that Australia has exported 42,992 tonnes of chilled and frozen beef to Russia (CIS) so far in the current US Beef Quota shipping year starting November 2010, and including May.
That's a record figure for the seven-month period to the end of May – considerably higher even than the 32,619t shipped for the same period in 2007-08 at the height of the last Russian boom.
Compared with the same November-May period last year (2009-10) when trade with Russia reached only 13,300t, this year's volume is almost three times as high.
The resurgence of Russia as a serious export customer has come at an important time for Australia, given listless demand in key volume customer countries like the US and Japan.
Significantly, total Russian beef imports from all exporting countries remained relatively steady during the nine months to March, decreasing only 1pc year-on-year, to 440,000t. Compared to previous years, however, Russia's total import volumes are considerably lower, especially compared with 2006-07, when imports totalled 580,000t during the same period.
At that time, the majority of product was being sourced from Brazil, Argentina and other South American exporters.
The combination of higher beef prices and increased competition, from both other markets and other protein sources, has impacted on Russian imported beef demand since then.
Australia's trade with Russia has gone starkly against this broader trend, however. As mentioned earlier, beef exports from Australia are up more than 300pc this year, largely benefitting from the tighter supply and higher prices for beef out of South America.
Our monthly exports hit 6093t in May, and have averaged more than 6300t/month since March.
MLA chief analyst Tim McRae said there was every prospect that Australia would ship at least 70,000 tonnes of beef – possibly more – into Russia by the end of the US beef quota shipping year ending October 31.
Shipments were currently 22pc above where Australia was at the same time in the 2007-08 boom year, he said.
"But circumstances now are different than they were three years ago. In 2007-08 trade exploded in May-July, rising to 17,000t in a single month at one point. That occurred despite a high A$ at the time, and was fuelled by optimism surrounding the Russian energy and economic boom."
"Russia's buying strength was much stronger back then than it is now. I think reasonably strong buying will continue out of Russia for the remainder of this year, but not at the frantic pace we saw build-up back in 2008, when it sucked product out of virtually every other customer country serviced by Australia."
MLA stats show the mix of Australian product despatched in the January/March quarter was surprisingly diverse. While frozen manufacturing beef is still the largest component by volume, there were also strong chilled shipments of cuts like blade, silverside and thick flank – mostly cold weather food – and some premium chilled cuts.
Solid shipments are expected through the June quarter, which is the Russian northern hemisphere summer, and historically a high-demand period.
Mr McRae said currency cross rates between the Rouble and the A$, which had both moved upwards against the US$, had also helped stimulate the trade.
Asked whether Australian exporters were still wary of doing business in Russia, given the dark days of late 2008 when a credit crisis and price movements saw some Russian importers walk away from contracts, sending some players broke, Mr McRae said most Australian exporters were again becoming more comfortable in dealing in the region.
"While the global economy is again slowing, the feeling is things are much more under control this time around, and another Russian credit collapse looks unlikely," he said. "The transfer of information now is much more rapid, and it helps facilitate any issues that might arise very quickly."
While Australia is obviously doing well in Russia at present, Brazil, also, has increased volume recently, shipping 30,075t in April, mostly grinding meat. That jump was triggered by a slight devaluation of the Brazilian Real and lower Brazilian beef consumption, leaving a larger exportable surplus.
In other Russian market news, MLA organised and hosted a delegation of Russian chefs to Australian during May. The five-star restaurant and hotel chefs were introduced to Australia's high quality production systems and food safety quality assurance standards. During the visit, they were introduced to new cooking methods and techniques which aim to increase demand for secondary cuts in the Russian high-end market.