WITH a long-term view to establishing a beef brand around buy-back progeny based on his family's Angus seedstock bloodlines, progressive young Queensland beef producer Nick Boshammer undertook a recent fact-finding mission to the Middle East to survey export opportunities.
What he saw during his self-funded visit opened his eyes to an export beef market that often flies 'below the radar' in many Australian beef stakeholders' eyes, but which he sees as holding great potential for Australia.
Nick has gradually built up knowledge about export beef opportunities for his brand concept, visiting markets in south and north Asia, Europe and most recently, to the Middle East region and the UK, returning to Australia in August.
He took a somewhat convoluted route to get there – jumping on a live export cattle boat out of Darwin to Vietnam, before travelling overland to Singapore to view Australian beef in food service and retail outlets in that market, and then flying into Dubai.
"I was attracted to the Middle East, because I think it's a market that might be well suited to what I want to achieve through my brand concept," he said.
Nick's vision is to use his family's well-known Sandon-Glenoch Angus Stud based near Chinchilla, to build a brand supply chain around. In basic terms, the concept would involve a progeny 'buy-back' mechanism, where calves carrying Sandon-Glenoch genetics produced by commercial bull clients would be directed into a dedicated supply chain, ending up with a branded product on a supermarket shelf or restaurant plate.
"I think we could build a strong brand story around such an arrangement," he said.
"It would give me access to the numbers necessary to justify a brand program, without running the cow herd, and would give access to what I believe would be absolute premium quality, exploiting the value and performance of our own genetics," he said.
"It could also offer a means of supporting our bull clients more, and providing a point of difference."
Nick has had the concept in mind for a couple of years, and while it has been modified a little along the way, he said it did not take him long to realise he needed to gain much better understanding of the supply chain and end-market requirements. Hence his recent overseas marketplace visits.
Having never been to the Middle East before, he admitted to having 'no real idea' what to expect before he arrived in July, just before the start of Ramadan. His visit included stops in Dubai, Abu Dhabi, Oman and Sharjah.
"I guess I was pretty much expecting the same sort of situation I had seen in Asian countries I had visited earlier," he said. "Once I got there, I quickly realised it is completely different."
While there is a bunch of different markets across the broader Middle East region, all somewhat different, they all appeared to have a lot of potential for Australian beef.
"Australian beef was well represented in the food service restaurant sector, and it was much more noticeably labelled than most other product," he said.
"It also appeared to be well-known to the consumers and food service operators, and had a very good reputation."
Nick linked up with MLA's Jamie Ferguson, then based in Dubai, during the visit, and attributed a lot of the awareness and recognition of the product in the marketplace to he and the rest of MLA's Middle East region team.
"Australian beef exports have grown dramatically over the past few years," Nick said.
"And it's not only at the top end restaurant or supermarkets where you can see the penetration. There are at least three different types of markets present – high-end product suited to western style restaurants and hotels, mid product in everyday supermarkets and smaller food service and a lower-end, price-sensitive segment. Even in the budget segment, it was still all there, and well identified and labelled."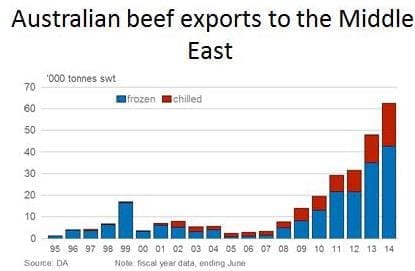 As the graph here indicates, since about 2007 Australia's beef export volume to the Middle East, North Africa region (MENA) has doubled every two years or so. Among top-end retailers and restaurants, the Australian market share in the beef section has increased to about 30pc, in some cases much more.
This can be attributed to a combination of factors, including:
MLA's role in business development and training, which has accumulated over the past three decades
Major Australian exporters now focusing more on the MANA market (in 2007 the nation's two largest export processors, JBS (then Swift) and Teys had no real presence in the region, and were producing Halal product at only a limited number of plants
A growing, more westernised Middle Eastern population and
Benefit from the reduced market access for export competitors – which is equally a reflection on Australia's very good market access and reputation as a great source of clean and safe beef, underpinned by Halal.
Nick said the True Aussie label had a strong presence in all the markets he had visited and was recognised as a source of clean, green and safe beef, at all price points.
"The Australian meat was just presented so well in the upper end supermarket stores I saw – as good, if not better than any retail display I have seen in Brisbane or Sydney."
The UK-owned Waitrose supermarkets, particularly, set a very high standard with their Australian beef displays.
"While I was there, MLA was doing a promotion, with labelling on the handles and on each face of each supermarket shopping trolley with an Aussie Beef identity in every supermarket in Dubai.
"It kept the identity in the faces of the customers. The program was orchestrated by Jamie Ferguson, and the figure to carry the message on each trolley was bugger all. I thought it was very effective."
"What struck me during marketplace visits was just how well Jamie was known within the trade. Everywhere we went, walking through a supermarket or market, he was greeted warmly, more as a friend than a business associate. He was seen as a source of knowledge and understanding about what's going on in the international marketplace."
A lot of good work was also being done by chefs contracted to MLA to teach other chefs and food service operators about choosing different cuts for different cooking styles, seam-cutting and value-adding work on secondary cuts.
Given what he saw, Nick said he felt there was still strong opportunities for any Sandon-Glenoch beef brand development that might emerge.
"Customers are reluctant to rely too heavily on any one supplier, but there appears to be plenty of opportunity there, in all segments," he said.
Significantly, he saw plenty of evidence of support for well-identified grassfed product, provided it met certain quality criteria.
"It is becoming more known to many Middle Eastern consumers, and there is certainly a little more demand happening for quality grassfed, even in the higher-end markets. But it's got a long way to go."
Nick feels that the Middle Eastern markets, and MLA's solid marketing development work is at times overlooked by the industry in Australia, overshadowed perhaps because of distance and being 'off the beaten track.'
"It's not a market producers necessarily hear a lot about, but there is a lot of potential there. It's been one of the real success stories in growth over the past three or four years."
"I quite possibly would have had a different opinion before going there, but I would definitely prioritise the Middle East, should I get a brand program off the ground," he said.