AUSTRALIA'S boxed beef and offal export trade into Indonesia is under serious challenge following renewed efforts by the Indonesian government to curb meat and livestock imports in an attempt to stimulate greater self-sufficiency in beef production.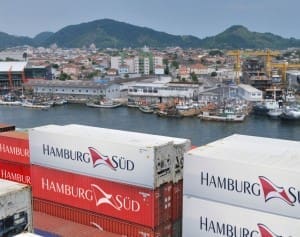 Beef Central yesterday reported that Indonesia has approved live cattle import permits for only 98,000 head for the first quarter of 2015, down about 30 percent from trade seen this time last year.
The permit restriction has come amid renewed Indonesian Government commitments to achieving self-sufficiency in meat production.
The theory is that by constraining imports, local beef prices will rise, stimulating local cattle producers to expand their herds.
In practise, as seen in a similar episode two years ago, the rise in wholesale prices encouraged local cattle breeders to liquidate their breeding females to cash-in on the opportunity, further reducing the nation's breeding capacity.
Perhaps even more significant than this week's limitation on the live cattle trade is the parallel restriction on boxed beef and offals this year. While New Year import permits for beef and offal have not yet been released, the Indonesian Government's decree issued after New Year clearly states that no secondary beef cuts will be admitted.
The decree limits beef trade this year to 'prime cuts' (which it deems to be the three primal cuts -striploin, tenderloin and cube roll), plus manufacturing meat. The three more expensive primal cuts permitted currently represent only a very small proportion of Australia's export trade into Indonesia.
More affordable, popular items like topsides, rounds and knuckles are all banned, under the new decree.
Indonesia also represents a critically important trade for Australian offals, which are now banned with the exception of just a couple of items, understood to be tongue and tail meat.
One Australian estimate suggested that unless circumstances changed, the decree might reduce Australia's boxed beef trade to Indonesia this year by 70 percent.
The Australian Government and beef industry representatives held discussions over the prospect with Indonesian officials in Jakarta early in the New Year, but despite a sympathetic hearing, there has been no change to the original declaration.
The trade in Australian boxed beef exports to Indonesia last year reached 53,140 tonnes – a 35 percent rise on the previous year, which itself was sharply higher than 2012.
This followed two years of heavy restrictions from 2011 as part of the Indonesian Government's 'self-sufficiency' push in commodities including beef.
Indonesia was also Australia's fourth largest beef offal market last year, after Japan, Korea and Hong Kong, taking almost 20,000t of fancy meat. For certain offal items, Indonesia is easily Australia's largest export market.
Beef and offals exports combined last year totalled 74,900t.
Bisnis Indonesia on Friday quoted the Indonesian Ministry of Agriculture statement, which said it would not provide recommendations of import permits for secondary cuts and offal in the near future, suggesting that "the stock of meat in the country per 31 December 2014 could meet the demand for this year."
Director general of Livestock and Health Services, Syukur Irwantoro said that based on the monitoring result through all feedlots in Jakarta, the number of cattle had reached 261,000 head or equivalent to 50,000 tonnes of meat.
"The amount is predicted to be able to meet the demand of beef for the next nine months–secondary cut and offal only," he said.
Director of Indonesia's Beef Importers Association (ASPIDI), Thomas Sembiring suggested that most of the foreign-franchise restaurants in Indonesia would be affected by the Government's decision, as most of them did not use local meat.
A senior Australian export processing contact said while the loss of any significant export market was unfortunate, the fact that there was such demand strength in other Australian export markets at present would help limit the impact of the Indonesian Government's restriction.
"Right now demand is so strong that this development will have less impact than it otherwise would," he said. "What's perhaps more lamentable is the loss of hard-won relationships with Indonesian importers, who will be hit hard by this decision."
"It's another disappointing example of where Australia's boxed beef trade is being disadvantaged, relative to the live cattle trade," the stakeholder contact said. "All we want is a level playing field."