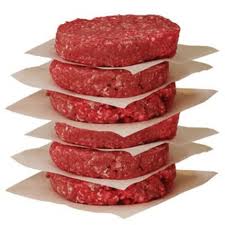 WHILE there was a rare, albeit moderate decline in value of imported Australian lean grinding beef into the US last week in US$ terms, the deteriorating value of the A$ meant it still put more money in Australian exporters' pockets.
Imported 90CL blended cow was quoted last week at US298c/lb CIF, down US2c from the previous week. But overlay the currency effect on top of that, and prices in Australia actually rose further, reaching an unprecedented A712.6c/kg.
That's a meteoric 70pc increase in price in A$ terms since this time last year (419c/kg), and 56pc higher than at the start of the current rising cycle, back in early June.
Check out Beef Central's home-page graph in the "Industry Dashboard" section for a visual impression of the trend.
National Australia Bank quoted the A$ at US87.46c this morning, continuing the recent downwards movement to new six-month lows, and now down almost US7c on where it sat at the start of September.
Market watchers in the US said the market for imported beef was generally weaker last week, with end-users opting to sit on the sidelines in light of modestly lower prices for domestic product.
Big volumes of Australian exports since mid-August have seen US importers looking to convert some of that product to cash, before placing more orders for delivery early next year.
"There seemed to be a bit more anxiousness to do so this week and FOB prices edged lower, in US dollar terms," Steiner Consulting said in its latest imported beef market report.
US market participants are well aware of the seasonal tendency for domestic beef prices to drift lower from late September to early November. Already domestic lean beef (fresh 90CL) is trading as much as US8c/lb below the price of imported beef, and any further weakening will tend to increase the spread to unsustainable levels, Steiner suggested.
"In the short term, the prudent position appears to be to take some profits off the table and that's what some importers appear to be doing, which explains some of the lower prices seen last week," it said.
Buying meat at lower prices in Australia is a different matter, however.
Offers out of Australia remain very firm, in part because of all the meat that was sold in August and September. Australian packers can afford to hold firm on their offers, at least in the short-term, because they already have a lot of business already on the books.
By September 22, Australian shipments to the US for the month were above 34,000t, with a week's trading left to go, suggesting shipments may go over 46,000t for the month, ending tomorrow. If achieved, that would represent an all-time high.
US fed beef supply and impact on imported beef prices
While traders in the US imported beef market and overseas packers tend to focus mostly on the day-to-day movement of imported boxed beef, Steiner says it is imperative in the current environment to pay close attention to the US domestic fed beef market as well.
"We think at this point we're setting-up for a repeat of the situation last winter, when short fed supplies and cold winter weather significantly reduced overall beef availability, pushing prices to all time record highs," it said.
The latest US cattle on feed numbers were once again very bullish for US beef prices in early 2015. Cattle on feed inventories as of September 1 were pegged at 9.8 million head, down 0.8pc from the previous year. Market analysts prior to the report were expecting the total inventory to be down 1.2pc but the difference is relatively minor. The main focus coming into the report was on the number of cattle placements.
Last year, placements were quite low and market analysts were expecting placements to decline another 4pc this year. The USDA survey pegged placements in August at 1.72 million head, down 2.9pc compared to last year.
Again, this number was slightly higher that what analysts were expecting but it does not materially the impact our forecasts for cattle supplies in early 2015. This is the sixth consecutive month of lower year/year placements and the key factor to keep in mind is this net reduction in placements rather than the slight difference between survey results and analyst estimates.
"The number of cattle placed on feed continues to skew light, which implies a longer marketing window than normal," Steiner's report says.
"In the last three months (Jun, Jul, Aug) placements of light feeder cattle (under 273kg) were a total of 1.235 million head, 11.3pc higher than the same period a year ago. On the other hand, placements in all other categories were down. Placements of cattle 320kg or heavier during the last three months were 2.715 million head, down 11.7pc compared to a year ago.
"Again it is important to consider that not only will overall cattle supplies decline in late 2014 and early 2015, but the marketing window for these cattle will be longer, further limiting the available supply in any given week," Steiner concluded.
"Winter weather remains a key factor here as well, with the potential to further disrupt production and add to the supply pressures expected in the winter months. Futures have quickly added the risk premiums to the December, February and April contracts after a brief pullback. While we expect cattle prices to hover in the mid-150s in the short-term."