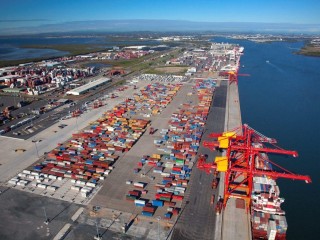 The export beef industry is seeking Federal Government intervention over strike action taken this week by waterside workers, which threatens to cripple Australia's international beef trade.
The seven-day industrial action launched by the Maritime Union of Australia this morning will affect Patrick's container terminals in Brisbane, Sydney and Fremantle. Action at the Port of Melbourne has been called off, for reasons explained in an accompanying article.
The overwhelming view of senior industry stakeholders contacted by Beef Central yesterday was that the MUA action would not only seriously disrupt day-to-day export operations, but had potential to damage the reputation and competiveness of Australian red meat industry in international markets.
Australian Meat Industry Council's export processing chief executive, Steve Martyn, said the strike action would substantially disrupt shipments across the country.
"The shipping companies are saying that even though the strike may end in five or six days, the dislocation factor may take some weeks to remedy. All container shipping lines run on global schedules, taking into consideration length of time between each port, and time spent in port. A disruption like this means vessels will simply sail past Australia and keep going, because it affects their schedule in later ports," Mr Martyn said.
In practical terms, the impact of the strike action would last a lot longer than seven days, he said. It might even influence some customers in overseas markets to consider making beef purchases from elsewhere.
"Customers may make decisions like that, especially if it is over urgent containers, and the first thing they are going to ask is, "How long is this going to go on for?'"
Serious cost would also be incurred by exporters for other reasons, Mr Martyn said. Some might attempt to divert export containers through the functioning Port of Melbourne terminal, but that in many cases would entail considerably higher freight cost.
"Just having product sitting at port for five to eight days represents a considerable cost in itself," he said.
"It's all a cost that somebody has to pay for, and that can only be the exporter. It would be bad enough if this strike action only impacted a non-perishable item like wheat, but because it also affects a time and temperature-sensitive product like beef, it makes it that much worse."
A big issue the MUA forgot when it took action was that the rest of the beef industry did not simply stop producing beef, just because the union goes on strike, Mr Martyn said.
Large non-packer exporter, Sanger Australia, which exports beef for Bindaree, Monbeef, RH Collinson and other export-licensed processors, believes the Federal Government should intervene to arbitrate over the dispute, to circumvent further damage to the broader export business community.
Managing director Richard Rains said the workplace agreement terms being sought by the MUA were obscene, and out of step with broader community expectations.
"The politicians, including the Opposition, have gone missing on this issue since it first presented itself as a prospect," he said. "This action is holding half the shipping industry to ransom. Once shipping companies realise Patricks has stopped, they will sail straight past Australia and that opportunity is lost."
Entire supply chain suffers
Mr Rains said a typical export plant would run out of chilled and frozen storage capacity on-site within two or three days.
"So any shipping disruption like this could cause processors to stop operations, and that means no competition for cattle – so the entire supply chain suffers," he said.
Nippon Meat Packers spokesman Stephen Kelly said the stoppage was already having a considerable effect on his company's export business.
"We're having to divert containers into holding parks, and the shipping lines are avoiding calls at certain ports, to avoid disruption to scheduled services," he said.
"From our customers' point of view, particularly those on regular shipments, the strike will have an impact within days. In some cases, a delay of four, five or six days is not acceptable, and they may have to seek product from other suppliers. Other food service and retail customers will be able to draw-down on stock inventory, but in the long-term, if they perceive there to be issues with consistent delivery out of Australia, then they could seek alternatives," Mr Kelly said.
"The longer it draws on, the greater the impact for exporters, primary producers and the industry generally."
Teys Brothers chief executive Brad Teys agreed that problems would become more acute the longer the strike went on. One of the big issues at the busy Port of Brisbane was the multi-modal terminal, he said.
"It has capacity for about 100-150 containers with power, but when that fills-up, there will be nowhere for the containerised product to go, and the port will exclude trains or trucks laden with refrigerated containers from coming in," Mr Teys said.
"It's that backlogging effect that will really create problems. While there is an alternate stevedore, DP World, that company primarily services North America, while Patrick services North Asian markets through Maersk and other lines."
Sourcing empty containers will be another problem faced by exporters in coming days.
The MUA's seven-day action, in the form of bans and limitations, will stop the movement of about 50 percent of Australia's containerised trade, directly impacting 32 vessels and 35,000 shipping containers, the affected stevedoring company, Patrick said.
The scaled-up industrial action follows an earlier 24-hour walk-out by the MUA reported on Beef Central on May 12. That dispute was the first industrial action mounted by MUA members since the major Patricks waterfront strike in 1998.
Patrick yesterday said it was moving to force the MUA to compulsory arbitration through Fair Work Australia, on the basis of the damage being done to the broader business community. That is not likely to happen before early next week.
The looming wharf dispute story was broken on Beef Central on Monday.
To receive your free daily Beef Central news headlines alert as an email, simply fill in your details in the "Stay up to Date" section on the right-hand side of this page, or the home-page. The home-page is accessible from anywhere on the site by simply clicking on the leather patch logo at top left.