Selling meat to China may be the new craze, but Elders was doing it long before it was 'cool'.
Elders established a presence in China way back in 2004, at a time when the country was importing just a few thousand tonnes of low quality frozen beef from Australia each year, and even Egypt and South Africa were larger export markets.
While some may have questioned its investment at the time, 11 years later many would-be exporters to China will no doubt be looking on with no small degree of envy at the favourable position Elders now enjoys in the market.
After a few self-confessed mistakes and a fundamental remodeling of its business a couple of years ago, Elders China is now a profitable business and well placed to capitalise on the market's booming appetite for red meat.
Last week Elders China chief executive officer Craig Aldous took the audience at the Ag in the Asian Century conference in Toowoomba through the company's journey from an early "scattergun" approach, exporting a wide range of agricultural products to the market, to its position today as a dedicated supplier of premium quality meat.
Today Elders China solely targets the high-end food service channel in China, supplying hotels and restaurants across the country. It imports and distributes premium quality Australian red meat, including Wagyu and Angus product fed through its own Killara Feedlot near Tamworth (see profile in Beef Central's earlier Top 25 Lotfeeders report) and commission processed at Casino, and other premium brands that it holds exclusive rights to market in China.
The company also operates a meat processing facility in Shanghai where imported beef and lamb is cut into portion controlled steaks and manufactured into hamburger patties and sausages.
Elders China has offices and warehouses in four (soon to be five) major cities in China. Its reach in the market extends to cities near China's northern border with Russia, south to Vietnam and west towards Tibet. In short, if there is a city in China where international branded hotels exist, it is a fair bet that Elders beef is being distributed there.
Mr Aldous said the company deliberately avoids the bulk turnover, lower priced, commodity end of the beef trade with China, focusing instead on the quality and service end of the market, where consumers are willing to pay more in return for a guarantee about product origin, safety and eating quality.
In that regard the business is very much a niche player, with a total turnover this year of around $15 million.
"That may not sound like a lot," Mr Aldous told the Ag in the Asian Century conference, "but it is highly profitable."
"We are now dominant in the niche segment in which we operate, which is the top end of the market in China."
The Elders China business today looks very different to how it looked when Elders first dipped a toe into the unknown waters of the Chinese market following its purchase of exporting firm Glenmore Meats in 2004.
In those early years Elders "tried to do everything", Mr Aldous said, distributing not only meat in China but also seafood, wine, olive oil and dairy products from New Zealand. It even had the exclusive rights to distribute Coopers Beer in the market.
However, the company learned a very valuable lesson, Mr Aldous explained: "we found that when we tried to do everything, we weren't doing anything really well."
Despite marking a range of products into China, 85-95pc of Elders' business in China was still meat.
'We took a decision a couple of years ago to focus on what we were really good at'
"So we took the decision a couple of years ago to focus on what we were really good at," Mr Aldous said.
"And that has really revolutionised our business and turned it around, and it is now highly profitable."
The business got out of non-core product segments and exited distribution channels in which it felt it was not strong, such as supermarkets, in order to focus on the high-end hotel and restaurant trade. It also closed down a home delivery business that represented 2pc of its sales but 15pc of its costs.
It is now riding the wave of an explosion in new restaurant and restaurant chain openings in tier one and two cities across China.
On the back of this growth, Mr Aldous expects the Elders China business to expand by 25pc this year and a further 25pc next year.
Exclusive brands
Mr Aldous explained that a key point of difference in Elders China's business is that it only sells exclusive brands.
If a customer finds that they can buy the same brand 1pc cheaper from another distributor, he says, they will buy it from someone else.
"We have done the work to promote the product and the brand, so it is important that they can only get it from us," he said.
China feedlot plan
He said the company is also investigating the option of investing in a feedlot in China.
Elders is already a major exporter of live cattle to the Chinese market and the construction of a feedlot would create a fully integrated supply chain from the sourcing of Australian cattle to feeding cattle in China through to the high end meat distribution business in China.
However that project was still in its early days and a long way from reaching a conclusion, Mr Aldous said.
Can Chinese fed cattle still be branded Australian?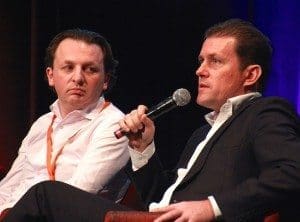 In response to that point, beef exporter David Foote, CEO of Australian Country Choice, posed an interesting question from the floor: Can Australian beef fed in a Chinese feedlot still be branded in China as Australian beef?
This is an important point because, as Mr Aldous explained, several food safety incidents in recent years have caused Chinese consumers to mistrust locally produced product in favour of fully imported products, particularly from 'clean and green' sources like Australia.
So deep is the level of mistrust, Mr Aldous said, that if a milk powder product is labeled as containing imported milk powder but 'packed in China', consumers were still unlikely to trust the product because someone in China had handled it before it reached the consumer.
In response to Mr Foote's question, Mr Aldous said beef produced from Australian cattle fed in a Chinese feedlot could not be branded as Australian product.
"We would be making statements along the lines that these are Australian cattle that have been fed, nurtured and raised by us in China using our methods and systems," he said. "If you went into the market calling it Australian beef I think you would damage your reputation when it was discovered how it was actually raised."
Local presence ensures full control of supply chain
Another worthwhile strategy has involved Elders decision to have its own presence in China, allowing it to maintain full control over the supply of its product in the market, rather than relying upon third-party distributors.
Some Australian beef brands in recent years have had enormous problems with inferior quality products being sold under their label in China, and potentially damaging their brand's reputation in the market.
"The lesson there is to either pick a better distribution partner or do it yourself. In our case we just decided to do it ourself," Mr Aldous said.
Presenting your brand as an imported product with guaranteed integrity throughout your supply chain was one of the key messages for branding in China.
"Integrity in the supply chain is what we are all about. We buy directly from the abattoir in Australia, and we sell directly to the hotel or restaurant in China, we don't use wholesalers, we don't use distributors, everything is direct.
"Would we have a much bigger business if we were selling through distributors? Of course we would. Control of our brand? Absolutely not. Would we have consistency in our turnover? Absolutely not. Wholesalers or distributors would drop this for 5 RMB difference in price. Our sales numbers would be all over the place. We like to have control, we like to have stability in our business."