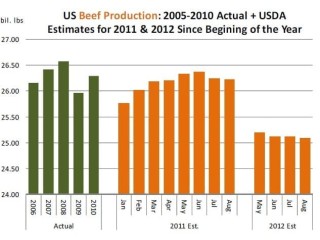 An important US Department of Agriculture report issued on Thursday shows the impact that widespread drought is having on livestock supply and beef production in the US, both this year and next.
The USDA expects total beef production for 2011 is currently estimated at 11.9 million tonnes, 0.3 percent lower than a year ago.
The latest estimate was just 72,000t lower than what USDA projected back in July but it is 1.8pc higher than the forecast issued in January.
As the year 2011 year has unfolded, some of the assumptions made by USDA, particularly with regard to cow slaughter and heifer retention, did not materialise, US analyst Len Steiner, from Chicago Mercantile Exchange said.
Drought conditions across much of the Southern Plains forced producers to liquidate stock. As drought pressures mounted, US cattlemen were forced to place cattle on feed earlier than normal. This accelerated production gains and added more kilograms to total beef output, Mr Steiner said.
Despite the higher than expected 2011 production, however, US cattle prices have managed to hit record levels, in large part due to strong exports. USDA is forecasting beef exports for 2011 at 1.233 million tonnes, 18pc higher than a year ago. Back in January, USDA forecasted 2011 beef exports at 1.11mt.
For 2012, USDA forecasts beef production at 11.4mt, 4.3pc less than the 2011 estimate. The reduction likely represents expectations for yet another year of declining calf numbers as well as some herd rebuilding following years of liquidation, Mr Steiner said.
"The latter greatly depends on weather conditions. With projected record high corn prices, cow-calf operators will try to keep calves on pastures and also add heifers – but only if there is plentiful grass to be had," he said.

Click on the image below for a clearer view of the US prouction trends