A RESURGENT Aussie dollar is one of the contributors to a sharp drop in Australian imported 90CL grinding meat value into the US this week.
Lean grinding meat prices in A$ terms have again fallen sharply, quoted at 634.3c/kg on Wednesday. That's a 12 percent decline in value over the past fortnight alone, and a collapse of more than 110c/kg on where the market sat as recently as mid-September.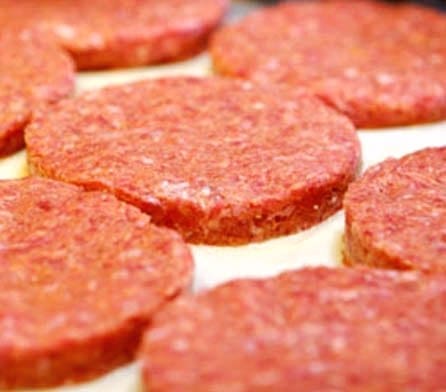 As described in this earlier Beef Central article, the overall domestic cattle and beef price decline in the US over the past three weeks is a big contributing factor to the current price trend. But so to, is the more recent performance of the A$.
The A$ has this past week shot-up again into the US73s, after settling for a period at or around US70c. Devaluation of the US currency is the main reason for that, financial analysts say.
What that's done is make Australian imported beef less attractive in the US market, contributing to this week's dramatic price falls.
Up until two weeks ago, a descending A$ was insulating Australian beef exporters from much of the deteriorating market for beef in the US, but that now appears to have turned around – for the timebeing at least.
This week's Steiner imported beef market report generated for MLA suggests US end-users (typically, grinders engaged with the major burger chains) are currently sitting on the sidelines, wary about making raw material purchases – either domestic or imported – that could look expensive a week or two later.
Australia's frozen lean manufacturing beef shipments to the US will likely be much lower in the next three months, Steiner suggests. Part of that is due to the current turbulence being created by controls exercised after Australia hit its 85pc trigger-point in this year's US beef quota (see earlier story).
For the first fortnight in October (includes a public holiday in some states), Australian beef exports to the US have reached just 9416 tonnes, down from full-month exports in September of 29,500t, and 39,800t in August. The quota access issue has heavily influenced that result, but so to, has the more recent dramatic shift in market sentiment.
New Zealand beef is expected to be particularly competitive in the US in coming months, due to exchange rate advantages, as well as the push to liquidate NZ dairy cows due to poor dairy returns.
"Like trying to catch a falling knife"
"Prices were lower across the board this week, and we were told that sellers were finding it quite difficult to establish buying interest, given the dramatic decline in the value of the benchmark 90CL domestic lean beef," Steiner's report said.
USDA this week quoted fresh domestic 90CL beef at $2.31/lb. Two weeks ago (September 29) domestic lean beef was quoted at $2.71/lb.
That US40c/lb drop had made domestic lean beef much more competitive with imports, although imported beef continues to trade at a discount.
"More importantly, it has significantly impacted buyer psychology," Steiner suggested.
"Buyer anxiety is palpable, as every day they see prices that were lower by a few cents compared to previous offers. The natural inclination is to sit on the sidelines rather than try to catch a falling knife."
A little like circumstances in Beef Central's 100-day grainfed trading budget article published yesterday, where the current dramatic feeder and finished cattle price movements were making it difficult to establish price barometers, Steiner issued a qualifier in its weekly report noting that the US meat prices it was referencing this week were its 'best effort' at capture where the market is currently trading.
"We also heard of even lower prices being offered for January, but that is outside of our 7:45 day window," it said. "Some market participants indicated that some bids for imported 90CL beef are now under$2/lb CIF (around A$6/kg)."
Decline rivals circumstances of 2008 financial crisis
There was no question that the recent decline in prices had been rapid and had caught overseas beef packers by surprise, Steiner said.
"After all, prices have lost about A43c per pound in a matter of weeks. Still, it is important to consider how high prices for grinding beef in the US still are."
"One way to look at this is the price of cattle in Australia, which is now some 61pc higher than a year ago. True, Australian cattle slaughter has eased, but it still remains above earlier years."
The current situation was particularly difficult for US importers that had high-priced inventory in their freezers, and were now are trying to liquidate in a market that was getting weaker by the day.
"It is also difficult for US end-users that have some very expensive beef in storage, as well as product booked to deliver through the end of the year. This is further compounding the issue," Steiner said.
"In some cases end-users are able to purchase beef in the domestic market at levels much lower than their current inventory. This means they can arbitrage the spread between imported beef and replacement domestic product."
Steiner gave an example of the price of domestic 85CL or domestic 80CL beef, which currently is being traded (based on trade sources) at levels well below what USDA is quoting this week.
Those levels were also much lower than the quoted prices for imported beef, adding to the selling pressure.
"The bottom line is that these are some of the more difficult times in the imported beef market that we can remember," Steiner said.
"The decline rivals that seen during the financial crisis of 2008. In the short term, we have yet to find a bottom for imported beef prices," it said.
"Domestic US cow meat supplies increase during this time of year, and it is not unusual for domestic lean beef prices to remain weak into November. This will continue to pressure the imported beef complex and we expect a notable slowdown in Australian shipments to the US."
As for New Zealand, despite the lower US prices, Steiner expected shipments to be strong in early 2016 as NZ dairy producers continue to liquidate their herds and the US still offers excellent prices relative to other markets.