AUSTRALIAN beef exporters targeting the China market continue to unearth new marketing channels to push their offer out in front of the country's 1.35 billion consumers.
A recent business decision by emerging non-packer exporter AFARM to partner with a Chinese e-commerce company to help sell its fresh meat to the masses is already paying off, with partnerships secured with three Chinese e-commerce platforms and two live TV shopping networks.
Sean Flanery is the managing director of Australian Farm and Resource Management (AFARM), which is quickly establishing a niche as a supplier of fresh premium Australian beef in China.
The Sydney-based company undertook its first container-load export in November.
Partnering with e-commerce company Zhejiang Yilei Master Base International, AFARM's Prima Farm Beef brand is carving-out a chilled Australian beef market segment using two live TV shopping channels.
"TV network shopping channel sales are our most powerful marketing tool in China, reaching up to 60 million viewers," Mr Flanery told Beef Central.
"In less than an hour after finishing our last 45-minute cooking demonstration on live TV, we had sold 2700kg of fresh chilled Australian beef, delivered directly to the consumer within 48 hours."
As outlined in the background details on AFARM at the bottom of this page, the primary purpose of the business is to help foreign investors, including Chinese, source and secure agricultural investment packages in Australia.
The recently-established beef export program is an extension of that activity, and may ultimately lead to Chinese investors in Australian cattle supply chains feeding into the branded beef program.
Mr Flanery's background as a grain trader and farmer in NSW led to an idea to set up a trading or meat brokering business into China in parallel with the incoming farm investment advisory business.
"A lot of the interested foreign entities who we had had discussions with over agricultural investment were also very interested in meat trade back to China," Mr Flanery said.
In exploring that interest, a connection was made with Chinese businessman Len Chang, who has strong connections with online retailing and television in China. In a somewhat serendipitous event, Mr Chang happened to be in Australia looking for a meat supplier at the time when he met Mr Flanery.
A deal was struck, and AFARM supplied its first consignment of fresh chilled cuts into China in November, for use on Mr Chang's Zhejiang Yilei Master Base International e-commerce platform.
"We had discussions while over there with several TV shopping channels, emphasising the fact that the product is high quality chilled (not frozen) Australian beef, with a strong provenance behind it," Mr Flanery said.
A series of 45-minute TV infomercial programs have followed, including clips of Mr Flanery in the yards in Australia, drafting cattle for the program, plus cooking demonstrations using various cuts.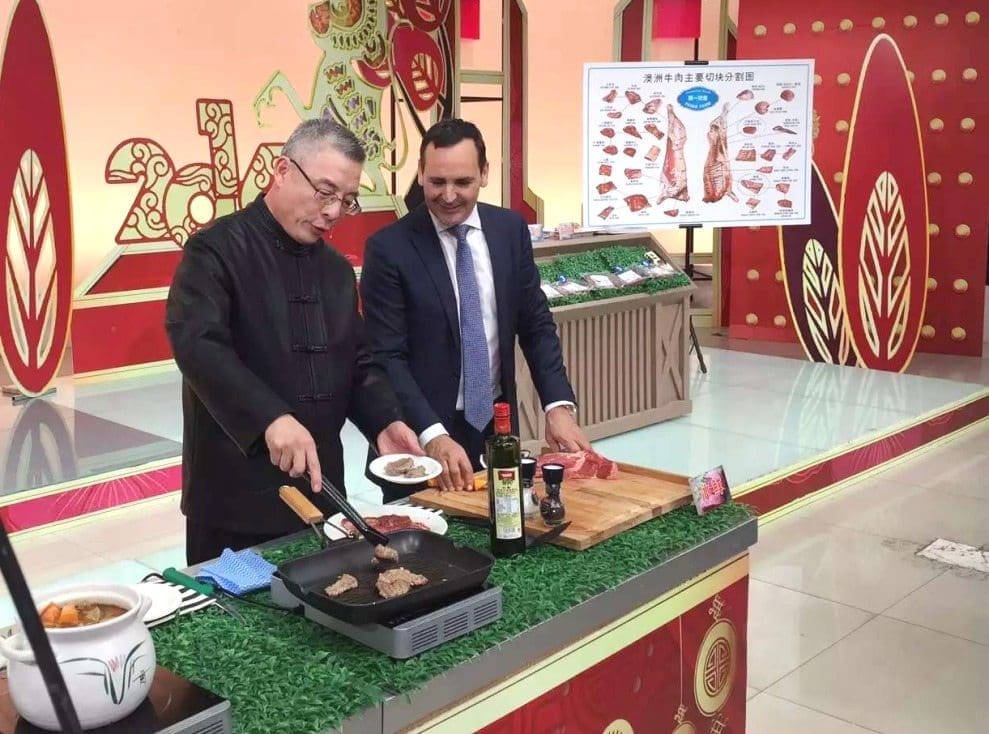 The product at this stage is being freighted in chilled cryovac whole-primal form, and processed into retail packs in AFARM's own leased Chinese boning/preparation room, for despatch to customers
The cold chain logistics in China carries a guarantee of 48 hour delivery anywhere in the service area, but in reality all deliveries so far have been made within 12 hours.
Consignments arrive in Shanghai, and after passing through Chinese customs, are delivered to AFARM's processing room in Jiaxing Zhejiang, about an hour out of the city. The leased processing room is used exclusively for the Prima Farm program, and handles no domestic Chinese beef.
Mr Flanery said performing the final processing and portioning work in China, rather than in Australia, gave AFARM more flexibility in logistics, better packaging and freight cost, and added shelf-life in the market.
Beef supply for the program is coming from export processor Bindaree Beef in northern NSW, one of ten Australian plants certified for chilled export to China. The program is using beef equivalent to Bindaree's award-winning Mayfield grain-assisted brand program, backed by MSA.
Packs being marketed through the TV shopping channel are 2kg in product weight, divided into four 500 gram vacuum-packaged portions, despatched in styrofoam boxes along with icepacks and suitable recipe cards and a sauce sachet.
"We started off with 3kg of product in each customer order, but that was just too much for the typical Chinese customer," Mr Flanery said. "That's now been reduced to 2kg in total – partly based on the really good customer feedback that the TV shopping channel networks are able to provide," he said.
Variety was another feature TV customers were looking for. The program now offers four different cut choices in each pack, including brisket, rib-eye cap, bolar blade and shin shank.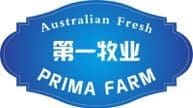 Mr Flanery said the 45-minute live TV 'infomercial' was very useful in building initial awareness of the Prima Farm offer, but longer term, most sales were likely to occur through online retail channels consigning direct to householders.
"The TV shows' greatest use is as a marketing tool, rather than a sales tool. Ultimately we think the biggest volume of sales will be through online retail direct-to-door sales, where there is opportunity for better margin," he said.
AFARM is also involved in negotiations over supply with China's Alibaba, the world's largest online e-commerce network.
The key messages delivered during the 45-minute TV programs are the product quality and its provenance; the fact it is fresh, not frozen; the fact it is freighted into China as quickly as possible after processing; where the cuts originate on the animal; and some examples of how to cook each cut.
"While many Australian companies export frozen beef to China, only a small handful are so far offering fresh chilled beef," Mr Flanery said.
As the brand program grows, he said it was likely that foreign investors in cattle industry assets in Australia, introduced through AFARM, would be offered an opportunity to supply into the China export program – effectively becoming part of the supply chain.
AFARM is also keen to explore the use of QR codes on product packs, allowing customers to scan them for information about the product supply back to processor or Mayfield brand level in Australia, and potentially, right back to farm of origin level.
"We're talking to Bindaree about it, but we see Australia's key point of difference as being the clean, safe environment, producing a high-quality, traceable product," he said.
"We think there is still so much potential to further grow our business. We are currently exploring other ecommerce, retail and restaurant platforms. We are also planning on supplying other Australian products such as lamb."
Mr Flanery is about to return to China with Austrade, as part of Austrade's annual Australia Week in China celebrations, running from 11-15 April.  AWIC 2016 will consist of trade, investment, education and tourism promotion events in multiple cities, designed to highlight commercial opportunities underpinned by the rise of an affluent middle class and the China Australia Free Trade Agreement.
About AFARM:
Australian Farm and Resource Management (AFARM), is a specialist agricultural asset management provider, catering for the foreign investors looking to investment in medium to large-scale Australian agricultural farms and agricultural businesses.
AFARM advise and assist clients to source and secure Australian farms and agricultural businesses in the grain,  beef, sheep, dairy, horticulture, forestry wool and cotton sectors throughout Australia. The company works with clients providing opportunity to invest either directly in farm assets or indirectly via a managed farmland unit trust.
The company has also launched the Prima Farm beef export business. Prima Farm Beef is AFARM's premium brand of fresh Australian beef processed in Australia for export and fresh delivery exclusively to a growing customer-base in China.