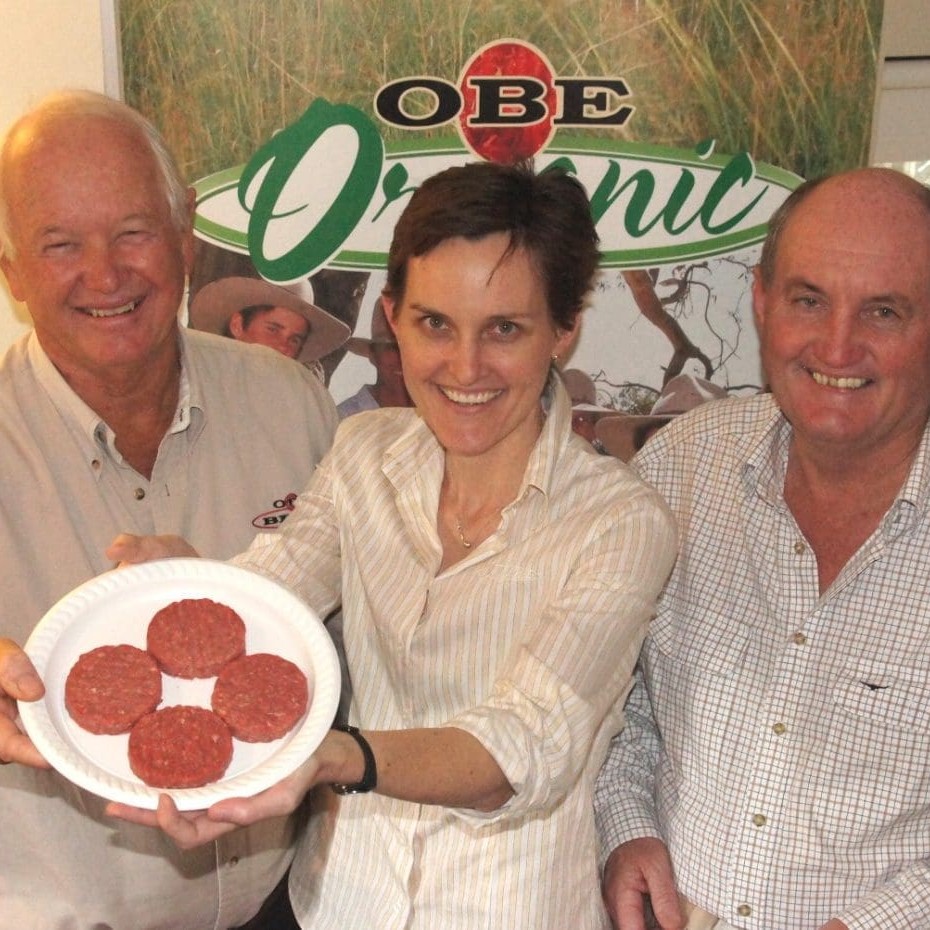 Australia's largest and longest-operating Certified Organic beef program is exploring new frontiers for export of its products, recently undertaking highly productive marketing activity in emerging markets including the Middle East and Indonesia.
Organic Beef Exports is a producer-owned company involving about 30 large-scale cattle producers controlling 70,000sq km of Central Australia's pristine Channel Country, stretching across a vast expanse of southwestern Queensland, far western NSW and north eastern South Australia.
Beef Central caught up with OBE directors and senior management during a company board meeting in Brisbane on Friday.
Chairman David Brook and regional manager for Asia, Dalene Wray, recently attended the Gulfood 2012 exhibition in Dubai, claimed to be the world's largest food expo.
"We got a great reception from all sections of the Middle East food industry, ranging from the hotel and restaurant food service sector to large western style retail supermarket outlets," Mr Brook said.
OBE's presence at Gulffood is believed to have been a first by an Organic red meat supplier, and served to confirm that there is distinct potential for Certified Organic products in the region.
In addition to trade contacts, OBE received an abundance of gulf state media attention, including television news, newspapers, magazines and radio, driven in part by the fact that Organic beef is still a new concept in the market.
In February, OBE appointed an agent for its products in Dubai and Abu Dhabi regions.
"People in the Gulf States are very well-educated. This means that you have a population with the ability and means to make choices about the food that their family eats," Ms Wray said.
"Combine that with relatively large family sizes, and there is definitely a market there for OBE Organic beef at retail, as well as in restaurants."
Additionally, some Middle Eastern areas, like Kuwait, were among the most active users of social media in the world, meaning platforms like twitter and facebook could become a significant platform to get a message into the Gulf marketplace about the merits of Australian organic beef.
The region already supports some of the world's largest retail supermarket groups, backed by excellent cold chain infrastructure.
"It's a market that's ready to go, unlike other emerging regions like China, for example, where the quality of the cold chain can be dubious, at best," Ms Wray said.
"We know we can confidently introduce our products into the Middle Eastern markets like Dubai, Abu Dhabi and the UAE knowing that it will be well-handled along the supply chain."
OBE has now established a supply relationship in the Gulf region with Carrefour, the French-backed supermarket chain that is among the world's largest. Through its Dubai stores, Carrefour is taking close to a fullset in its trade with OBE, doing creative things with secondary and other cuts.
At food service level, the Gulf region supported an enormous number of five-star hotels.
"They are all looking for an edge over their competitors, and quality Certified Organic beef from Australia can provide that brand story they are looking for," Ms Wray said.
One of the challenges in the food service sector in the Gulf States was a strong orientation towards tenderloins for banqueting and restaurant work, and as everybody knows, 'there are only so many tenderloins to go around.'
Part of the reasons for the tenderloin focus may be because the local custom is to cook red meat towards well-done, meaning cuts like tenderloin could be more forgiving in terms of tenderness, Ms Wray suggested. Over time, however, extension into other cuts suitable for hotel use will be encouraged, through better education.
OBE also sees opportunity to expand the range of value-added items it consigns into the Gulf States, either further-processed in Australia for export, or manufactured in a small value-adding facility in Dubai owned by the group's importer partner.
"He's very excited about the opportunity to produce items like organic burger patties and sausages, over the next 12 months," David Brook said.
OBE's service kill carried out at the Stanbroke Beef plant at Grantham in the Brisbane Valley is provided with a full Halal certification, allowing it to access all Middle Eastern and Gulf Muslim markets.
Strong food service prospects in Indonesia
In a second marketing/promotions exercise in emerging Muslim markets, OBE director and cattle supplier Peter Schmidt visited Indonesia during March to promote Certified Organic beef through the large five-star Grand Hyatt Hotel in Jakarta.
After spending time with chefs, hotel kitchen and wait staff, as well as interacting with patrons in the hotel restaurants themselves, the turnover in OBE product being used by the Grand Hyatt Jakarta tripled in volume, he said.
"Some of it was as simple as spending a few minutes with restaurant customers and showing them a sample of OBE beef cuts and some channel country images on an I-pad," Mr Schmidt said.
Watch a short youtube promotional video on the OBE Organic Beef program
"It was surprising how receptive they were. They were genuinely interested in where the product came from and how it was produced. They saw OBE as a high-credibility brand story. The hotel staff from the general manager down all put an enormous amount of work into it."
The restaurant customers were a broad mixture of international business travellers, local Indonesian business people and tourists, Mr Schmidt said.
"It just showed what potential there is out there in less obvious markets to find valuable channels for OBE's Certified Organic beef," he said.
The OBE promotion visit also attracted valuable press coverage in Indonesian trade, business and lifestyle magazines.
"It took a while for the people to realise that the man in the old dirty work clothes in the photos back at home was actually me," he said.
OBE has previously done a little trade into the upper end of Indonesia's food service trade, but hopes to do 'a lot more' in future.
So why Indonesia, and why the Grand Hyatt? "It was initially because we have an excellent relationship with the executive chef, who loves our product, and has done previous promotions with Australia that was very successful," Dalene Wray said.
"Because of that strong promotion outcome, we now plan to take that to other hotels in the Grand Hyatt chain across southern Asia, and duplicate the process."
The recent marketing and promotion effort into the Middle East and Indonesian markets was conducted as part of an Industry Collaborative Agreement (ICA) that OBE conducts in association with Meat & Livestock Australia.
"The main attraction in emerging markets like the Gulf States and Indonesia was price. There are sub-sets within the populations in these countries who have the willingness to pay attractive prices for products like OBE organic beef," Ms Wray said.
"The other factor was risk mitigation, in moving away from having all our eggs in too few baskets in the US, or North Asia, for example."
Blessed with three consecutive solid seasons in the far western Channel Country, OBE's capacity to produce large volumes of consistent Organic beef has grown substantially.
"Our production is now about 20 percent higher than where it was 18 months ago, due to a combination of heavier carcase weights, higher branding rates and more cattle turnoff, since the seasons started to change three years ago," David Brook said.
"For a while our producers held back to rebuild their herds, but now they are starting to let go," he said. Carcase weights are currently near all-time record highs, averaging about 290kg.
The company's value-adding programs, based on items like organic burger patties, meatballs and other items also continue to expand.
The recent CEO appointment of former Woolworths Brismeat manager Phil Gutzke, who has strong credentials in the value-adding segment, would only expand opportunities in the VA field, enhancing carcase utilisation, Mr Brook said.
Click here to view OBE's new Facebook page