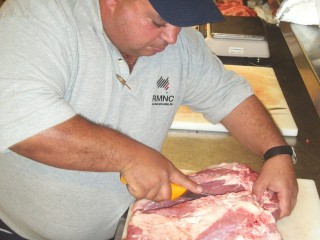 The domestic wholesale beef market this week is awash with beef diverted out of export programs due to the high A$ and flaccid demand in the high-volume overseas markets of Japan and the US.
Sources in the trade say signs of the trend first became evident two or three weeks ago, but it has become much more serious over the past seven days. The effect is being seen across the three East coast states, from Victoria into Queensland.
The worst of the impact is being seen in lower quality lines and manufacturing beef. Cow rumps yesterday, for example, were being quoted at $3.60/kg wholesale, making them a distinct proposition for the grinder trade.
Australian Meat Industry Council national retail committee chairman, Kerry Melrose, said the first signals appeared about the second week in May.
"Like a lot of wholesalers, our business, Melrose Meats, has product in store that is worth a lot less now than what it was when we bought it a couple of weeks ago," he said.
That process would squeeze wholesalers, who would be tempted to sacrifice inventory bought earlier at much more expensive prices, to take advantage of current cheaper wholesale rates.
"But that has to be a positive thing for independent retailer butchers, because they need all the help they can get at the moment," Mr Melrose said.
Yearling rumps that were $8-$9/kg wholesale a few weeks ago were 'a good dollar' less than that now, and declines were much greater in S and PR-cipher cuts from older animals.
"It's the lower grades where the biggest impact is being seen," he said.
Mr Melrose said retail butchers would get some relief from lower wholesale prices, but he did not expect to see heavy retail discounts applied as a result, because butchers were under enormous pressure due to the flat state of the economy and defensive consumer buying patterns. Nor had big marketing campaigns and price wars between Woolworths and Coles helped the independent retailer business.
"What usually happens when domestic trade is very quiet like this, is that beef starts to stockpile in cold storage – and that's means huge retail discounts are not too far down the track. I anticipate that there will be more falls to be seen in carton meat prices ahead – it's hard to see anything else."
That might not be translated into lower cattle prices, however, as many producers had a big feed bank and could afford to bide their time, Mr Melrose said.
Chairman of the Australian Meat Industry Council, Queensland processor Terry Nolan, said the high A$ and lacklustre export markets were to blame for the current diversion of product onto the local trade.
"It's a double-whammy because the domestic trade is flat at the moment due to cost of living pressures. That will only make it harder to find outlets for the additional beef than it would otherwise normally be," Mr Nolan said.
During good economic times, it is often surprising how much additional, well-priced beef the domestic market can absorb.
Mr Nolan said there was product being released into wholesale streams at present that carried a packing date from February.
"That's great if you're looking for aged beef, but what it shows is that beef has in fact been very hard to move for some considerable time. It's only now that the big push has come to divert it back onto the domestic market."
"Product like that has probably been processed without a 'home' (no pre-designated buyer), and now it is getting tipped-out into the domestic market at very cheap prices just to dispose of it. To pay $3.60/kg for cow rumps is ridiculously cheap – they should be $5-plus," Mr Nolan said.
Grainfed rumps drop $3/kg
Steer rumps and grainfed rumps have similarly fallen about $3/kg wholesale in recent weeks, with grainfeds falling from $9 to as low as $6/kg in some cases.
Mr Nolan agreed with Kerry Melrose's assessment that it was lower quality older beef that was feeling the worst of the price slump.
"That would suggest it is coming out of export plants," he said. "There's always that good yearling and MSA type product that consumers want, and that has not been hit near as hard as other descriptions," he said.
Adding further burden to the domestic market supply/demand complex at the moment is the potential consumer backlash over beef from the recent Four Corners TV show about animal cruelty in Indonesian meatworks.
"Even though Queensland saw high weekly kills close to 80,000 head in recent weeks, and NSW/Victorian kills were also high, there is no real 'depth' to the current cattle supply," Mr Nolan said.
Queensland plants did not have forward bookings, and meatworks buyers out Victoria had been operating at northern selling centres like Roma and Dalby in recent weeks, chasing cattle.
"If we keep seeing rain through central and southern NSW, cattle prices might hold up, and reduce the impact of the beef glut a little. But once things dry out, it's possible we could see some fairly depressed slaughter cattle prices," Mr Nolan said.
"I don't think we've seen the bottom yet. The June/July period could be pretty tough," he said.
The Eastern Young Cattle Indicator closed at 388.25c today, down a substantial 6c on Monday's figure.