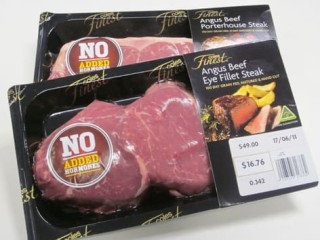 THE trend towards 'premiumisation' in the red meat range offered by supermarkets continues, driven by consumer fascination with TV cooking shows and entertaining at home rather than eating-out during tougher economic times.
Coles Supermarkets now offers its 'Coles Finest' range in stores in New South Wales and Victoria, and plans to roll-out the program in other states as well. Coles Finest is harvested from 100-day grainfed animals, nil-HGP, all Angus genetics, supplied out of Sandy Maconochie's Hopkins River feedlot near Dunkeld in Victoria.
The establishment of Coles Finest does not entirely displace outside private-sector brands in Coles chilled cabinets, however. JBS Australia's King Island grassfed yearling brand is retailed in stores in some regions, and the company plans to continue to use brands that provide a point of difference in the marketplace, with which customers resonate, according to Coles general manager meat, Allister Watson.
Price-wise, the King Island product sits slightly above Coles Butcher everyday beef, but beneath the Coles Finest premium offer.
Asked whether turnover justified the extension into the premium end of the domestic market, Mr Watson said today's customers were looking for a tiered proposition in beef, as they did in many other food lines.
"We think the premium line is a good long-term prospect for beef. However consumers won't pay a premium for a product that does not stack-up as far as eating quality goes. It's no longer good enough to simply pitch it as an Angus derived product, it must have more attributes than that."
Coles Finest had a number of desirable attributes to it that provided a nice brand story, Mr Watson said.
"In our case, that means the best MSA boning groups possible; its grainfed; carries the right genetics; and of course has no HGP. All those attributes together make it the best steak I've ever eaten, and it consistently performs that way."
"If you can produce a consistent high-quality product like that, then there definitely is a premium market out there in domestic supermarket retailing. But products that do not perform that way will very quickly get found-out by the consumer, and sales will perform accordingly."
Questioned about whether Coles had any plans to develop a Coles Finest-type product in the company's northern supply chain, through the Australian Country Choice plant at Cannon Hill,
Mr Watson said ACC was a major supplier to Coles and on an ongoing basis, both companies would continue to work closely to produce products in line with Coles continuous focus on customer offers.
Innovative packaging solution
Coles has elected to use the innovative but relatively expensive DarFresh packaging system for its Coles Finest range, sold pre-portioned (see accompanying image).
The DarFresh vacuum skin packaging (VSP) process uses a special film that surrounds the product and seals over the entire surface of the pack like a second skin, preserving shape, texture and product integrity for a premium retail presentation. It also offers greatly extended shelf-life.
While Modified Atmosphere Packaged portion-cut product offers similar shelf-life, DarFresh packaging retains moisture within the steak better, rather than allowing it to seep into the pack's soaker pad as can happen under MAP, or produce purge when squeezed in a vacuum-pack bag.
Rival national retailer, Woolworths is using similar packaging in its Cargill Riverine Premium Beef offer, now being sold across Victoria and NSW. Riverine Premium is expected to also be seen in Queensland stores soon, following the closure of business between Woolworths and Australian Agricultural Co's 1824 brand.
In its first entry in the competition, the Coles Finest premium brand picked up a second place in the MSA grainfed class at the Royal Queensland Food & Wine Show branded beef competition held yesterday. That's a major statement for domestic supermarket beef against some of the nation's largest and best-established grainfed export brands, some fed 200-days plus.