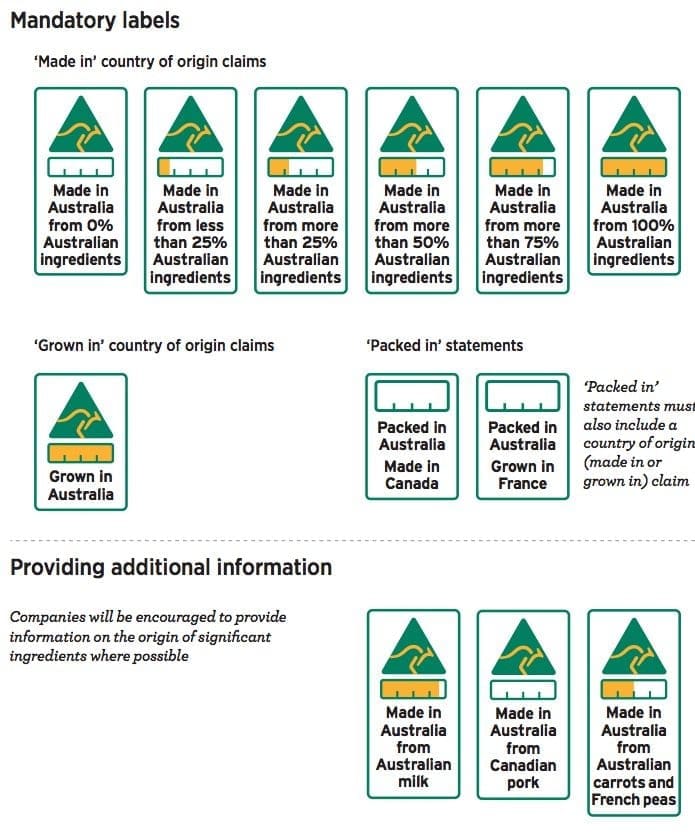 THE Federal Government this morning approved a new food labelling system which will show consumers where products are made, grown or packaged.
Foods processed locally will have a new label which includes the familiar green and gold kangaroo and triangle icon, with a bar chart showing what proportion of the ingredients are from Australia.
The new country of origin food labels will begin to appear on supermarket shelves later this year.
Federal agriculture minister Barnaby Joyce said it was important to ensure consumers had the information they need to make informed choices about the products they buy.
Australians had made it clear they want better country of origin labelling and the Government was determined to deliver it.
Examples of new labels include"Made in Australia from 100% Australian ingredients", "Packed in Australia, Made in Canada" and "Made in Australia from Australian carrots and French peas."
Companies will be encouraged to provide additional information on their labels – identifying the origin of key ingredients, for example.
The green and gold triangle design was the overwhelming preference of more than 17,800 respondents to the Government's food labelling community survey.
The new labels will be easy for shoppers to identify. Consumers will no longer have to search for country of origin information hidden in small print.
Consumers will be able to make a quick comparison of products on the shelves. Digital options are also being developed so consumers who want more detailed information can get it.
These reforms will also clarify the definition of "made in" Australia. Importing ingredients and simply slicing them will no longer qualify for a "made in" claim.
Under the new scheme, if a product is imported into Australia and then re-packed, the label will identify where the item came from.
The Commonwealth Government will continue to work with the States and Territories, whose agreement is required to roll out the new labels.
An initial voluntary take-up of the country of origin food labels will mean shoppers should see changes on the shelves later this year.
The mandatory rollout will commence in 2016, providing manufacturers with time to implement the new scheme. There will be a phased implementation period for small business.
Source: Minister for Agriculture. For further information on country of origin labelling visit industry.gov.au/cool.