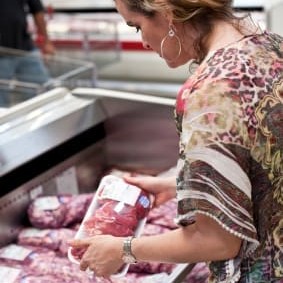 The next phase of the Meat Standards Australia consumer education campaign will be launched on Sunday with mainstream television commercials and in-store promotion, focussing on the MSA story.
The new TV ads will appear in major metropolitan capitals until the end of February under the "What's New" platform hosted by Ros Switzer, a segment already well recognised on Australian television.
A series of information evenings started in Brisbane last night and will be held in all capital cities for independent butchers and wholesalers engaged with the MSA program.
The greater focus on consumer education over MSA comes as a result of mounting pressure from peak council groups, who felt a disconnect was emerging between the program and its understanding among end-users.
Peak councils have viewed the latest advertisement and surrounding point-of-sale information and appear to be broadly supportive of its content and methodology.
Australian Meat Industry Council's national retail chairman, Ray Kelso, said he was pleased to see the ad portraying a butcher's counter, not a supermarket, and described the content as "quite good for what it sets out to achieve."
"I think all MSA users can get some benefit from the content, not just one sector or another."
"We continue to have some problems with specific aspects of MSA and what MLA is doing with it in development in certain areas, but the key principles of this ad we agree with. The important point is that it is consumer education focussed, and not designed as a marketing tool for any particular retail segment."
Following the announcement that supermarket group Woolworths would join the MSA program in January, some retail sector stakeholders interpreted the new MSA consumer education ads as likely to be part of some sort of 'deal' as part of the Woolworths move.
At last night's butcher/wholesaler briefings, it was stressed that the new consumer education strategy was in fact set in motion long before Woolworths committed to support the program.
AMIC has advocated its long-standing position that the MSA trademark should be promoted as an endorsement to enterprise brands and never be promoted in such a way that it becomes more prominent than enterprise brands themselves.
The rule that MSA is an underpinning tool has been accepted by all of industry's stakeholders and that any future consumer promotional campaign must focus on consumer education rather than promoting MSA as a brand.
Cattle Council of Australia member Sam Gunn, from Condobolin in NSW, said the new consumer-education program was definitely on the right track, and was what the whole program was designed for.
"It's about giving consumers the knowledge about why the system is important in order to buy with confidence, taking the guess-work out of purchasing a piece of beef for both quality and consistency," he said.
"We have good seasons right up the Eastern seaboard which means there will be good supply capacity for MSA for at least for the next couple of years."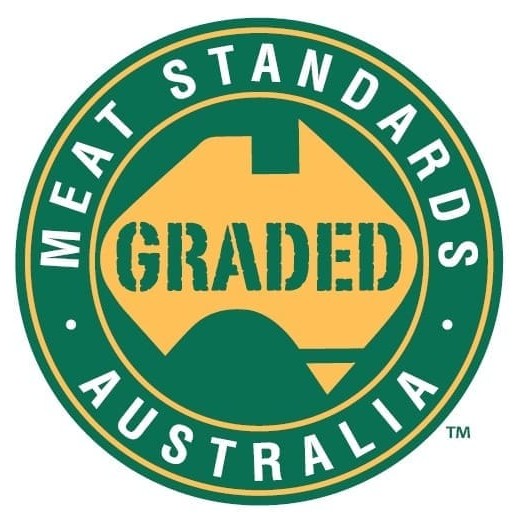 Other significant new changes to be made from the MSA program from Sunday include the symbol's change in terminology from "Tenderness Guaranteed" to "Graded."
"Tenderness Guaranteed" will remain part of the MSA message, but the symbol change came about as a result of an extensive consumer survey. The result showed that the original term did not inspire or mean that much to retail customers. They were given a range of other options to consider, which saw the term "Graded" given overwhelming support from consumers as a descriptor that resonated with them, seen as delivering a value.
One of the underlying drivers behind the industry's strategy to re-engage with the consumer and build understanding of the value in the MSA symbol was the increase in critical mass in the program, with more than 1.4 million head graded last financial year, butchers were told last night.
Summer beef campaign delivering results
Coinciding with the launch of the MSA consumer awareness work will be the next phase of MLA's summer beef campaign, focussed on barbecue season.
Billboards have been placed in 16 prime capital city locations including the M4 motorway and Pacific Highway (Sydney), Nepean Highway and Western Ring Road (Melbourne), Story Bridge and Gold Coast Highway (Brisbane), West Terrace (Adelaide) and the Stirling Highway (Perth) to tempt consumers to eat more beef this summer.
Outdoor advertising has been a central component of MLA's 2011-12 summer campaign aimed at making Australians drool over beef and tempting them to buy it.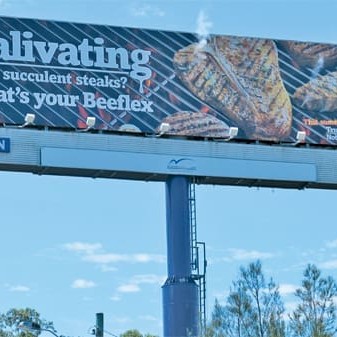 An innovative barbecue billboard, which emitted plumes of smoke, reached more than 65,000 Sydney motorists a day during November. The billboard received kudos from marketing industry website Mumbrella, which rated it one of its top seven outdoor advertisements for 2011.
MLA this week claimed the first phase of the campaign, which ran from October to November, helped increase servings of beef by 730,000 serves per week to 49.32 million/week throughout October and November 2011, compared with the previous year.
Independent retailers rated the campaign as the most useful summer campaign in growing sales for beef to date, giving a score of 3.37 out of 5 (average score is 3.21).
"The Beef BBQ promotion this year drew our customers' attention. They commented on the billboards and were driven to buy beef when they saw the posters and Entice (recipe magazine) magazines in store," said Stuart Hayes, who runs Freshwater Gourmet Butchery on Sydney's northern beaches.
The barbecue 'Trust your Beeflex' television commercial, billboards and new point-of-sale material, including the latest edition of Entice magazine, supported the campaign.
The iBeef iPhone app, launched with the summer campaign, has already been downloaded more than 4000 times by consumers. The app helps users match cuts to suitable cooking methods for the best outcome and also increase beef recipes.