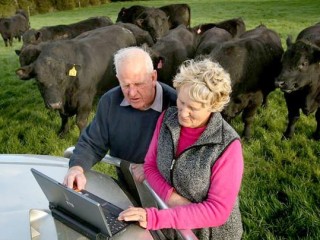 A Victorian commercial beef brand with strong natural production credentials has taken a major prize at the Royal Melbourne Show's inaugural branded beef competition last week.
The 2011 Melbourne Fine Food Awards join similar awards staged at Brisbane and Sydney Royal Shows, which now attract dozens of entries from all parts of Australia.
Melbourne's inaugural awards follow a similar pattern as Sydney, awarding Gold, Silver, and Bronze medals on a points-scored basis. This means multiple entries in a class can win the same medal, provided they reach a certain points target, or in the case of last week's Melbourne competition, no entries earned higher than a silver medal.
The keenly-contested MSA grassfed class attracted entries from Victoria, South Australia, NSW and Tasmania. Overall champion was Gippsland Natural Beef, earning a silver medal.
Gippsland Natural's brand identity is promoted as grass-fed, free-range beef, raised without the use of hormonal growth promotants or antibiotics on lush pastures of the Gippsland region of Victoria.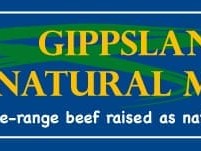 The program is supplied by a network of dedicated producers and underpinned with the Meat Standards Australia tenderness guarantee.
It is finding a niche in leading gourmet butcher shops, cafes, gastro-pubs and fine dining restaurants in Victoria, but the plan is to expand the brand into the Sydney and Brisbane food service and retail markets over time.
Established in 1999, Gippsland Natural Beef was one of Victoria's first branded beef products to carry the Meat Standards Australia tenderness guarantee. The kill is carried out on a contract basis at the Radfords plant in Warrigal, Victoria. The program is predominantly carcase beef at this stage, but some boning is carried out for boxed beef programs.
Environmental brand extension
In 2002, the Gippsland Natural producers created a separate sub-branding strategy establishing the Enviromeat brand through the development of the Enviromeat Environmental Management System (EMS) compliant with ISO 14001 environmental certification.
Enviromeat is essentially the same product as Gippsland Natural, but carries the additional brand attribute of coming from properties with the environmental certification.
The Enviromeat program is Australia's first Environmentally Certified beef brand, and is also underpinned by MSA. The ISO 14001 international standard for environmental management involves identifying the specific environmental challenges and impacts at the farm level, and working towards a 'do-check-monitor' program to help identify solutions or management options for each topic.
Issues typically identified in a typical Enviromeat EMS include water quality, remnant vegetation protection, revegetation, chemical and fertiliser management, OH&S issues, grazing management, soil erosion, salinity management, biodiversity, carbon management, pest plant and animal management, and catchment management.
One of the catalysts behind the program's establishment was Federal Government DAFF and MLA funding support for the development of Environmental Management Systems in agriculture.
"If we wanted to make a 'green' claim as part of the brand, it was important to not simply commit to an environmentally-responsible process, but put some rigour behind it," Enviromeat's Paul Crock said.
"Just because a producer does not use chemicals does not guarantee good environmental stewardship. We certainly minimise chemical use, but there are many other aspects involved," he said.
"We have had a really good response to the brand out of the food service sector, but there is also a growing opportunity in retail," he said.
Runner-up in the MSA grassfed class, earning a bronze medal, was Richard Gunner Fine Meats with its Coorong Angus Beef brand, produced out of South Australia. Coorong also did well at the recent Sydney show branded beef awards.
In Melbourne's grainfed MSA division, first place and the championship went to Certified Australian Angus Beef, produced out of Teys Australia's Wagga Wagga plant, earning a silver medal.
A second silver medal went to Teys Australia itself for its Riverine Premium Beef brand.
Bronze medals went to Stockyard Beef for its Stockyard Gold product, the winner at the recent Sydney Show branded beef contest; and Oakey Abattoir's Oakey Angus Reserve brand.
Food service or retail customers interested in more information on Gippsland Natural or Enviromeat can visit the company website at www.gippslandnatural.com.au or contact Paul Crock at pscrock@bigpond.com