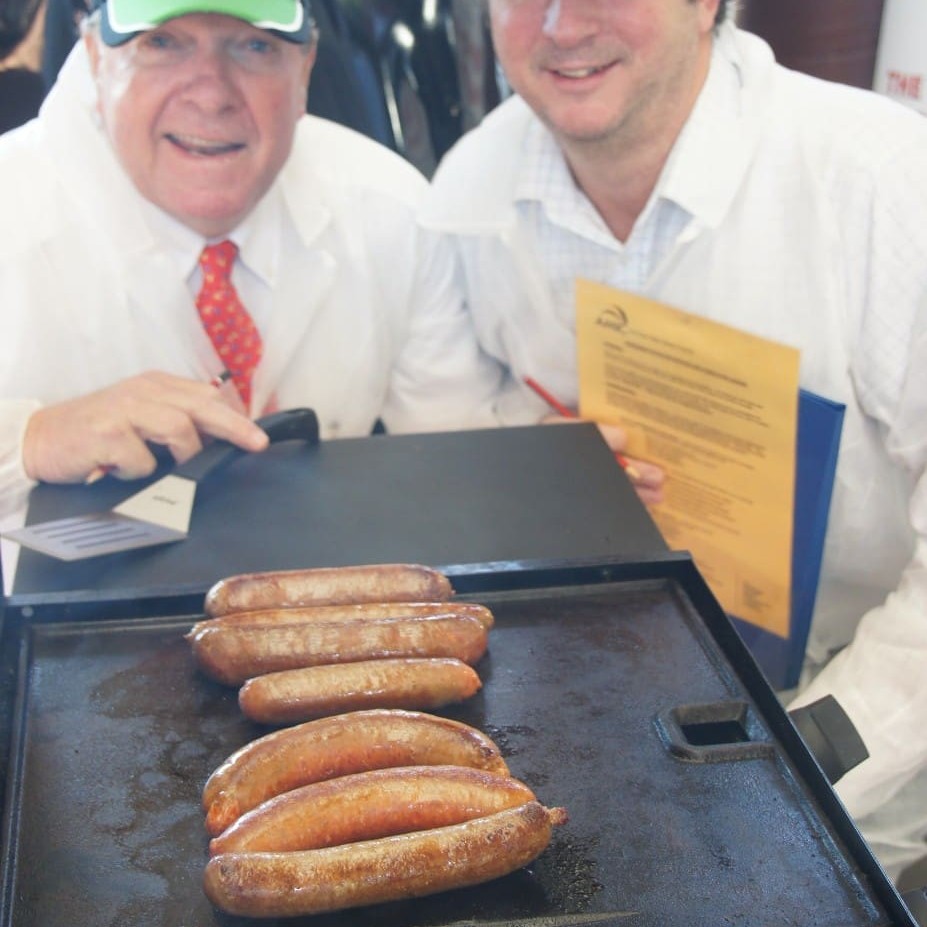 The Australian Meat Industry Council showcased its perennially popular Sausage Kings competition yesterday when a large crowd witnessed the 2012 Queensland State Finals of the competition, held at Brisbane's Exhibition Grounds.
Finalists from seven regions across Queensland were decided in a series of regional competitions held earlier in the year, attracting more than 1000 entries in total.
Yesterday's State Finals produced a strong result for independent butchers from country and regional areas of Queensland, with just one winner from metropolitan Brisbane. Six categories were contested, including traditional beef, gourmet, continental, lamb, pork and poultry.
This year's Queensland beef sausage King was Wavell Heights Quality Meats on Brisbane's northside.
An Ipswich butcher snagged the title of Queensland's best continental sausage for a beef-based Spanish chorizo entry. Two-time Australian national Sausage King title-holder Barnie Nolan, from Circle T Meats near Ipswich will represent Queensland in his fourth national competition next February after taking out the top gong for continential sausages.
Event organiser and AMIC representative Gail Butler said this year's competition had unearthed Queensland butchers producing a fantastic range of artisan sausages.
"The standard that we have seen since starting the regional competitions back in February has been outstanding," she said.
"The sausages which have won today tick all the boxes – full of fresh, quality ingredients, well-crafted and demonstrating immaculate presentation. When all of those aspects are achieved it becomes a very close competition."
In total the judging panel of 17 cooked and tasted 42 of the state's best sausages.
"The overall Queensland competition is the largest of its kind in Australia and some competitors have had to beat more than 50 entries at a regional level alone, so it's a major achievement when they take home the state title," Ms Butler said.
Entries are first graded visually, in both cooked and raw state, and then on flavour, texture and overall liking," she said.
The winners from today's Queensland final will go on to compete against other State champions in Perth in February next year. Beef Central was there to participate as one of the judges.
Full list of 2012 Queensland State Sausage King winners:
TRADITIONAL BEEF: Wavell Heights Quality Meats, Wavell Heights, 1; Master Meats, Mooloolaba, 2; Richmond Butchery, Richmond, 3.
TRADITIONAL PORK: Mundubbera Butchering Co, Mundubbera, 1; Terry Orreal's Quality Meats, Brendale, 2; Gatton Meat Centre, Gatton, 3.
LAMB: Carey Brothers Butchers, Warwick, 1 (Lamb, Honey and Mint); Murrumba Downs Gourmet Meats, Murrumba Downs, 2 (Kashmir Curry and Coconut); Mundubbera Butchering Co, Mundubbera, 3 (Moroccan Lamb).
POULTRY: Zac's Meats, Bundaberg, 1 (Kashmiri Curry and Coconut); Nothling Brothers Prime Meats, Woody Point, 2 (Chicken, Spinach and Pine Nut); Coombabah Meat Man, Coombabah, 3 (Honey, Macadamia, Seeded Mustard and Turkey).
CONTINENTAL: Circle T Meats, Raceview, 1 (Spanish Chorizo); Zac's Meats, Bundaberg, 2 (Greek Loukaniko); Barrow Lane, Mitchelton, 3 (Classic Italian).
GOURMET: Zac's Meats, Bundaberg, 1 (Pork, Maple and Pistachio); Prime Specialty Meats, Southport, 2 (Greek Lamb); Westridge Meats, Toowoomba, 3 (Apple, Sultana and Pork).