Australian consumers continue to spend more when eating out than those in the US, Japan, France or the UK, but China is the big improver when it comes to spending patterns, a recent global consumer research project has found.
NPD Group's CREST research shows that when adjusted to US dollars, Australians spent an average of US$8.81 when eating out during the first quarter this year, a 4.4 percent rise on this time last year.
The result is perhaps more a reflection of higher cost of living and food pricing in Australia, relative to some other countries, rather than any difference in consumer attitude.
In contrast the average US consumer spent $6.48 when eating away from home in the first quarter, a 2.53pc rise on last year. Canadians spent slightly more at $6.84 but the figure has grown less than 1pc over the past 12 months.
Countries spending less than a year ago included the UK ($7.12, down 3pc on last year). Italy, Spain and France also showed small reductions.
The most dramatic shift was for diners in China, where the average consumer spent 46pc more when eating out during the first quarter this year than last, rising to US$4.03. Australians recorded the second highest percentage growth (4.38pc).
NPD Group's CREST analysis continually tracks commercial foodservice usage in Australia, Canada, China, France, Germany, Italy, Japan, Spain, the UK and the US.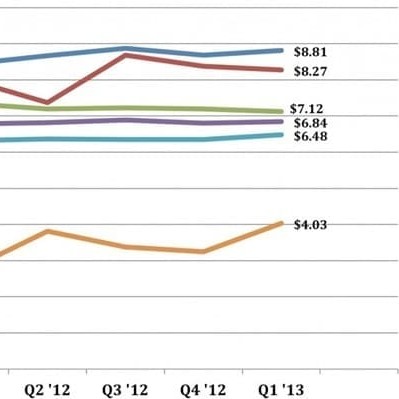 Customer visits
In terms of frequency of eating out, Australia, Canada, and China started 2013 with an increase in foodservice consumer visits, while other countries among the ten surveyed experienced weak traffic growth in the first quarter of the year.
The weakness in visits to restaurants and other foodservice outlets experienced in Continental Europe in the last quarter of 2012 continued into the first quarter of this year. Soft traffic was also recorded in North America and Japan.
Australia, Canada, and China were the only three countries that posted traffic growth in the first quarter. Even with foodservice traffic gains, China reported the weakest traffic and average spend growth since NPD CREST began tracking the country's foodservice industry in 2010.
"Australians entered the New Year with a more optimistic attitude that was reflected in their increased visits to and spending at foodservice outlets," said NPD Foodservice Australia director Ciara Clancy.
"Despite that good news, concerns around job security still remain, with ongoing labour market weaknesses. All of this may raise consumer concern and deflate optimism, resulting in less use of foodservice in subsequent quarters," she said.
Source: The NPD Group/CREST