THERE'S been a dramatic lift in Australian beef trade into China this year.
For the 2018 calendar year to the end of July, exports have reached 88,830 tonnes, up 48 percent from the same period a year earlier. At its current rate, total shipments for 2018 could rival the record 2015 year, when the China market first 'exploded' with shipments reaching close to 150,000t.
The recent surge in trade has come despite a lot more competition in the China market than Australia faced earlier. There are almost a dozen significant beef producing countries now eligible to export to China, including Brazil, Argentina and Uruguay in South America; the US and Canada in North America; and most recently, European countries like the UK, France and Ireland. Three or four years ago, Australia and NZ largely had the market to themselves as 'front door' exporters. More detail on the increasingly congested imported beef trade in China in coming days.
Beef Central approached a numbers of Australian exporters and meat traders working in the China market this week to seek some explanation about this year's growth in trade volume.
Grey-trade policing
One popular view is that a recent Chinese Government clamp-down on the so called 'grey trade' (beef exported to nearby Hong Kong, Vietnam or Cambodia, and illegally smuggled across the border to avoid taxes and tariffs) has pushed more business back in Australia's direction.
Some linked the government move on grey trade back to the trade war between the US and China, where tit-for-tat tariff retaliation has been happening. In early July, China imposed a 25pc tariff on US beef imports, and apparently activated the policing action to ensure the tariff increase decision was not undermined by simply moving US product through the grey trade.
Trade talk also suggests that cheap Indian buffalo meat imports have also been affected by the clamp-down in illicit trade by Chinese authorities, leading to some frozen stockpiling in India.
One recent report estimated that just 20 containers a day (all meats, not just beef) were passing through the grey trade from Hong Kong into China presently. "If that is accurate, it's an absolute drop in the bucket from what it normally is," one source told Beef Central.
While the first six or seven months of this year were very good for Australian beef into China, it was not yet at the really big volumes seen three or four years ago.
"But since July we've seen the front-door market slow-down a little again – especially for certain items that compete more directly with cheaper 'commodity' type beef out of Brazil, Uruguay and Argentina," the trade source said. "That lower-end product is probably over-done in China at present."
Some reports have suggested there had been a build-up in frozen stocks, particularly cheap US and Brazilian beef, in China in the past month or so.
However it would not be too long before the Chinese again start buying for next year's Chinese New Year celebrations (February 5), the source said. The third quarter tended to be a quiet period in global beef demand, in between the northern hemisphere summer and Chinese New Year. However fourth beef quarter sales, starting October 1, often started to build as Chinese importers began gathering stock around them for the busy festive period.
China bidding product away from US
Another factor suggested by traders in recent growth into China was that China was now 'bidding' some Australian product away from the US, because of the sheer glut of domestic beef being produced in the US industry at present, reducing demand and buyer appetite for Australian imported beef.
"We're still shipping reasonable quantities to the US, as well as traditional markets like Japan and Korea – it's just that with the additional production being generated in Australia this year due to drought turnoff, there is a little more of that surplus entering the China market," an exporter source said.
Greater disposable income
The gradual shift of more Chinese citizens into the middle-class category, with greater ability to buy beef, was also part of recent beef trade growth, contacts said.
Households earning more than US$35,000 a year (regarded as a trigger point for greater beef consumption) are expected to double to 20 million by 2022, data suggests.
Shift in product type
Evidence also suggests some shift in beef product type out of Australia into China.
The Australian Lot Feeders Association recently noted that grainfed beef volumes into China had lifted 74pc from year-ago levels to 12,653 tonnes, which for the June quarter saw China overtake South Korea to become Australia's second largest grainfed beef market in volume.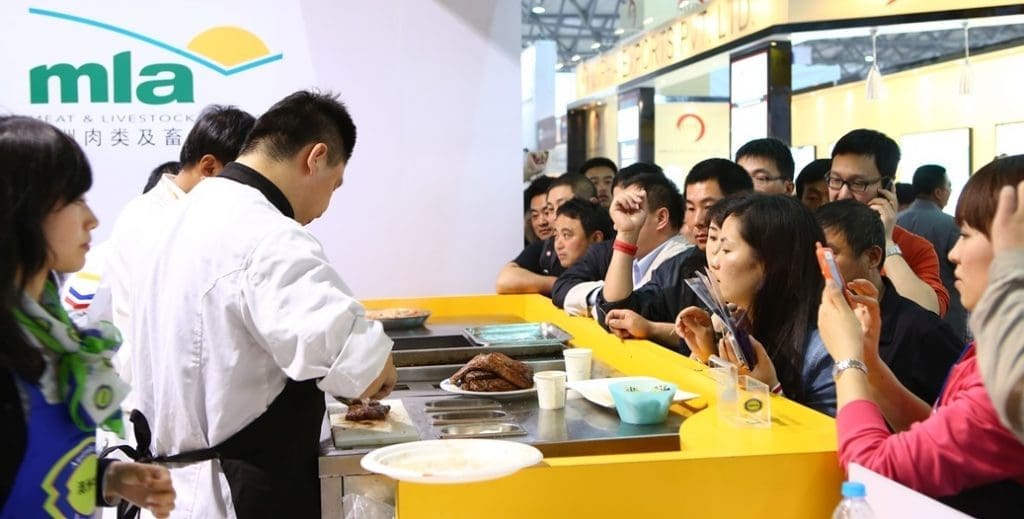 Meat & Livestock Australia's general manager for international markets, Michael Finucan, said strong underlying demand continued for Australian beef in China, but the more commodity end of the market was still subject to the 'ebbs and flows' of international trade.
While there had been a big jump in additional manufacturing-type product this year, there had also been strong growth in better quality meat.
Australian chilled beef exports to China had grown 60pc this year, Mr Finucan said.
Changed cut preferences are also emerging, with a gradual move toward individual cuts likely to be sold in retail markets or restaurants, and away from manufacturing beef that is generally used for value-adding.
"On-line retail, for example, is really performing well in China, and Australia is the main supplier in this space. It's been really stable over the past four or five years, but showing a nice uptick in the past six months."
"But retail, generally, in China is pretty strong at present, with lots of people out there looking for good quality chilled Australian product," Mr Finucan said.
While US beef production was much higher this year, much of that was being absorbed domestically, rather than competing with Australia in markets like China, he said.
"The US is not impacting Australian's traditional export markets like Japan and Korea as much as some may have thought earlier – with Australian exports to both countries up 10-11pc up on last year.
"Across the board, Australian exports to Asian countries are higher this year, up 48pc into China, +30pc into Indonesia, and some other southeast Asian markets up 25pc," he said. "Higher production in Australia is driving that, but China's growth is certainly larger, in percentage terms, than others."
However exporters remained well aware of the ebbs and flows that could occur in the China market. While many had established relationships with key customers, they were also cautious about putting too many eggs in one basket.
"I'd be cautious at this time about suggesting the current rise in trade will automatically continue," he said.
Red meat industry strategy for China
Australia is in the early stages of re-visiting its China industry strategy, in a process being coordinated through the Australian Meat Industry Council.
AMIC, with the support of MLA and AMPC, is coordinating the development of a strategy intended to provide a strategic and tactical industry roadmap for the short, medium and long-term to address non-tariff technical barriers to trade.
A key market access focus will be China's inaugural International Import Expo, a six-day multi-sector trade show for imported agricultural and food products being held in Shanghai in November.
MLA will host an Australian industry exhibit at the event to promote Australian meat exports to China, as well as participating in a range of planned activities to showcase Australian produce.