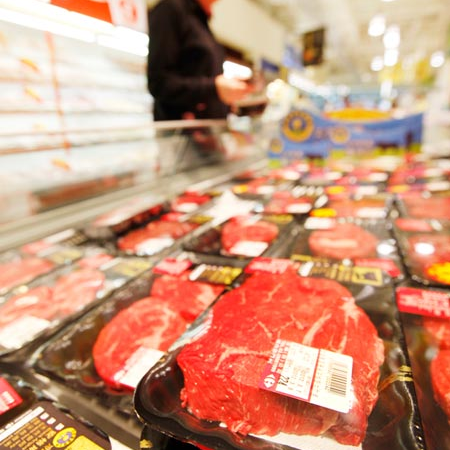 The rate of change may have slowed, but independent butchers continue to lose retail beef market share to both Coles and Woolworths, according to results in the latest Nielsen Homescan* retail survey released recently.
Both major supermarket groups recorded marginal growth in market share in the rolling quarter ended June 15, while independent butchers lost share for the fifth consecutive month.
Butchers held a 22 percent share of national retail beef sales by mid-June, a decline of 2.7pc since January. For the previous 24 months, butchers held a market share advantage over Coles, but the gap started to narrow during the latter stages of 2012, and Coles assumed second spot behind market leader Woolworths in February.
Woolworths edged further ahead in the beef retail stakes, reaching 32.9pc for the latest rolling quarter, up another 0.1pc, and its highest share seen in at least two years. Woolworths has now picked up 1.7pc market share against all other competitors since December, Nielsen survey records suggest.
Coles also continues to improve, picking up another 0.1pc share to rise to 24.6pc of retail beef sales. Coles has been the biggest mover over the past eight months, improving its position by 1.8pc.
Most of the recent changes seen in retail beef share have happened among these 'big three', with little movement evident among smaller players – IGA, Aldi and other supermarkets.
Independently-operated IGA supermarkets lost 0.2pc share finishing the latest survey reporting period at 9.3pc, but that was coming off a two-year high achieved the previous month. The Aldi group continued to make steady progress, returning a 7.4pc share, its best result since December.
The 'other' supermarkets category was little changed at 3.8pc.
It should be noted that this Nielsen assessment is based on rolling quarterly figures, not single monthly registrations, because they are regarded by analysts as being a more accurate reflection of longer-term trends.
After a period last year where Coles appeared to be starting to close the gap against its largest supermarket rival, Woolworths has gradually widened its market share gap again from 7.5pc to 8.3pc since February.
Both Coles and Woolworths continue with sharply discounted retail offers on grilling and other beef cuts, as part of widely-publicised 'retail price wars.' Mince is the latest battlefield, with Coles mounting a publicity blitz this week over its $5/kg offer on 83CL three-star beef mince.
The companies' online shopping platforms, which accurately reflect current physical supermarket prices, showed that yesterday, both companies were still offering sliced MSA/MSA-eligible yearling rump at $13.50/kg, down from $18.99 earlier.
Category outlook
The overall fresh meat category (beef, chicken, lamb, pork, seafood) recorded value growth of +1.3pc for the rolling quarter ending June 15, versus the same period a year ago. Nielsen said that was due both to an increase in price (+2.1pc), and frequency of purchase (+2.4pc).
Lamb was the only meat that has experienced a decrease in price (-90c), yet has managed to increase its value share. The other changes in value share seem to be driven by changes in price; the prices of chicken (+84c) and pork (+36c) have increased considerably, while beef prices have decreased slightly (-22c).
It's important to note that the prices reported by Nielsen are measured as the average $/kg value of the items in the surveyed consumer shopping baskets, and do not attempt to represent the overall average value of beef and other proteins being sold in the retail marketplace.
Under these terms, beef recorded an average price of $9.82/kg for the May rolling quarter; chicken $8.05/kg; lamb $11.09; and pork $10.21.
Value share
Chicken value share (+1.06pc) has experienced the strongest growth this period, while the value shares of lamb (+0.22pc) and pork (+0.23pc) have also increased compared to last year.
Despite quarterly beef share increasing by half a percentage point from last month, its share has decreased (-1.23pc) compared to the same period in 2012.
Beef's share of total retail meat protein value measured under the survey methodology increased further in June to 37.1pc, but it still sits some distance from recent seasonal highs of 39.3pc seen in July-September last year.
Compared with a year ago, chicken has experienced the strongest value share growth at +1.06pc, while the value shares of lamb (+0.22pc) and pork (+0.23pc) have also increased. Despite quarterly beef share increasing from last month, its share has decreased -1.23pc compared to the same period in 2012.
* What is Nielsen Homescan?
A consumer panel of 10,000 households
Demographically and geographically representative of all Australian households
Electronically record their household purchases of all grocery foods (fresh and packaged)
How are panel participants recruited?
Households are recruited on-line via a random sampling method
The Homescan panel is stratified by life stage, region and household size
Households are screened to assess suitability and to ensure they do not work in marketing, market research or FMCG.