A bunch of high-flying international chefs who visited Australia this month clearly see a future for sustainability and carbon/methane claims behind Australian premium beef being used in the food service industry around the world.
While on holiday in Sydney earlier this month, Beef Central went along to observe Meat & Livestock Australia's Aussie Beef Mates program, designed to boost the international appetite for Australian beef.
The delegation of 16 chefs and food professionals from China, Japan, Korea, Malaysia, Indonesia, Thailand, the United Arab Emirates and Saudi Arabia, Vietnam, the UK and the US spent the best part of a week visiting cattle properties, feedlots, processing plants and other destinations. The week ended in Sydney with a Masterclass program exploring topics including butchery, Meat Standards Australia grading systems, food safety, integrity systems, and more.
MLA's global business manager Josh Anderson said through the Aussie Beef Mates program, international chefs and food professionals learned and shared the Australian beef story with their own global networks, driving international demand for our premium product.
"There is no better way to learn about the Australian beef industry than by spending time with producers and food professionals that are passionate about Australian beef," he said.
"The program will help to grow global exports by boosting the profile and understanding of beef in key overseas markets.
One of the highlights of the week was a culinary challenge, where the 16 chefs paired-off and had two hours to deliver dishes based on secondary cuts of Australian beef in incredible ways. Beef Central acted as one of the judges, and was blown away by the creativity, presentation skills and energy that went into the process.
Throughout the week, the Aussie Beef Mates shared ideas on innovative beef uses and networked with stakeholders within the supply chain. Importantly, they learned from each other as they created beef dishes inspired by a fusion of regional flavours.
Here's some thoughts from some of the international chefs taking part in this month's Beef Mates program:
United Kingdom
Talented British chef Fred Smith, pictured above, heads a popular UK steakhouse chain called Flat Iron, which specialises in using the novel steak cut of the same name, harvested from the oyster blade.
His company now operates a dozen outlets in London, opening a thirteenth in Cambridge in July.
Incredibly, by normal restaurant conventions, 75pc of the grilling cuts the network sells to diners are flat iron steaks, with the remainder mostly bavettes (flank steak) or sirloin.
"When we opened our first restaurant 11 years ago, flat irons (200g portions) were the only steaks on the menu, and it has remained by far our most popular cut. It's super-focussed, and our customers keep coming back for it," chef Fred said.
Accompaniments include novel items like beef dripping 'popcorn', made from rendered beef fat, which eats like pork crackling.
"Four years ago, 75pc of the beef we used was Australian," chef Fred said.
"But since then, a range of market conditions including tariff changes post BREXIT, and availability due to the quarterly quota distribution challenges – has just made the environment incredibly difficult to use Australian beef. It's been a nightmare," he said
"But we are absolutely pumped about the activation of the UK-Australia FTA earlier this month," he said. "We really want to get Australian beef back on our menu, in a big way, because of its consistency, quality, and shelf life performance."
"Historically we've only ever sourced grainfed Australian beef up to now. But learning more during the Beef Mates delegation about the MSA grading system, I think there could be real opportunity for us, also, in good quality Australian grassfed. Domestic British beef is all grassfed anyway, so the customers are familiar with it.
"We do see some inconsistency in domestic grassfed beef, but the UK does not have the same kind of sophisticated grading system as MSA. If we compared it with British grassfed beef, I think Australian MSA-graded grassfed would deliver us a higher level of consistency."
Chef Fred said each of the company's Flat Iron restaurant outlets carried out a daily taste test of four steaks, with particular emphasis on tenderness.
"We have a cut-off of four or less for what we deem to be acceptable. When we have Australian beef on the menu, the fail rate is virtually none, nothing. With British beef, the fail rate can be one in twenty."
Asked whether rising wholesale beef prices had changed the offer on the Flat Irons' menus, he said all raw material prices had risen.
"There's been so much pressure on our input costs, and we have had to raise our steak menu prices. But value is relative. The flat iron steak was £10 when we started a decade ago, and £13 now. If you want a service of steak and chips and a glass of wine in central London, it can get expensive. But with flat irons, we can still do that for £25 or less."
Asked whether the carbon, methane or sustainable claims were likely to attract interest in the UK food service industry, he said it had to. "Sustainability is a hot topic, but the current cost of living crisis that we are seeing in  the UK has maybe pushed it back down the priority list a little.
"When consumers have enough problems on their plate already, price trumps other attributes like this. People (UK consumers) still want to go and eat out, but they may have a little less money in their pockets. Flat Iron is an obvious choice, because we offer a premium product at a very reasonable price."
"But environmental claims like this are coming. The UK retail market is very different, but restaurants are likely to be where it's seen first. Go to a supermarket in the UK and everything is unbranded, and almost always has British in the label. But food service and hospitality is where the opportunity lies for claims around environment."
United States
US chef Stephen Toevs is the senior director of culinary with the Marriott International hotel chain, working on the company's extensive operations across the US Canada and the Caribbean.
"This is my first visit to Australia, and I've been inspired by the artisanship and stewardship of the land, during the farm visits we've made," he said.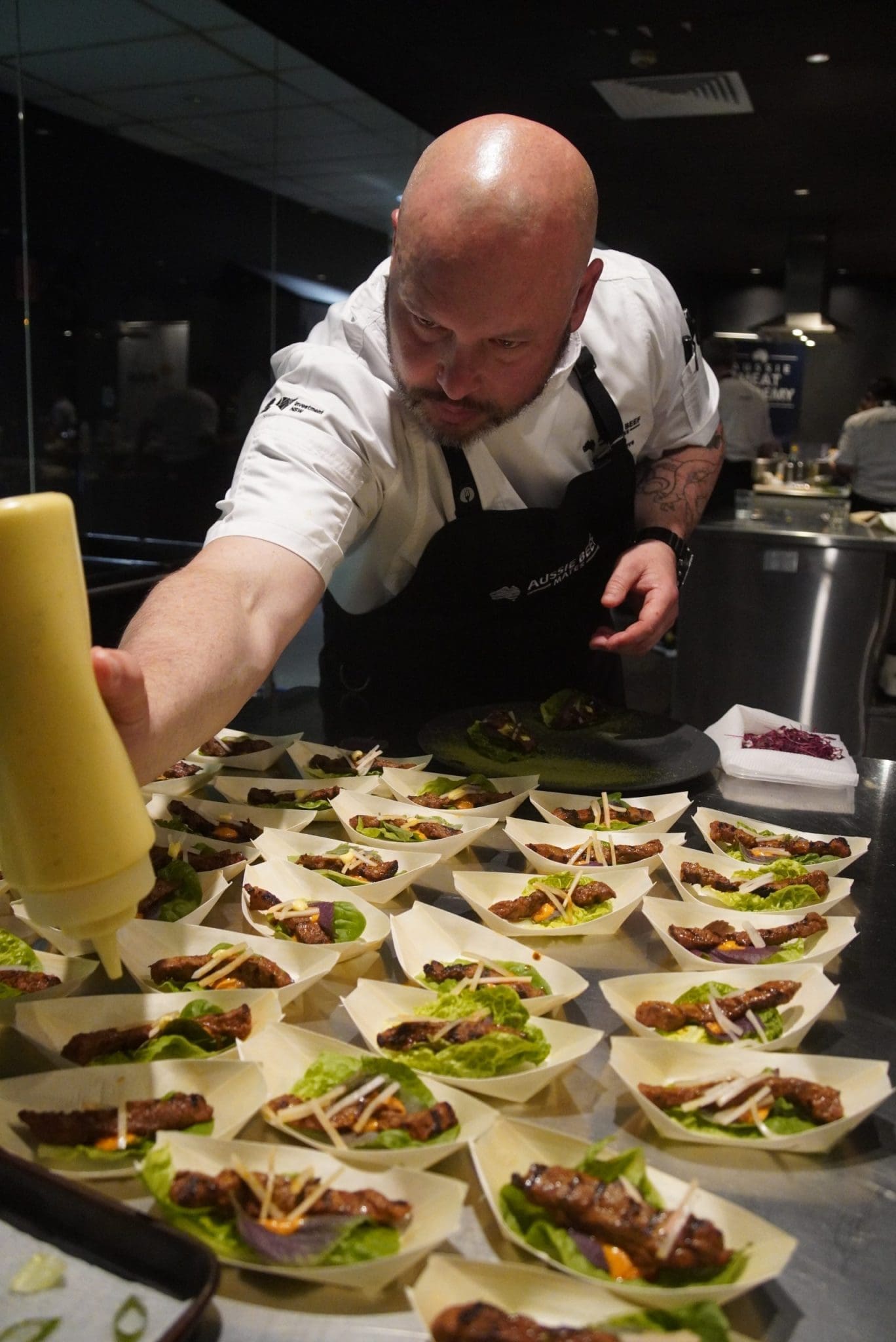 "The farmers we've met pay homage to the soil – they embody everything that everybody who wants to do good for the environment wants to achieve. It's a special thing, and I want to come back to see more," he said.
Chef Stephen, pictured left during the culinary challenge, said claims around environmental footprint, methane and carbon resonated with his hotel and conference customer base.
"Already Marriott is building its whole infrastructure around meetings and events at our hotels around trying to reduce our carbon footprint, and giving back carbon credits. Meeting planners with major customers wishing to use Marriott properties want to align themselves with hospitality providers who want to do the same thing."
"But none of that comes into the picture until you visit a farmer, who sticks a shovel into the ground and pulls up this beautiful soil, teeming with life; and talks about managing annual pasture cycles. That's where the rubber meets the road for me, in any carbon claims."
"It's not so much about responsible recycling (although that's important too) – it's about what we do to better the environment, starting on-farm."
The sustainability movement was happening in the US cattle industry also, but the US was much slower to adapt, because the cost of having a regenerative farm like those visited in Australia was quite expensive, and the yield and productivity may be lower.
"But there are cattle producers in the US trailblazing a movement, that more and more people are starting to follow," chef Stephen said.
Saudi Arabia
Saudi trading company and meat retail representative Zeid al ahmad said he had seen a big shift over the past three years in his country out of a narrow range of steak cuts for use in Saudi food service and retail into a much broader range of beef cuts.
"Today we are importing almost 20 cuts, and selling all of them to different customers – flank, flap, oyster blade, chuck rib, brisket, chuck and rump among them.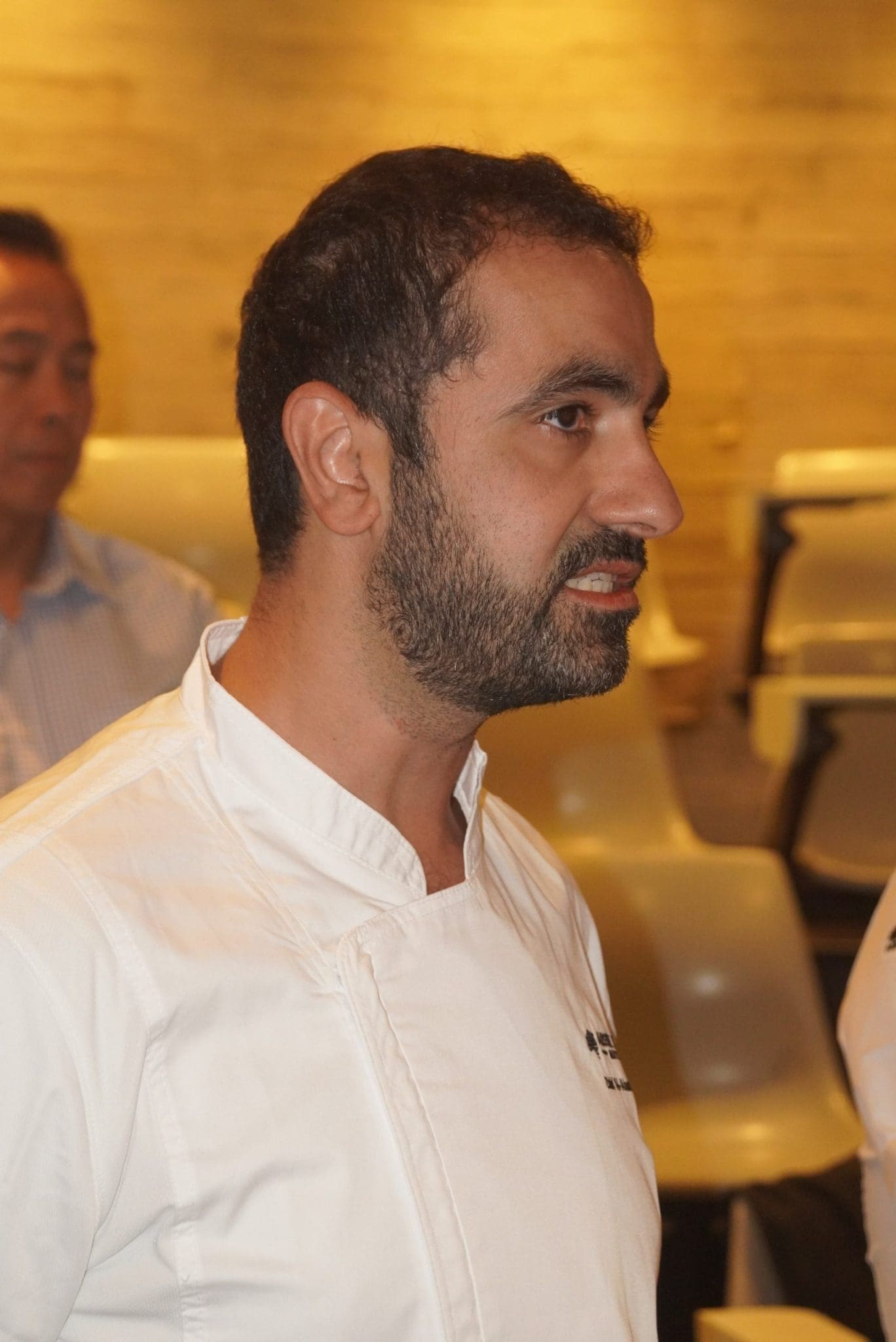 The wholesale side of his business services almost 120 butchers, and large numbers of fine dining restaurants. It also operates eight of its own retail butchery sites, including high-end shops called Chopped (similar to Australia's Victor Churchill), and its own casual steak dining restaurant Spread.
Most of the product sold is Australian in origin.
"We were the first to import Australian Wagyu beef into Saudi, and have grown the market for Australian beef a lot," he said.
"The beef market in Saudi is still young, but maturing, bit by bit. It is progressing at a huge pace, with fine dining restaurants popping up, left, right and centre. They are following the model set by Dubai, and the local market is very strong."
"There's been huge investment in fine dining and restaurants, and the market is maturing very quickly. Saudi has a very young population that has typically studied abroad, and is hungry for western food styles."
"A few years ago, diners only wanted tenderloin, ribeye and sirloin. But right now we can barely keep up with demand for secondary cuts, for a range of purposes. And we get them in all grades, from grassfed and grainfed to Wagyu."
"A big part of what we did was educate new customers, taking them through the entire process behind Australian beef – the animals, the feeding programs, and the supply chain. That expanded the market a lot."
Since imported beef prices had increased in the past year or two, customer numbers had continued to grow, but average purchase amount had decreased. Some were going for lower marbling scores.
Environmental claims were of growing interest, "especially as many of our customers are highly educated," he said.
"We've perhaps done a poor job of talking about that side of the story. We're still focussing on the quality and consistency, and taste," he said. "But the environmental and methane story will come. The Middle East is still a little behind, but we're catching up very quickly in areas like this."
"Saudi has set its Vision 2030 objectives around carbon, and is promoting a lot of effort in the area of environmentally-friendly products under an initiative called Green Saudi. We are all on the same path."
The big challenge out of Australia is that we are always out of product. The bigger export customers get priority, and we are often short – we can take much more."
Vietnam
Vietnamese chef and restaurant owner Tu Phan said his country was experiencing a boom in the restaurant scene since the COVID travel restrictions had started to clear.
"Every month, I see at least ten new better quality casual to high-end restaurants opening in Hanoi alone. They are catering for the international tourist trade, as well as wealthier locals," he said.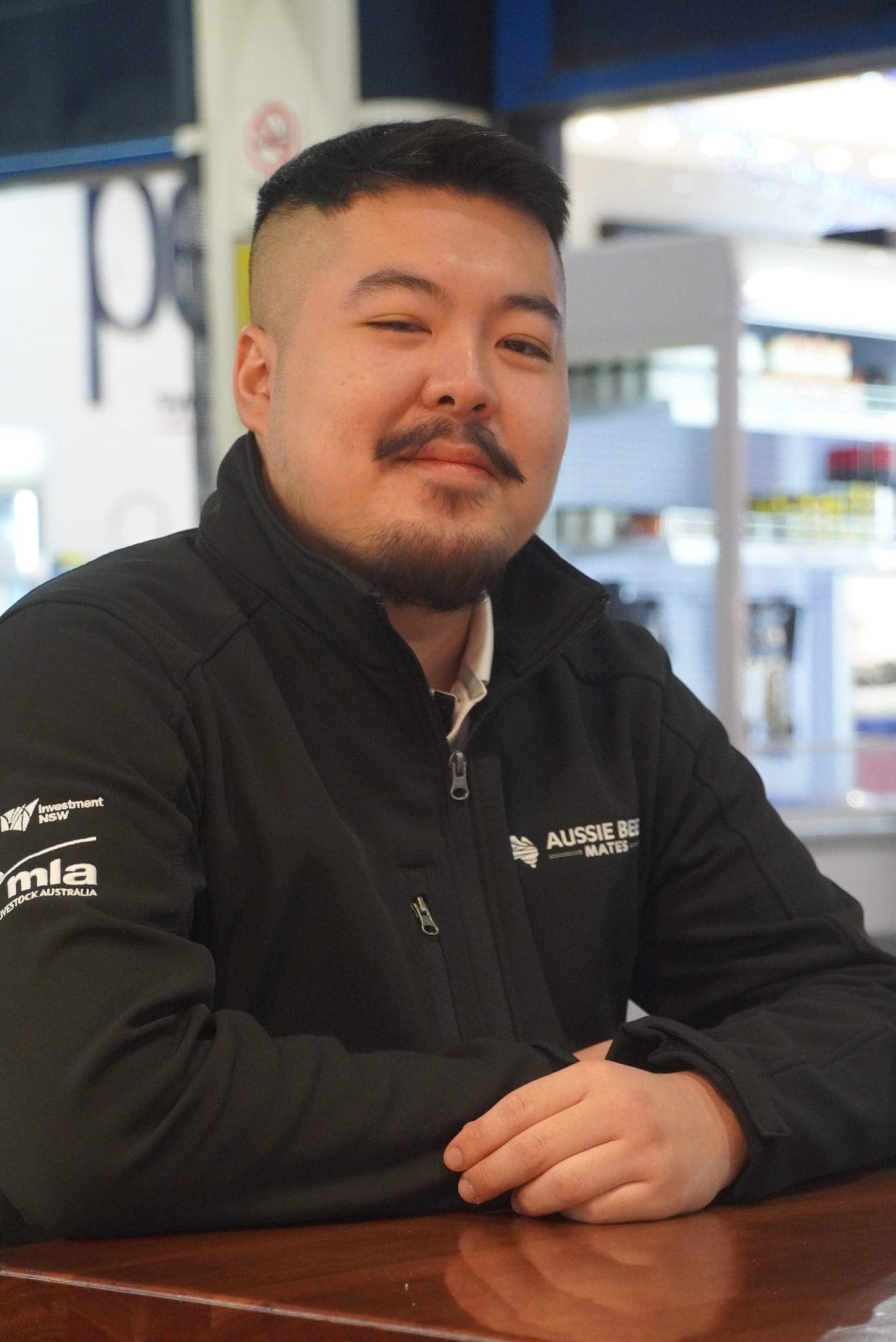 His own casual western style bistro restaurant in the Old Quarter of Hanoi (translated as 'Devour' in English) uses a lot of red meat, by local standards, where seafood is popular. He plans to open a second more casual restaurant by the end of the year.
His restaurant opened just before COVID struck, putting it under considerable stress, but has bounced back strongly now.
"We use a lot of primals cuts like tenderloin and rib eye, but increasingly we are finding uses for good quality beef trimmings and secondary cuts, also. The only beef we use is Australian, including Wagyu from Blackmore, and we can put a premium burger on our menu from the trimmings which is very tasty, yet reasonably priced."
"We want our menu to offer everything from a premium Wagyu steak experience, through to a more affordable premium burger option."
"We do have our own cattle in Vietnam, but the style of meat is very lean, totally different from what we can get from Australia, and not particularly well suited for the better end of the restaurant trade," chef Tu said.
"I think the quality boxed beef trade out of Australia will grow, because of the boom in restaurant openings, in addition to the established live cattle trade."
Asked whether beef with attached carbon, methane or sustainability claims would have attraction in a market like Vietnam, he said in the better end of the food service market, it could.
"Even in Vietnam, the word sustainability is so popular right now," he said. "Restaurant customers do care about what they are eating, and the story behind the products being served. It's growing every day."
"I was surprised, because I thought places like Europe would be the only ones with an interest in sustainability – not Asia. I didn't expect people here to care about it that much – both expats, and local Vietnamese. But once trends like this have global momentum, it happens everywhere."
Malaysia
Head chef Richard Tay works with restaurant proprietor the Calia Group in Malaysia.
Calia Group operates a network of 32 semi-fine and casual dining restaurants across Kuala Lumpur, covering a range of cuisines from Japanese to Chinese and more western.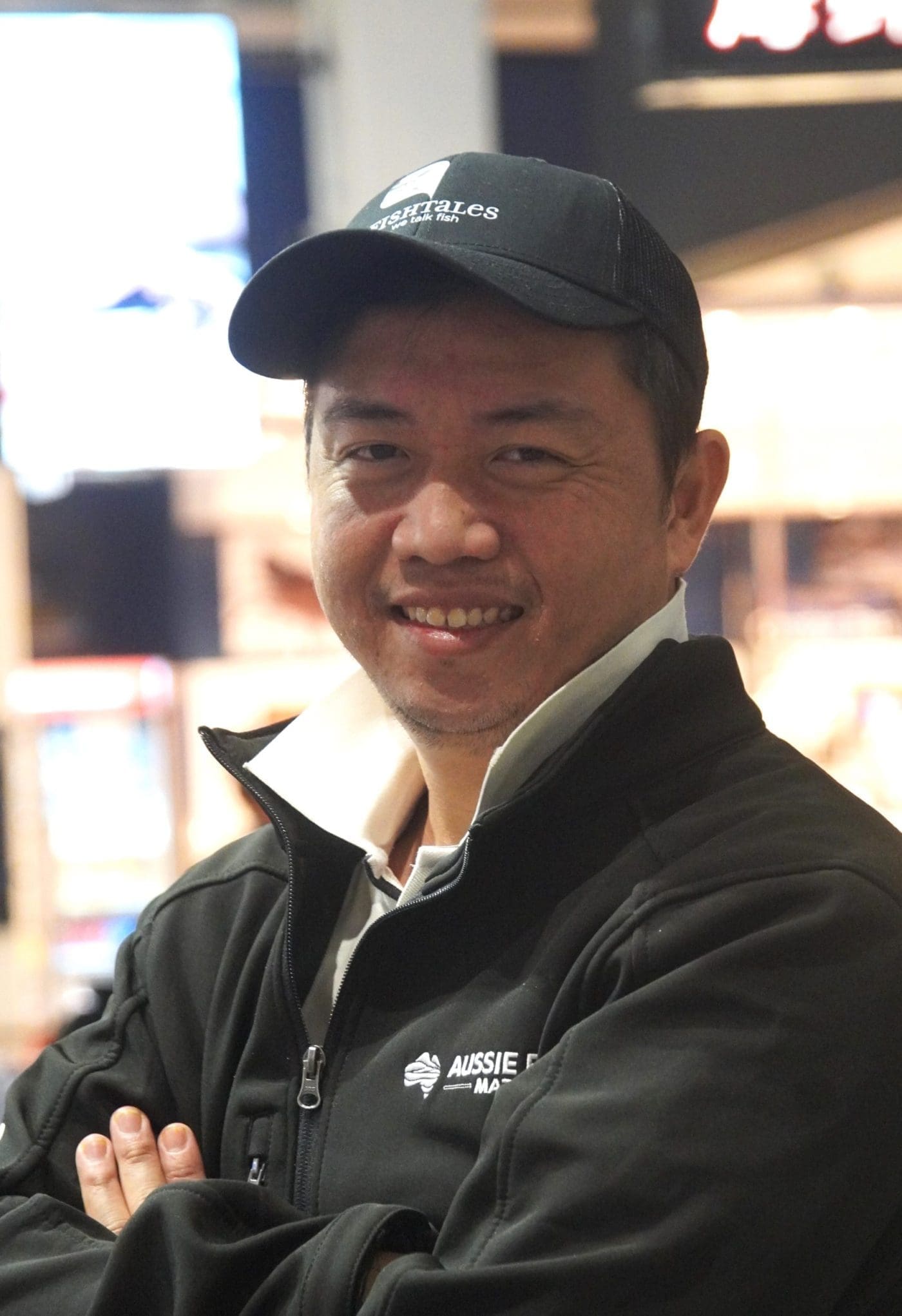 "We're looking at using beef in fusion cuisine, using traditional Malaysian cooking styles integrated with western ingredients," he said.
"For us, no matter what ingredients are used, every ingredient carries its own identity. For our Halal restaurants, beef is above chicken or fish – we specialise, it's our point of difference," he said.
"Right now, we are doing some R&D, looking at using more secondary cuts, for slow cooking like rendang – not just steak. Everything – trimmings, offals, tendons and even things like silverskin – lend themselves to Malaysia cooking," chef Richard said.
"We still buy a lot of Australian striploin, but increasing quantities of chuck roll, eye rump and shoulder meat. Major suppliers include Stanbroke and JBS.
He said awareness about carbon footprint and methane emissions was a growing trend in Malaysia, among restaurant diners. "When such trends come in, people start to follow it," he said.
"Some Asian markets may be slower to move than other regions, but once it happens, it will be very fast."
He said his visit to Australia as part of the Beef Mates program had been very useful, as part of his company's research into better cuts utilisation. "It's been an eye opener," he said.
Most of the company's beef requirements are processed and sliced in a central kitchen, and distributed to the 32 restaurant outlets across the city.
"Malaysia's food service restaurant industry is still in recovery phase after COVID, but volume is growing again. Tourism has always been an important part of our business."