Three of Australia's leading commercial beef brands – two based on Angus genetics and the third on fullblood Wagyu – claimed the major championship awards at Royal Sydney Show's 2011 branded beef awards announced on Saturday.
Like wine industry medals, many RAS show winners now emblazon their beef product packaging with award symbols garnered at previous competitions, reinforcing each brand's product integrity and performance message.
Competition was staged across three divisions for grainfed, grassfed and open entries, drawn from NSW, Queensland, Victoria and South Australia.
Grainfed division:
The Hart family's Stockyard Gold brand, arguably one of Australia's most decorated beef labels over the past ten years – claimed the Sydney competition's grainfed championship for the second consecutive year.
The same product scored a Gold medal at this year's Brisbane Show branded beef competition, providing an impressive sequence of recent taste test wins.
Stockyard Beef's Lachie Hart said Stockyard Gold was a longfed Angus program, fed 200-days plus at the company's Kerwee feedlot near Jondaryan on the Darling Downs.
Mr Hart said the Sydney Royal Fine Food Show championship award was clear recognition of the attention to detail at all facets of the supply chain by the production team to ensure quality was consistently maintained throughout the year and from one year to the next.
Most of the cattle supplying Stockyard Gold are sourced out of central and southern NSW, and the winning entry will be traced back to a single source using Pfizer Suretrack DNA fingerprint technology.
While the mid-to-longer fed Angus market has contracted in size in Australia over the past three years due to economic and cost pressures, the Stockyard Gold brand win was able to showcase the elite qualities of this high-standard product. The sample used in the competition carried a marbling score of 4, and the program has a minimum requirement of 3, representing the upper two-thirds of USDA Choice.
Most of the Stockyard Gold turnoff is directed into the Japanese export market, where the bulk of the carcase with the exception of loin cuts is used, mostly as a highly sought-after retail or food service item.
Also earning a gold medal in the grainfed division was Cabassi & Rea's Kobe 506 Steakhouse signature brand, supplied by longed F1 and F2 Wagyu cattle. Silver medals went to Andrew's Meat Industries (Grainge Grainfed Angus Beef); Oakey Abattoir (Oakey Angus Reserve, Oakey Reserve HGP-free); and Richard Gunner's Fine Meats (dry-aged Coorong Angus).
Open Division: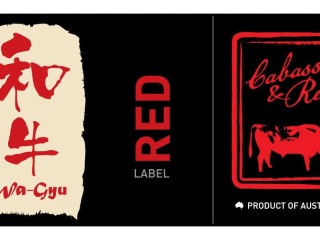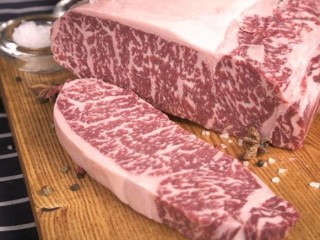 Backing up for its third consecutive championship win in Sydney Show's branded beef contest was a fullblood Wagyu entry from Cabassi & Rea's Red Label brand out of Queensland.
Red Label covers Cabassi & Rea's marbling score 7-8 Wagyu product, fed 600-days plus on a Japanese-style ration.
The brand is used primarily on the domestic market where it finds its way into high-end butchery retail outlets and quality steakhouses in markets like Sydney and the Gold Coast.
"Red Label is still a 'hero' type high end product, but wholesaling at $75-$85/kg for grill cuts instead of $120+ for the highest level marbling score 9+ product, it is a little more accessible to many consumers," said C&R's Peter Cabassi.
Higher-end retail outlets stocking the product have little trouble shifting solid quantities of Red Label at retail prices around $100/kg, Beef Central has observed.
A virtually identical product secured the Open division championship for C&R in last year's Sydney competition.
Also earning a gold medal this year was the Australian Agricultural Co's Master Kobe fullblood Wagyu brand, fed out of the company's Aronui feedlot near Dalby. Master Kobe earned the overall grand championship at Brisbane's Branded beef contest earlier this year.
Stockyard Beef also entered the open class with its Wagyu Silver brand, receiving a silver medal, the identical result received for this entry in the Royal Queensland Food and Wine Show this year. Stockyard Wagyu Silver is selected from Wagyu x Holstein cross animals fed 400 days and graded with a marbling scores of 6 or 7.
Certified Australian Angus Beef also scored silver and bronze medals for its CAAB product out of the Teys Australia (a Cargill joint venture) Wagga plant, and T&R Murray Bridge, respectively.
Grassfed division: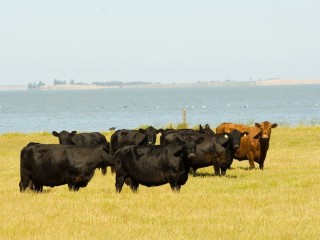 Claiming the grassfed championship was Richard Gunner's Fine Meats from South Australia with its Coorong Angus Beef brand, an MSA yearling product based on Angus genetics.
The Gunner family has bred and finished Black Angus cattle by the Coorong lakes for many years on the coastal sandplain.
Richard Gunner launched his first beef brand about ten years ago, for use through his own retail/wholesale network. After first sales of scotch fillets into the famous Lion Hotel in North Adelaide, Coorong Beef is now served through more than 100 restaurants. It is also retailed through the Gunners' four Feast! butchery outlets and sold online.
Dry aging was introduced as an innovation in 2006, earning the Gold medal in the Sydney Fine Food Branded Beef competition that year, and a second gold in 2009.
Earning a silver medal in Sydney's grassfed division this year was Greenham Tasmania fort its Cape Grim Natural Beef brand. Bronze medals went to AA Co's Brunette Downs beef brand, and CAAB's Angus Pure.