Interconnectedness and technological disruption are going to be the hallmarks of Australia's future trade in agricultural food exports, according to Meat and Livestock Australia's (MLA) Singapore-based international markets general manager, Andrew Cox.
Speaking at the Australian Farm Institute's 'Agriculture and trade in disrupted economies' conference in Toowoomba, Mr Cox said agricultural product marketers needed to adapt to a range of new drivers that were coming into play in the international trading world.
"We don't know what tomorrow looks like, but we can identify a few trends that are likely to influence future demand cycles for our commodity products," he said.
"An important one is interconnectedness. With Covid 19 we've all heard about the interconnected technology supply chains for electronics. In a way, food is the same. It has never been as interconnected as it is today."
Mr Cox said another trend dictating international trade was the growing impact of technological disruption on the way consumers selected, accessed and sourced food products.
He cited as an example countries such as South Korea where consumers could place an order electronically for Australian beef from a refrigerator directly to the supermarket.
"We know that technology is disrupting the way we grow farm produce and the way it is processed, packaged, transported and tracked. But it is also disrupting the way consumers source meals and the way they consume media," he said.
"From a marketing perspective, we really need to make sure we are on top of the ways consumers are consuming meat."
Mr Cox said traders and marketers needed to be aware of the rise of new media forms, spurred on by Covid.
"There is a bunch of new ways we can communicate with consumers, but it is less easy to catch them," he said.
"Since the start of the financial year we have hit more than 300 million consumers with a message using new media more than we have with traditional media forms. People are consuming media in a vastly different way and will continue to do so."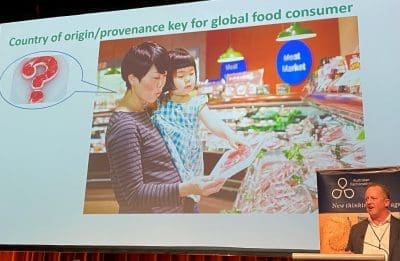 Mr Cox said the capacity to find new, high-value customers, and drive value for those customers, relied on building affinity and provenance with a diverse set of potential global consumers.
"In all the markets where we conduct quantitative consumer tracking, except for Australia itself, provenance or country of origin is the number one demand driver for consumers," he said.
"Because these consumers are in nations where they import a lot of food and have had food scares in the past, they tend to put a very heavy focus on where the food comes from.
"Most countries we deal with, especially in Asia, have mandatory country-of-origin food labelling. It is the largest demand driver."
Mr Cox said that was why the meat industry had been actively pushing country-of-origin branding in overseas markets under which exporters could put their own, third-party brands.
He said consumer focus group analysis had shown that the characteristics overseas consumers associated with Australia were 'honesty, kindness, down to earth, trustworthy and natural'.
"They trust the farmer. That is absolute gold for us. The image we have at the moment is a fantastic springboard for Australian produce. We need to make sure that image is constantly modernised and that we showcase our commitment to the future," he said.
Even in China during the Covid pandemic, he said surveys showed that 43 per cent of consumers purchased more Australian beef, and only 7pc purchased less.
"They did that because they trust our safety," he said.
"The trust that consumers have with Australian product carried through to sales. This was at a time when the Chinese media were producing daily articles against Australia and also at a time when there was a lot of scare factors around whether Covid 19 could be transmitted through packaging of imported food."