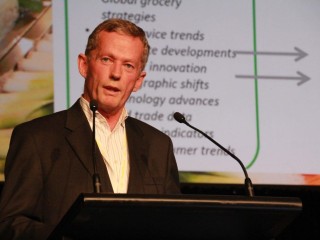 Every year food industry analysis firm Fresh Logic casts a research net over Australia's $120 billion per year domestic food market and searches for consumer trends and signals of importance to key players throughout the supply chain.
Its analysis draws on a variety of tools including tracking of retail advertisements, sensory testing trials, software analysis of shopping dockets and extensive consumer panels where every day customers discuss their buying habits, values and expectations.
So what are the key messages for meat industry stakeholders and processors from Fresh Logic's latest research?
Director Martin Kneebone offered the following insights at the Australian Meat Industry Council annual conference at the Gold Coast yesterday:
1: 'Slugging it out in the aisles'
What has changed: Australia is experiencing a previously unseen intensity in retail competition as the two major supermarket chains Coles and Woolworths battle for market dominance and newcomers Aldi and Costco add to the fight. The brawl for retail supremacy has reinvigorated the market and has forced the cost of food down. However this has not made the market larger, rather households are spending less on food, which has further intensified the aggression among retailers for market share.
What it means: Specialist butchers which have previously hovered around 25 percent of total domestic market share are now back to around 20pc and are under pressure to specialise, Mr Kneebone says: "Butchers that aren't doing a specialty job, or aren't adding a lot of value to that product and getting it ready to be eaten, are exposed and at risk of losing share."
2: Consumers focused on value:
What has changed: A step change in consumer confidence triggered by the Global Financial Crisis in 2008 has been reflected in a shift in consumer savings from around 3pc of discretionary income before the GFC to around 10pc post-GFC, a level which has not changed since. At the same time, average household expenditure on food has come back, with much of that spend coming out of the food service sector.
What it means: Retailers have 'quite wisely' targeted the comparative value of eating out, telling consumers they can have a restaurant quality meal at value. "Consumers have not necessarily stopped eating out, but have traded down."
3. Consumer interest in food provenance rising:
What has changed: This is happening in a different, more 'certified' way than in the past, as consumers see 'buying local' as a means to do something for the environment and for sustainability.
What it means: While there are questions over what actually constitutes 'local' (ie does local mean product grown within 50km of a community or 250km?) consumers are favouring locally branded product. "The drive for promoting the local origin of products will continue, it means from a supply chain point of view you (should) build on that provenance sourcing story."
4. More information, more often
What has changed: Consumers are now being blitzed with 20 to 30 times the volume of headlines they previously received. Stories have been reduced to just 140 characters. This is affecting the way people think, as brain processing patterns and channels respond to the constant bombardment of short messages by looking for more short messages, not full stories. Consumers are just taking on the headlines and not reading the detail, which is making the job of communicating a message much harder.
What it means: The short message phenomenon has enabled 'wildfire activism' where one voice can spark monumental consequences. The message for industry stakeholders is to engage in social media before it is too late. "We have a new judge and jury now," Mr Kneebone said. "Twitter and Facebook can spark these things, and by the time you've got the best silks in town to try and get someone to retract the first post, the building has burnt down. We don't have a legal mechanism to deal with this stuff yet. The risks won't go away, you can't suddenly engage in these forums when you've got a problem, you have to be credible before the fire starts."
5: Imported food is at a tipping point
What has changed: In contrast to the earlier message about the value consumers place on 'buying local', another key message was that protein industry stakeholders should not assume that consumers will resist imported food, and particularly proteins, if it represents value. For example, when Vietnamese prawns were first introduced to Australia there were questions about the quality of the product, but Vietnamese prawns are now the second largest selling product in the seafood category in Australia because of the perceived value they offer.
What it means: There aren't firm barriers to imported food at consumer level. "They will buy if the value is right and the product is right," Mr Kneebone said. "We can see more imported food coming in. There is strong lobbying for fresh pork from Denmark, and I don't think there are any barriers to this at a consumer level."
6: Online food poised to lift
What has changed: Retailers have been investing heavily in online food shopping and associated infrastructure. Consumers are increasingly trying online food shopping and liking it. The evolution of the mobile phone into a virtual wallet has also facilitated shopping on the move. Options range from online shopping with supermarkets to specialists such as farm butchery operations delivering meat directly to consumer homes and services that buy and deliver ingredients for specific meals to the customer. While "no one was making any money" from online food shopping yet, it has the potential to have a massive impact on the food industry, Mr Kneebone said.
What it means: Protein players should be assessing whether their products are in a form that is compatible to this trend. The main obstacle to growth in online food shopping at present is delivery. However the 'click and collect' model in which consumers order and then pick up purchases in a central place – such as a "refrigerated letterbox" (In other words a refrigerated post office box – there are currently four companies now providing this service in Australia) – is considered one of the most viable delivery solutions.
Internet food favours premium products: Mr Kneebone points out that the distribution cost issue suggests that online retailing is most likely to favour premium, value-added foods over commodity products. "(Online shopping) has to compete with the supermarket, and in the supermarket model the customer does a lot of the work. In a supermarket the customer is taking the product off the shelf, to the checkout, to the car, taking it home. In online food you have to do a lot of that work and there is a lot more cost in that. Supermarkets, like it not, are a very cost-effective distribution model. What we infer from this is that it is going to be pretty hard for a commodity to be competing online, because you are going to need to get a premium to be viable. Internet food is poised in our view more likely to be an assembly of foods rather than raw product because it is pretty hard to compete with supermarket."
7: More dollars to be made by making it easier for consumers
What has changed: The rise of smaller households (33 percent of households in Australia now have just one adult) and working parents are driving a core demand for greater convenience, which in turn is translating into very different shopping requirements. Urban dwellers are increasingly using their supermarket 'as their fridge', making 3.5-4 'top up' shops a week, and often buying only what they need for a single meal. As a result, Fresh Logic estimates that 65pc of all household shopping trips now are made with a basket, and only 35pc using a trolley.
What it means: "If your product doesn't fit easily into a basket, you 've got a problem because you're missing out on a lot of shops," Mr Kneebone said.
8: Food service reshaped and poised for a lift
What has changed: The 'white table' restaurant sector, comprising some 65,000 outlets nationally, has seen a significant rationalisation in the past two years as operators have been pressured to either improve or leave. The lower Australian dollar – provided it settles – is set to benefit domestic food tourism. Tourism Australia last week announced it will invest heavily in 'foodie tourism' to Australia.
What it means: "It is time to make sure you have exposure to food service because they are looking in good shape," Mr Kneebone said. "We will get more people here, particularly to the Margaret Rivers, Hunter Valleys etc. Food service has been losing share to retail but we think now they will pick some of that back up."
9. Buying more meals
What has changed: The trend towards having both parents in the workforce has now been in place in Australia for the past 30 years. Consumers do not have the same level of knowledge and skill in the kitchen as in the past and increasingly buy a single piece of meat for each meal rather than a large primal that might make three or four meals. Consumers are also increasingly seeking meal-ready meat such as product that is seasoned or marinated and has a short cook time. 10 years ago around 15pc of a butcher's case contained product in marinated or seasoned form, now that has grown to around 50pc of cabinet space.
What it means: "Getting it closer to being meal ready and taking time out of preparation is something that is being reflected in demand and paid for," Mr Kneebone said. Protein players also need to be careful that they have a seat at the table with the meal assembler. Australia's population is only growing by 1.5pc a year, or by 150,000 households, so, in protein, value growth is considered a lot more likely than volume growth.