JBS Australia will this week launch a new Tasmanian grassfed brand exclusively for Coles supermarkets retail outlets in Victoria and Tasmania, specifically aimed at the growing demand for grassfed beef free of added hormones, antibiotics and GMOs.
Capitalising on the already high perception of Tasmanian produce, Three Islands Beef will be derived from the well-regarded and third-party audited JBS Farm Assured quality assurance program, which underpins other JBS brands including Great Southern and King Island Beef.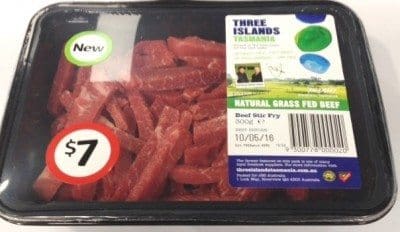 The Three Islands branded beef will be produced at JBS's Longford plant near Launceston.
The new brand will complement the existing suite of premium natural branded programs such as Great Southern, which has gained considerable momentum globally over the past three years, and the well-established King Island brand which is seeing strong growth in high-end food service channels both in Australia and overseas.
In announcing the new brand this week, JBS Southern chief operating officer Sam McConnell said the new brand had been in development for more than two years and reflected the clean, fresh and full-flavoured nature Tasmanian products were known for.
Fixed unit pricing
"We know there is a strong demand out there for high quality, consistent and ethically farm-raised produce such as Three Islands Beef," Mr McConnell said.
"There is a lot more to this brand than a flashy label," he said. "We have married-up consumer insights from independent and industry reports to find out exactly what it is the modern consumer is looking for. We have worked hard with our partner (Coles) to deliver a strong and diverse product range. And we are also proud to announce that most of the range including steak cuts will be sold as fixed-unit pricing.
"Most of all though, we're proud to deliver a 100pc Tasmanian brand that promotes the wonderful work that is being done each and every day, rain hail or shine, by the farmers who raise the livestock for the brand. Without their full commitment, this brand wouldn't be possible."
Consumer testing leads to producer identity in packaging
Mr McConnell said JBS had conducted extensive label testing with consumers to find out what they were looking for when purchasing beef and developed a product, range, brand story and packaging design around the findings.
"Gone are the days where a brand manager would simply come up with a fancy-looking carton lid and expect to command a premium in the marketplace," he said.
"Today, you need to understand consumer behaviour and involve them on the journey from paddock to plate so they feel like they are a part of the story."
"Three Islands Beef is proudly 100pc Tasmanian, sourced from the three main beef producing islands of the Apple Isle – King Island, 'mainland' Tassie, and Flinders Island – and meets all the requisites of our JBS Farm Assurance program including full traceability back to birth, on-farm management and premiums paid to the livestock producers who supply cattle into the program," Mr McConnell said.
The Three Islands Beef range being rolled-out from this week in Coles outlets in Victoria and Tasmania will include eye fillet steak, porterhouse steak, rump steak, oyster blade, stir fry, mince and a sausage offering. The packaging will feature some of the cattle producers from Tasmania that supply livestock into the program.
"This is a brand that is about promoting the whole of Tasmania and their world-class farming community," Mr McConnell said.