ENVIRONMENTAL concerns are increasingly highlighting the need for sustainable cattle production with the beef industry being driven by targets such as Meat & Livestock Australia's CN30 target and the Australian Government's Global Methane Pledge. These worthy initiatives aim to address greenhouse gas emissions, water usage and industry sustainability and demand innovative approaches. AgTech companies, like MEQ, are fast emerging as the solution.
MEQ Live is designed to revolutionise feedlot operations and beef production by maximising production efficiency without sacrificing on quality. Utilising novel hardware to capture highly accurate data and combining it with advanced machine learning algorithms, MEQ Live empowers data-driven decisions early in the supply chain, paving the way for a sustainable future in an eco-conscious agricultural sector.
With such a broad scope and scale, there is no 'one-size-fits-all' approach in Australian agriculture and the true power of MEQ Live lies in its diverse range of applications and tangible benefits for the industry. The device has been used to collect data on a variety of cattle breeds at different points in production ranging from pre-feedlot to over 500 days on feed. Additionally, the MEQ team can further customise the application of the device, tailoring its use to virtually any circumstances.
The device, measuring both marbling and key yield traits such as rib-eye area and rib fat, enables feedlot operators to rank cattle from induction; pinpointing poor performers early in the process. This foresight allows for significant financial savings with production. For instance, identifying a low-performing Wagyu animal and selling it 100 days earlier can save hundreds of dollars in feed. There might be loss in weightgain on that particular animal but economic analysis indicates this strategy would save approximately $90/head for wagyu and up to $70/head for longfed Angus.
MEQ Live bolsters sustainability by helping to reduce the average days on feed. According to an independent report by EnergyLink, the immediate benefits of MEQ Live offer a nine percent reduction in dry matter feed requirements across the Australian feedlot industry, translating to annual savings of up to $263.5 million, and reduces carbon emissions by up to 450,000 tonnes. In the longer term, these benefits can compound to reduce dry matter intake and carbon emissions by 36pc and 35pc respectively with savings of over $1 billion annually.
In the realm of backgrounding, MEQ Live can accelerate the feedback loop for breeding operations, thereby driving rapid improvements in quality. By prioritising cattle that marble highly and quickly, the technology can significantly improve the quality and volume of production. Processors and lotfeeders can go from a mob filled with mixed performers and compromised profitability to a full, high-performance mob that can be delivered exactly on time.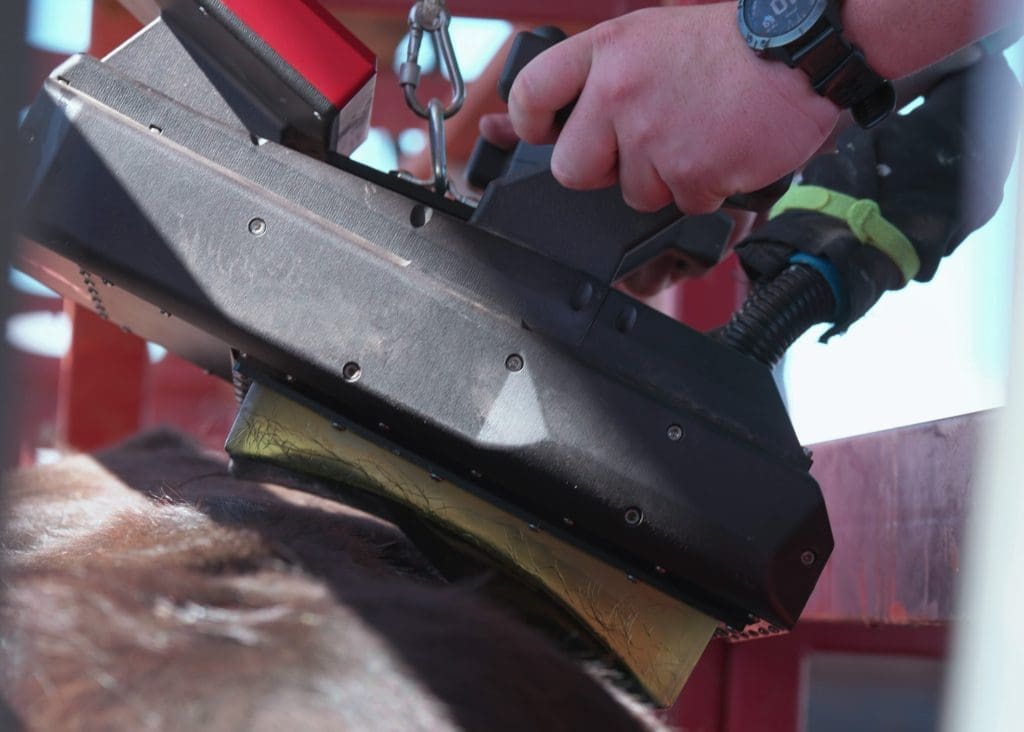 One of the greatest strengths of MEQ Live is the sophisticated machine-learning algorithms behind its accurate and efficient data collection. Developed and trained on tens of thousands of animal scans linked to objective carcase data, these algorithms ensure that MEQ Live delivers consistent value to the supply chain earlier than ever before.
The adoption of MEQ Live has been met with enthusiasm from many feedlot operators, as it allows them to revolutionise their businesses by understanding when animals reach their maximum marble potential. This crucial information enables them to make accurate decisions and determine the optimal processing window, balancing yield and the cost of feed against the marbling score value.
MEQ Live represents a revolutionary leap forward for feedlots of all sizes and product types, with a current focus on the Australian market. The device not only boosts productivity and profitability but also fosters sustainability and reduces time in feedlots. MEQ's commitment to providing bespoke solutions and identifying new value propositions ensures that MEQ Live will continue to make a positive impact on the industry. By enabling data collection earlier in the supply chain than ever before, MEQ Live is ready to redefine the future of cattle production.

Click here to read the previous MEQ Live sponsored content article on Beef Central – Revolutionising feedlot management with MEQ Live.