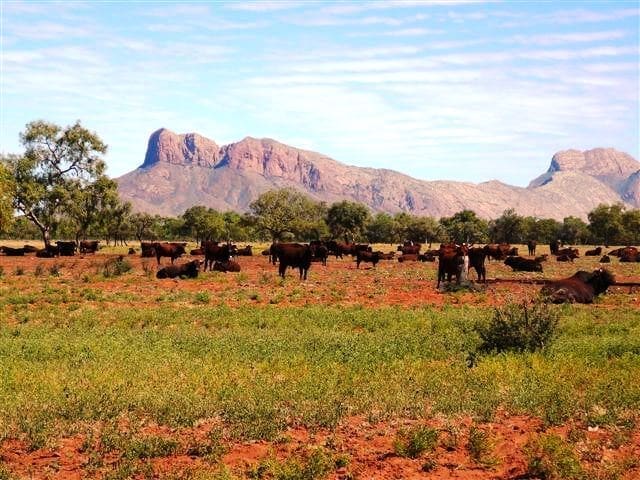 THREE senior government ministers have declined to comment on inconsistencies in the level of Chinese investment in Australian cattle properties, as highlighted in last week's property report.
A compilation of cattle/beef properties sold to Chinese interests, as reported by Beef Central over the past 24 months, suggests the actual area of land controlled by Chinese interests is more than twice the 1.54 million hectares reported by the ATO in the Foreign Land Register, at almost 3.5m ha.
Here is a state-by-state breakdown of those figures:
Western Australia – 2.41m ha
Queensland & Northern Territory – 1,003,635ha
New South Wales – 71,953ha
Victoria – 7153ha
Australian Capital Territory – 1100ha
Deputy prime minister Barnaby Joyce and treasurer Scott Morrison chose to remain tight-lipped about the figures, instead referring Beef Central's concerns and story to the Australian Tax Office.
A spokesman for Mr Joyce said, "That is the course of action the DPM has previously and publicly asked anyone to take if they have additional information. The ATO is responsible for making any investigations they see necessary to ensure compliance; and have the authority to impose penalties if there have been breaches."
The ATO has established a dedicated link for confidential reporting that can be accessed at: https://www.ato.gov.au/General/Foreign-investment-in-Australia/Agricultural-Land-Register-reporting/.
When the foreign land register was released in September, trade minister Steve Ciobo was more than happy to comment on it.
"The register shows fears over Chinese investment have been exaggerated. China is just not at the level people think it is," he said.
However, when approached about his comments in light of last week's Beef Central story, a spokesman for Mr Ciobo said, Scott Morrison's office handled the register, so those questions were best put to the Treasurer's office.
Land area versus value
When the foreign land register was released, Beef Central raised concerns about its absolute reliance on land areas as a gauge of foreign investment impact in Australia.
Bruce Gunning who heads up Ray White Rural (Sydney) and Ray White Rural (International), said the reference to area, not the value of the land, was misleading.
"For instance, Kidman & Co has vast areas of low carrying capacity land compared to good grazing and cropping country in eastern Australia. What people need to realise is the smaller property can often be the more valuable on a per hectare basis," he said.
"It's a bit like saying a small percentage of all homes in Sydney have been purchased by overseas buyers. However, if that represents 80pc of Sydney Harbour waterfront properties, then that is a significant factor that is not reflected in the overall number of homes that are purchased," Mr Gunning said.
Even so, Mr Gunning said the percentage of Australian agricultural land held by the Chinese was small.
"Australia covers an awfully big area, especially when you take into account there's not much fertile land – only around the fringes. The great vast central area is predominately low rainfall and desert-type land that doesn't produce much."
Rodney Bell from Brisbane law firm McCullough Robertson agrees the amount of foreign ownership is modest – a view he expressed in this recent opinion piece.
"The quantum is not large as far as percentage of foreign ownership is concerned. However, I don't know how the Federal Government is measuring the figures it has obtained," Mr Bell said.
The Brisbane property lawyer said last week's property report on the foreign land register and its anomalies raised legitimate concerns.
He said in terms of the approval requirements, what is 'foreign' and what isn't, is a "pretty rubbery affair."
"Is it for the purpose of the Queensland Foreign Ownership Land Register Act, or is foreign for the purpose of Foreign Investment Review Board requirements approval legislation?"
Mr Bell said it all hinged on what the Commonwealth regarded as 'foreign.'
According to section 4 of the Agricultural Land Register Act 2015, the term 'foreign person' is defined as:
an individual that is not ordinarily resident in Australia
a foreign government or foreign government investor
a corporation, trustee of a trust or general partner of a limited partnership where an individual not ordinarily resident in Australia, foreign corporation or foreign government holds a substantial interest of at least 20 percent
a corporation, trustee of a trust or general partner of a limited partnership in which two or more
foreign persons hold an aggregate substantial interest of at least 40pc.
Australia should welcome Chinese investment
Rawdon Briggs, Director for Rural & Agribusiness Colliers International supports the view that the Chinese own a much greater percentage of agricultural land than what the foreign land register reveals, but believes Chinese purchases are beneficial depending on how the asset is operated.
"The boxes are ticked if the property is run by Australians, if it employs more people and if it is developed further. Some of the more conservative European investors tend to lock their assets up, whereas the Chinese tend to want to develop them. Without that type of investment who else is going to do it?" he said.
"The Chinese are not necessarily buying the crown jewels."
Bruce Gunning agrees.
"The Chinese interests that I have sold properties to are currently employing more farm workers, including management, than the previous owners. They are attempting to improve the properties to make them more productive by the introduction of additional capital. I don't see any of that as a bad thing," he said.
"I had this discussion with some clients today who said we should welcome Chinese investors because they have the ability to make land more productive, they come with new technology and new ideas compared to a lot of Australians who have been very comfortable doing very little for a long time. Everyone's against progress. We're a nation of knockers," Mr Gunning said.
Below is a list of the Chinese investors and the Australian beef/cattle properties they have purchased as listed in last week's property report.
Yiang Xiang Assets Pty Ltd – a Chinese private sector company
Elizabeth Downs Station – 205,000ha
Orient Agriculture – a private Chinese company
Xingfa Ma – one of China's richest men. His company, Tianma Bearing Group, established TBG Agri Holding Limited, in August last year as a subsidiary company in Australia.
Emu Downs* (Cervantes, WA) – 8000ha
Balfour Downs & Wandanya Station – 639,500ha
Wollogorogang & Wentworth Stations – 705,700ha
The Hailiang Group – one of China's top 500 companies. The conglomerate, controlled by Feng Hailiang – reportedly China's 90th richest, has interests across mining, real estate, agriculture and education.
Hollymount Station – 35,000ha
Mount Driven- 15,000ha
Li Family – beef cattle entrepreneurs (directors of Fucheng Woodlands, who also hold a joint interest in the wholly owned Australian subsidiary Fucheng Australia).
Eilan Donan & Breadalbane – 2200ha
The Dashang Group – retail and supermarket giant. It has been buying land through an Australian subsidiary known as Australia Aulong Auniu Wang (AAAW).
Glenrock Station – 30,868ha
Clear Hills – 1100ha
ABL Red Meat – an Australian registered company representing a Chinese meat importer and wholesaler.
The Fucheng Group – a buyer of automotive interior and exterior parts
Woodlands – 31,000ha
Woodhouse Station – 4953ha
Rifa Salutary (Australian arm of China's Zhejiang Rifa Holding Group) is one of China's biggest textile manufacturing companies (a former state-owned machinery company)
Blackwood* (Dunkeld, Vic) – 2420ha
Cooplacurripa – 22,500ha
Kerriki & Number One – 1457ha
Highland Plain, Avondale, Stonefield and part of Durkin – 4050ha
Middlebrook Park and Kooroon – 8000ha
Kimberley Agricultural Investments (Shanghai Zhongfu's Australian entity)
Carlton Hill Station – 367,500ha
Union Agriculture
Shanghai Zenith (the Australian operating arm of Shanghai CRED established in 1999) – one of the largest real estate developers, owned by Chinese billionaire Guiguo Jie.
Yakka Munga – 189,000 ha
Mount Elizabeth – 200,000 ha
Perrinvale
Riverina
Jeedmaya
Melita
Kookynie – 1m ha
Marvel Loch farmland – 14,000ha
* These two properties were purchased prior to 2014 and have not been included in the results.