BEEF producers chasing grass or seeking expansion are competing for properties, with many agents reporting high demand for the current tight supply of holdings.
Herron Todd White valuer Stephen Cameron said while a lack of rain was stifling higher levels of transaction activity, property trends were still robust.
"Supply of good quality grazing country is limited, but demand remains strong and there is no sign of it easing," Mr Cameron said.
"If it rains between now and Christmas, it's highly likely the market may kick again, given some are sitting on the fence waiting for seasonal conditions to improve. If conditions improve, the cattle market will also likely rise, and restockers will be active, providing further confidence."
Mr Cameron said many potential buyers who had missed out on purchasing country were getting frustrated.
"Some have probably attended two, three, or four auctions and are now getting anxious to secure additional land. Some farming families are prepared to pay strong value levels for near-neighbouring country because of the benefits of economies of scale, especially where existing operating plant can be utilised."
Mr Cameron said some producers were now making the decision to jump in, given they had missed out on a number of opportunities in a rising market.
"An example is country between Wandoan and Taroom, on Queensland's Western Downs. Sales for scrub country that occurred two years ago reflected values between $2300 to $2700/ha.  In March this year, there were three properties auctioned in the region that achieved between $3700/ha and $3950/Ha, showing increases of 25-30 percent over previous benchmarks."
Mr Cameron said the trend continued with the sale of the 1429ha Dawson River's Loch Craig in August.
"The $3446/ha sale was well competed-for by some local graziers who were also actively bidding at the previous three local auctions. The successful bidder was, however, a northern New South Wales beef producer seeking grass."
Mr Cameron said most transactions, albeit at low numbers, were reflecting the upper ranges in most cases, giving the indication that the market isn't slowing down in Southern Queensland.
Darryl Langton – Landmark Harcourts Roma
In Roma, Darryl Langton from Landmark Harcourts said it had been common at recent local rural property auctions to have up to ten registered bidders.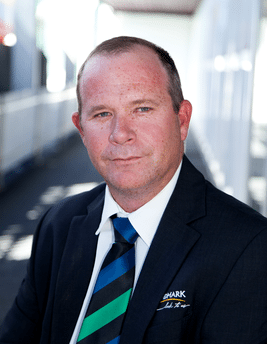 "There is a high level of interest in purchasing properties. Unfortunately, there can only be one buyer, so it is not unusual to see the unsuccessful bidders at two or three different auctions over a period of weeks or months," he said.
Mr Langton said potential buyers were active in the market, running the ruler over any property that might meet their needs.
"But it is not a 'buy at all costs' mentality. Most are selective and those who find a property meeting their investment criteria are prepared to be quite aggressive to secure that holding. Demand is outstripping supply – that is the nature of the property market at present."
Robert Murolo – Elders Rural Mackay
Robert Murolo from Elders Rural North Queensland recently sold Bluevale Station in Central Queensland's Isaac region for $5.6 million.
The 3251ha breeding, backgrounding and fattening property near Nebo, offered on a walk-in walk-out basis with full plant and equipment and 750 branded cattle, was well watered and grassed and could carry up to 1000 mixed cattle.
Mr Murolo said most of the interest in Bluevale came from local producers seeking expansion and chasing grass.
"At auction, there were nine registered parties attracted by Bluevale's location, water and diversity. In the end, the five bidders were locals, all within 200km radius, and most seen at previous auctions."
"Buyers are currently paying good money for properties which could be seen as premiums, but they are still being selective. Most producers are careful about price. The market has certainly not returned to the irrational exuberance experienced in 2008-09," he said.
Mr Murolo said many producers were anxious about purchasing for expansion due to strong beef prices and children coming home.
"There is a lack of supply and properties coming to the market are often prime holdings that attract strong interest from local producers.
"Most of our agents are experiencing a shortage of listings. Producers are holding-on, because of the current seasonal conditions. They are sitting back waiting for a bit of rainfall before putting their properties onto the market," he said.
Des Cuffe – Elders Rural Blackall
Blackall agent Des Cuffe has sold several properties this year despite dry conditions and a shortage of listings and has seen the same faces at auctions.
"Previously, a good turn up was two to three registered bidders at auction. Today, there are at least five or six potential buyers."
Mr Cuffe said there were two types of buyers in the central western market.
"Producers who are chasing grass because they are under pressure from the current seasonal conditions are definitely more anxious than the buyers seeking country for expansion. Those people are more selective and are happy to wait to secure the right property."
Mr Cuffe said while some buyers were willing to pay a bit extra, premiums were difficult to quantify.
"It really depends on the individual property. For example, a district record was paid at auction for Blackall's Fairlea. The (moderately sized) 2570ha grazing property was punching above its weight with heavy stands of buffel and Mitchell grasses and sold for $2.3m or $888/ha."
Mr Cuffe said on the other hand, other recently sold properties had been considered as 'on the money'.
Selvister & Linden recently changed hands after being passed-in on a vendor's bid of $7.6m at auction in August. The 13,305ha Blackall district grazing properties, which were in need of improvement, sold for $7.85m ($590/ha).
Central Western Queensland's 34,004ha Mt Harden Aggregation, comprising Mt Harden, Morundah and Lowana, settled this week for $13.5m.
When the season breaks
All three Queensland agents spoken to for this report agreed a break in the season will bring a steady flow of properties to the market, but likely not a flood.
They expect a short period of consolidation while producers rebuild livestock numbers and then, if the money is good and the opportunity is there, many older producers will seriously consider downsizing or retirement.