THIS week's property review includes this wrap-up of recently completed sales, and a separate article on interesting recent listings across the country.
New England 'pasture wonderland' makes $55m
$11m for quality northern NSW grazing
Neighbour secures CQ's Ranchlands for $18m
Blackall country exceeds expectations
QLD weight gain country sells for $8m+
NQ breeder country sells to a local
Neighbour expands with Winton weaner paddock
CQ cattle breeding & cash cropping fails to sell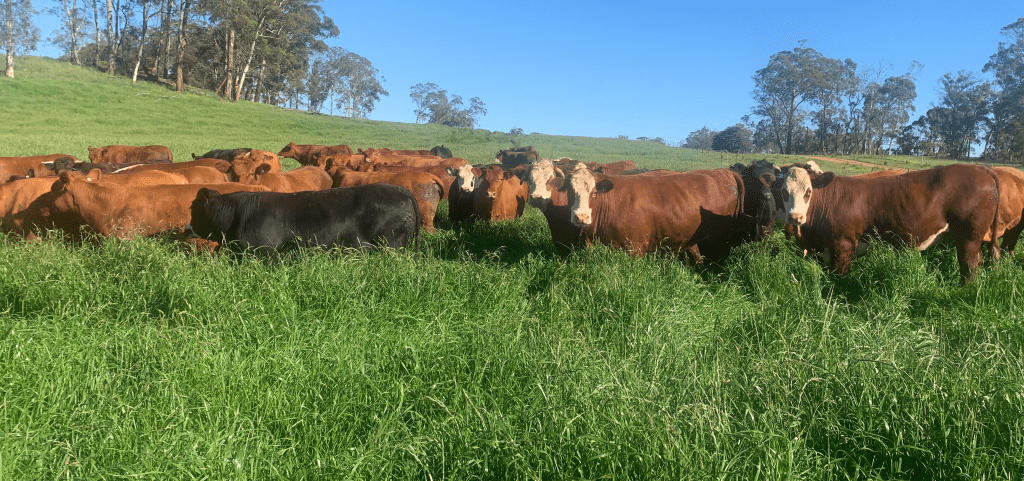 New England 'pasture wonderland' makes $55m
As reported last week in a focus on the property market in the New England region, North Queensland Wagyu breeder Adam Rea has paid around $55 million walk-in, walk-out including 3000 head of cattle for two high rainfall New England grazing properties described as a 'pasture wonderland'.
In October last year, the 3645ha Kentucky Blue and The Flags in the renowned Niangala/Nowendoc district, 50km south-east of Walcha in northern New South Wales, pictured above, were listed by Max and Jenny Mawhinney.
The aggregation is situated on the top of the Great Dividing Range and enjoys high rainfall and rich heavy basalt soils.
Boasting huge livestock finishing capabilities, the holding includes 2345ha established to high performance permanent temperate pastures that can run 40,000DSE or up to 2750 breeding cows or 6000 steers.
The operating improvements are described as second to none and feature rotational cell grazing, an efficient laneway system leading to two large cattle yards, several machinery sheds and a grain shed.
Little is known about the purchaser Adam Rea. He is understood to be based at Hughenden and the nephew of one of Australia's earliest Wagyu industry pioneers, Central Queensland cattleman Wally Rea.
In April last year, Adam Rea paid $88m WIWO including 4000 head of cattle for the New England green pasture feedlot, Upton Farms which neighbours Kentucky Blue and The Flags.
Located at Niangala, east of Walcha, the 2668ha backgrounding and finishing operation comprises four nearby farms growing high performance pastures.
Chris Meares from Meares and Associates handled the sale of both Kentucky Blue and The Flags, and Upton Farms, however he was unable to confirm the buyer or the price.
$11m for quality northern NSW grazing
A Queensland producer has paid around $11 million prior to auction for a quality grazing property on New South Wales's Northern Tablelands.
The 624ha Calala is located 10km east of Walcha and 72km south of Armidale in a cool temperate climate district renowned for its prime breeding and finishing country.
Bruce Rutherford from Nutrien Harcourts was unable to disclose the price paid, but said the purchaser, who was chasing secure and high rainfall cattle breeding country, was making his first venture into New South Wales.
Calala is suited to carry cattle and/or sheep with vendor Mike Faulkner running both in a rotational grazing system.
While the conservative carrying capacity is 7500DSE, prior to the sale Mr Faulkner had sown another 200ha of pasture that will come into production in late winter and early spring, further increasing the property's carrying capacity.
The country is level to undulating rising to low hills with productive black alluvial flats to quality traprock. Much of the property is well established with dedicated tree lanes for shade and shelter.
Water is secured by 4.2km of Apsley River frontage, 17 dams, a creek and bore. An 88mgl water licence is included in the sale.
The improvements on Calala are described as exceptional. The property has benefitted from a capital improvement program including significant refencing, new laneways and strategically located cattle yards for ease of management.
Neighbour secures CQ's Ranchlands for $18m
Neighbour Shane Mills has paid $18 million ($6960/ha bare) for the Pedersen family's 2586ha Central Queensland buffel asset Ranchlands.
Located 15km west of Injune, Ranchlands is situated in an elevated and mostly frost-free area east of Mount Hutton.
The property is used for backgrounding and finishing and can carry around 1000 backgrounders or adult equivalents.
Water is supplied by 12 dams and a share bore with 50mm poly supplying multiple troughs.
When Ranchlands was listed for sale in February, Ben Forrest from the Resolute Property Group described it as an 'A grade' holding.
"Ranchlands is a tick free, well maintained and easy to manage property. There is very little left to do in terms of capital expenditure and the country is well developed with blade-ploughing across much of it."
The sale of Ranchlands was handled by Ben Forrest and Grant Veivers from the Resolute Property Group.
Blackall country exceeds expectations
Blackall's 5537ha Strathavon has exceeded expectations selling at auction for $6.3 million or $1138/ha bare – a top price for the district.
It was purchased by Scott and Julie Ann Brown who own country at Alpha and Emerald.
At Strathavon, livestock walk no further than 1km to get a drink. The property is well watered by natural waterholes and the Barcoo River supplies water to the numerous tanks and troughs. A feature is a large waterhole that has never run dry.
After a run of good seasons, it is carrying a heavy body of buffel, bluegrass and Mitchell grasses as well as a variety of herbages. It is capable of running one breeder to 12ha or one backgrounder to eight hectares.
Part of an exclusion fence cluster, all internal fencing has been renewed or renovated and an unfenced stock route of 970ha traverses the property.
Des Cuffe from Nutrien Harcourts said in the past, the property was a ram depot for both Portland Downs and Isis Downs which reflects the quality of the country.
QLD weight gain country sells for $8m+
A well-known Roma producer has paid more than $8.2 million for Spring Grove in southern Queensland.
Described as a pocket of grazing paradise in a safe rainfall area, the 2496ha of weight gain country is located 7km north of Surat and 73km south of Roma.
Andrew McCallum from Nutrien Harcourts GDL said Spring Grove was well located, easily managed with a secure water supply and a proven production history.
"The property, renowned for growing a significant body of feed, is a soft blend of country with a natural ability to put excellent weight gains on cattle."
The country, which has deep loams to chocolate soils and beneficial soft red loamy soils, is destocked and heavily pastured to buffel.
The property boasts excellent fencing including 5km exclusion fenced, and an outstanding watering system that is monitored via mobile phone or computer.
In addition, there is 6km of double frontage to the Bungil Creek that has a permanent waterhole, as well as a backup dam.
Featuring bitumen frontage, the EU accredited Spring Grove is well positioned to major selling centres, feedlots, grain handling facilities and fodder outlets.
NQ breeder country sells to a local
The well-located north Queensland breeding property Jireena has been secured by a local prior to auction.
The 23,402ha property is located in a tick free area 75km south of Prairie and 280km from Charters Towers.
Henry Slaney from Slaney & Co was unable to disclose the price paid or the buyer, however it is understood to be a nearby cattle producer.
The diverse grazing country is suited to both breeding and finishing and is currently carrying a tremendous body of feed due to being conservatively stocked and a good start to the season in 2022, followed by a good wet season this year.
The vendor estimates the property can run 2500 mixed cattle in an average season.
Fertile Towerhill Creek frontage running to boree, broken gidgee, bauhinia black soil plains, open red soil forest and areas of pulled gidgee contribute to the diverse pasture productivity.
Water is a feature with the Towerhill Creek bisecting the property supported by four bores and seven dams.
Neighbour expands with Winton weaner paddock
Clarrie Herman has paid $2.525 million or $633/ha bare for Addarea, the neighbouring low cost and high weight gain producing block in Queensland's central west.
Located on the highway in a tick free area, the 3989ha property is 45km from Winton and 135km from Longreach.
Tom Brodie from Brodie Agencies described Addarea as an ideal depot or a weaner paddock.
"It is suited to breeding, backgrounding or finishing cattle or sheep with good access to the live export cattle market through Townsville or Cloncurry as well as meatworks, feedlots and store selling centres to the south."
Addarea has been enjoying a good start to the 2023 summer season following on from last year's 633mm of rain.
The lighter carrying sweet, quick responding creek flats balance out the heavy carrying Mitchell grass open downs with areas of soft Flinders grass downs, growing seasonal summer and winter herbages.
Addarea can run up to 240 breeders and followers.
Passed in: CQ cattle breeding & cash cropping fails to sell
The Prewett family's versatile mixed grazing and cropping operation in Queensland's Central Highlands has been relisted after failing to sell at auction.
The 3893ha Glendarriwell is situated 16km south-east of Anakie and 34km west of Emerald, close to the Fairbairn Dam.
The property was passed in at $13.1 million and was subsequently relisted for $16 million, with the agents understood to be negotiating with interested parties.
The bulk of production is sourced from the significant area of cash cropping, underpinned by a sizeable cattle breeding operation on the grass country and crop stubbles.
Run as a cattle enterprise, forage crops could be planted for growing out weaner cattle to feedlot entry weights or taken through to finished slaughter levels.
Matt Beard from RPV Rural said Glendarriwell ticked a lot of boxes.
"It is a blue-ribbon enterprise boasting quality country, in a great location, in a favourable rainfall pocket. It has attracted solid enquiry from locals and from producers across Queensland."
The country is mostly open to semi-open blacksoil downs country running into developed areas of mixed brigalow scrub and superior flats on the Anakie Creek.
It comprises 1942ha of black soil cultivation which is mainly contoured, 475ha of mixed brigalow scrub country developed to predominately buffel grass pasture and 1476ha of open downs grazing country with scattered small scrub influences.
Glendarriwell is watered by five bores and two dams with seasonal waterholes in the Anakie Creek.