THIS week's property review includes a wrap up of recently completed sales, and a separate article on interesting recent listings across the country.
Shippens expand with Victorian aggregation purchase
CQ's Amberkolly sells to the Hughes family
$8m+ for Victorian high country grazing
Austen family secures Dundoo Station for $6m
Green Creek smashes district records
FNQ grazing sells to the Heslins
Shippens expand with Victorian aggregation
Ian and Camilla Shippen, Banyandah Pastoral, have paid $16 million ($1613/ha) for Rhyola and Inverness, a significant breeding and fattening aggregation in New South Wales' southern Riverina.
The renowned stud Merino breeders who run a self-replacing operation at Moulamein, will add the adjoining holdings to their expansive Riverina aggregation that includes the nearby Bundyalumblah and Blue Gate.
In recent years, the Shippens have significantly expanded their holdings.
Last year they secured a slice of the 3353ha Woorndoo Aggregation near Lake Bolac, which was sold for $70 million.
In 2018, they paid $37 million for the 5946ha Mt Fyans at Dundonnell, one of the largest and most highly regarded grazing and cropping holdings in Victoria's Western District.
The sale of Rhyola and Inverness was handled by Matt Horne from Elders who described the auction result as the most significant achieved for Deniliquin and the surrounding area.
Inverness was acquired by the James family from Bendigo in the 1990s followed by the neighbouring Rhyola in the early 2000s.
Spanning 9921ha, the neighbouring properties are located 65km north-west of Deniliquin and 60km east of Moulamein and feature a highly productive mix of soil profiles including sandy loam rises and silty creek soils.
Over the past two years, the vendor has been running 500 cows and calves and 3500 ewes and lambs.
The aggregation boasts a picturesque 20km frontage to the Billabong Creek, dual frontage to the Forest Creek, two solar bores and some well-maintained dams.
On Ryola, 160ha of laser-levelled flood irrigation from the Billabong Creek is growing pastures and fodder crops to support both the breeding and fattening stock.
In September 2021, 100ha of lucerne was sown on Inverness and this established stand will provide the incoming purchasers with an additional feed source.
CQ's Amberkolly sells to the Hughes family
Clermont's Richard Hughes and family, Wentworth Station, have secured Amberkolly in Central Queensland's Whitsunday region.
Gary Johns from Nutrien Harcourts was unable to disclose the price paid, but it is understood to have sold for between $15 million and $20 million including 1000 head of cattle.
Owned by the Murray family since the 1950s, the 14,763ha property is 35 minutes south of Collinsville.
Amberkolly features productive grazing comprising 45 percent strong buffel fattening country and the remainder alluvial flats, sandy loam, black soil flats and undulating ridges.
The enterprise has a 2000 mixed cattle carrying capacity but has been conservatively stocked by the current vendors.
Amberkolly has double frontage to the Broken River, Little Bowen, Spring and Cocoa Creeks. It also fronts the Dart Creek and is watered by two bores and three dams.
It also has farming potential with excellent fertile flats suitable for centre pivots.
$8m+ for Victorian high country grazing
A domestic high net worth individual is believed to have paid north of $8 million for Victorian high country property Jorona Park.
When the 405ha property was offered for sale in April, it was anticipated to make more than $8 million. While Duncan McCulloch from Colliers Agribusiness was unable to disclose the price paid or the name of the buyer, he confirmed contracts had been exchanged, describing the result as "cracking for the area and for the vendor."
Surrounded by mostly rural lifestyle properties, Jorona Park has future subdivision potential comprising 15 titles with around 50ha of rural living zoned land.
During the marketing campaign Mr McCulloch told Beef Central, "Jorona Park is perfect for a high-net-worth property developer who wants to get into agriculture and run some cattle."
"Located less than two hours from Melbourne in a growing lifestyle and hobby market, the property is a long-term land bank and development opportunity," Mr McCulloch said.
Jorona Park was purchased in 2011 by Melbourne's high net worth Pulitano family and was offloaded to enable succession planning.
The highly productive Bonnie Doon grazing country fronts Lake Eildon and is 17km from Mansfield and 27km from Alexandra.
It is currently running 250 breeders on improved pastures, supported by quality infrastructure including fencing and laneways.
Jorona Park has 35 dams and benefits from a 745mm average annual rainfall.
Austen family secures Dundoo Station for $6m
Austen Pastoral Holdings, Bulls Gully, Adavale, will expand its existing holdings after paying $6 million ($135/ha) for Eulo's Dundoo Station in south-west Queensland.
Located 70km west of Eulo and 140km west of Cunnamulla, the 44,500ha property is suitable for grazing cattle and sheep, with vendor Scott Haig running up to 1200 cows plus progeny.
Dundoo is mostly open mulga rangelands interspersed with local creeks and watercourses running into areas of open flood-out country and lignum swamps.
Pasture includes mulga oats, mulga Mitchell, blue bush, wild millet, never fail plus a large variety of salines and herbages in season.
Dundoo is extremely well watered. It has two capped artesian bores with an extensive pipeline and trough system and a series of local watercourses with semi-permanent waterholes.
The Yowah Creek dissects the property, with a 1.5km long waterhole at the homestead. There are three dams with one covering 1600ha when full.
Andrew Adcock from Adcock Partners handled the sale and marketing of Dundoo Station.
Green Creek smashes district records
George Gubbins, Pretty Pine, near Deniliquin in New South Wales' Riverina has paid a $4.6 million ($397/ha) district record for tightly-held, drought-proof grazing country in the state's north-west.
Spanning 11,577ha, Green Creek is situated 76km north-west of Bourke on the Dowling Track via Ford's Bridge and was offered for sale in May by Darren and Clare Robson after 20 years ownership.
At the time, David Russell from Nutrien Russell Property and Livestock anticipated Green Creek could make more than $3.5 million at auction.
"Those expectations continued to rise following unprecedented inquiry from 66 interested parties and 14 inspections. On auction day, there were 11 registered bidders with four strongly competing for the holding," he said.
Green Creek lends itself to a backgrounding operation, but the vendors had been running Dohne sheep with some cattle. It is estimated to run 3000 dry sheep equivalents plus 80 breeding cows (season dependent).
The country is sweet and quick-responding, with soft red saline, copper burr, gidgee burr, salt bush and old man salt bush, nardoo, neverfail and woody butt.
Water is a feature. Boasting a 9km Warrego River frontage, the Willara and Green Creeks system disperses through the property, with 3200ha of low-level beneficial flooding currently on its way.
There are large areas of gilgai and cane grass swamp, lignum and natural lakebed areas, as well as permanent and semi-permanent holes, three dams and three sub-artesian bores.
Green Creek is diverse property that yields a secondary income source via a small carbon project. It also lends itself to eco-tourism with unique wetlands and birdlife, including brolgas, pelicans and swans.
FNQ grazing sells to the Heslins
Steve and Laura Heslin from the Atherton Tablelands are believed to have paid between $5 million and $6 million (bare) for Turalba Valley and Turalba Lakeside Workers Accommodation in far north Queensland.
Located at Lakeland, 80km south of Cooktown and 240km north-west of Cairns, Turalba Valley is a 3250ha grazing property with a 125mg water licence and centre pivot irrigation.
The vendors and long-time Brahman breeders Bill Reddie and Laura Wallace, who developed the adjoining 120ha picturesque lakeside accommodation resort, will semi retire and retain their renowned Turalba Brahman Stud.
Scott Hart from Queensland Rural who brokered the off-market deal said the Heslins are a perfect fit for the multi-faceted property.
"They bring to the table 20 years of hospitality experience and more than 30 years in the cattle industry. Just last year, after owning and operating the Tolga Hotel on the Atherton Tablelands for 10 years, the couple sold it to focus on family and their cattle operation."
The Heslins have been steadily growing their pastoral footprint. They also own country at Hughenden and the Atherton Tableland, and agist cattle at Winton and Chillagoe.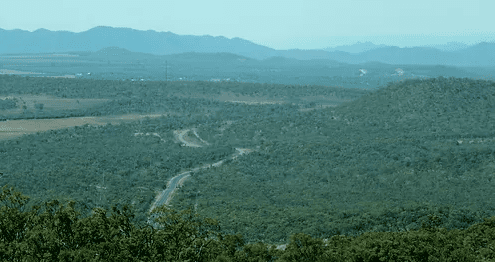 Click here to access more property sales results