THIS week's property review focuses on recent listings of interest across the country and some recent sales of note.
Properties sold: New South Wales
Haino Park, situated in the heart of NSW's Riverina, sold prior to auction recently – with approval to expand an existing feedlot from 2000 to 5000 head proving a big drawcard.
Located 15km west of Finley, Haino Park was a 203ha lucerne farm that was transformed into a feedlot eight years ago by the Everingham family.
The facility has reliable water supplied by a 220ml groundwater licence providing sufficient water to service the feedlot operation to its full licenced capacity of 5000 head.
It is situated in an ideal location with close proximity to large selling centres, abattoirs and grain, with 200 cattle currently entering and exiting the feedlot each week.
With expectations of more than $4 million, selling agent Nathan Everingham from NE & Co said the price paid was very attractive.
"Haino Park is a very tidy operation and its approval for expansion drew strong interest, particularly from those in the feedlot industry."
Mr Everingham was unable to disclose the buyer or the price paid, but Beef Central understands it is an industry player from NSW seeking expansion.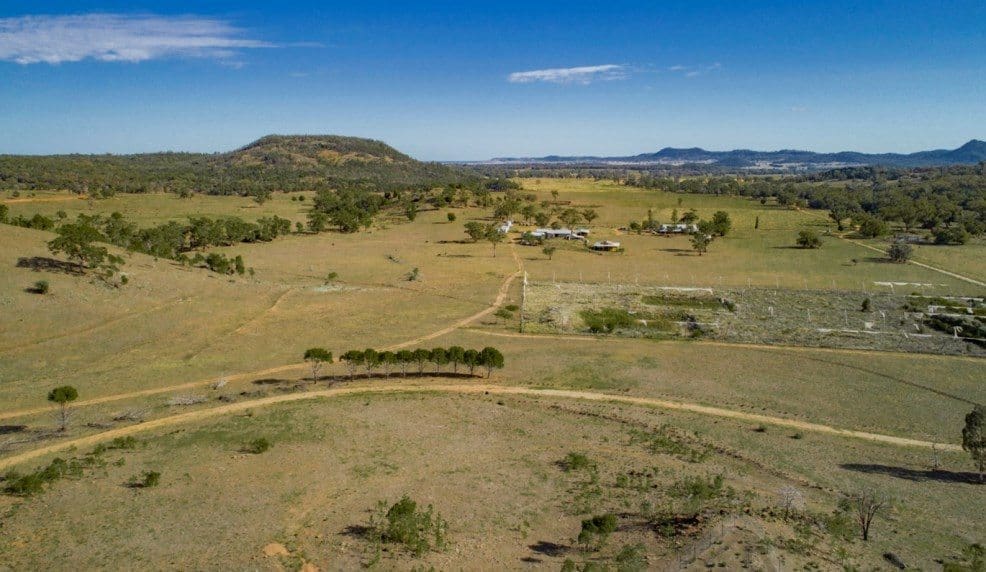 Mt Bullaway Station, situated on the divide between the Central West and North West Slopes regions of NSW, has sold at auction for $3.8m to a family of farmers from Walgett.
Encompassing Mt Bullaway, West Bullaway and Mumbedah, the 3562ha breeding and grazing country, pictured above, is nestled in the Goorianawa Valley, 30km west of Coonabarabran. It has a carrying capacity of 650 cows and calves.
Chris Korff from Ray White Rural said the price paid was within expectations.
For sale: Queensland
The large-scale 46,975ha Thornhill Aggregation, 50km west of Hughenden and 65km east of Richmond, is being offered for sale by TopX and Slaney & Co.
The aggregation, pictured below, is tick-free and made up of five adjoining Mitchell grass downs properties – 10,060ha Thornhill, 10,712ha Killarney, 11,688ha Tamworth, 4431ha Bareeba and 10,084ha Mugwee.
One of the selling agents, Henry Slaney said the retiring owners, John, Jane and Joan Lethbridge, had put together a 'very functional' group of properties.
"It is well set up to handle large mobs of cattle, with extensive water and fencing developments completed over the last ten years," he said.
With bitumen frontage via the Flinders Highway, the properties can supply markets all year round, wet season or dry season enabling them to be run as either a breeding, backgrounding or trading enterprise.
Mr Slaney said the aggregation was already appealing to the 'bigger-end' of town, despite being only recently listed.
"Thornhill has a few strings to its bow. One of the attractions is the talk of Hughenden: securing large amounts of water to set itself up as Australia's next cropping area, as well as the prospect of a meatworks being established."
The five properties combined have a 6000 adult equivalent carrying capacity, however they are being offered bare of stock and plant.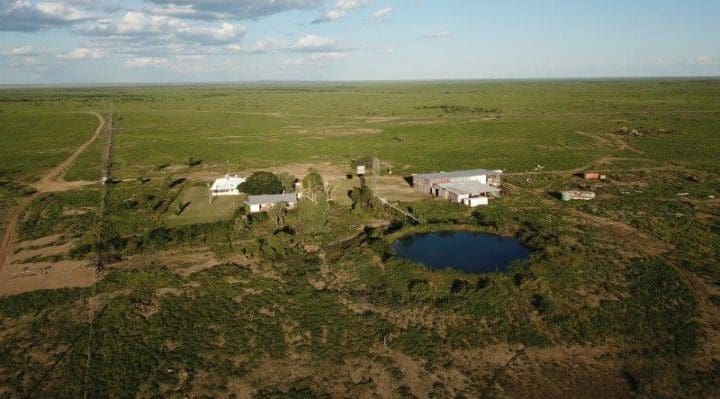 A little further south, Ann Ballinger has listed her 11,857ha Muttaburra district grazing property Stockholm Station for sale.
The Mitchell and buffel grass property, pictured below, was purchased by the Ballingers in 1988. When Ann's husband died in 2000, she decided to stay on and run the property. After 18 years, she has decided to give someone else a go, and retire to Buderim on the Sunshine Coast.
Mrs Ballinger is sad to be leaving the west and the wonderful local community, but said there was plenty of opportunity for potential buyers.
"Stockholm represents good value for money. The property currently boasts incredible feed – the best I have ever seen following recent rain and storms," she said.
Water improvements include 50km of poly pipe and 29 troughs, providing a maximum two km radius between watering points. There are also semi-permanent holes in the Cornish and Towerhill Creeks.
When Ann decided to switch from sheep to cattle four years ago, due to wild dog predation, the Lord family from Richmond agisted the entire place. While the property is being sold bare of cattle, Ann has 300 mixed weaners (purchased in January) available for separate sale and the Lords will offer 90 cows and calves.
In the current good season, Stockholm can easily carry 2000 cattle, but as a rule of thumb, Ann estimates the property can conservatively run 1200 head.
Where does the name Stockholm come from? Interestingly, a Swedish man drew a block taken off Mt Cornish (originally part of Bowen Downs) in a 1929 ballot. When he applied for finance to purchase livestock, the local bank manager suggested naming the place Stockholm because the man was from Sweden, it was his home and he was there to buy stock.
Ben Forrest from Colliers International is auctioning Stockholm on April 20.
The historic Maranoa grazing property Cogoon Station is being auctioned next month by Ruralco Property GDL Real Estate.
Located 60km south of Roma, the cattle breeding and backgrounding enterprise, pictured below, offers just under 6000ha of freehold land with a good blend of country types, including chocolate soil downs. It also boasts 809ha of deep soil river and creek flats.
With plenty of scope for further development, the property is watered by a flowing bore, 12 dams and permanent holes in Cogoon River and lagoon.
In April 1848, Prussian explorer and naturalist Ludwig Leichhardt reportedly left Cogoon Station to cross Australia from north-east to south-west. He and the exploration team were never seen again. At the time, the property was owned by Scottish-born, New South Wales politician Allan Macpherson.
Cogoon Station is being auctioned on April 20.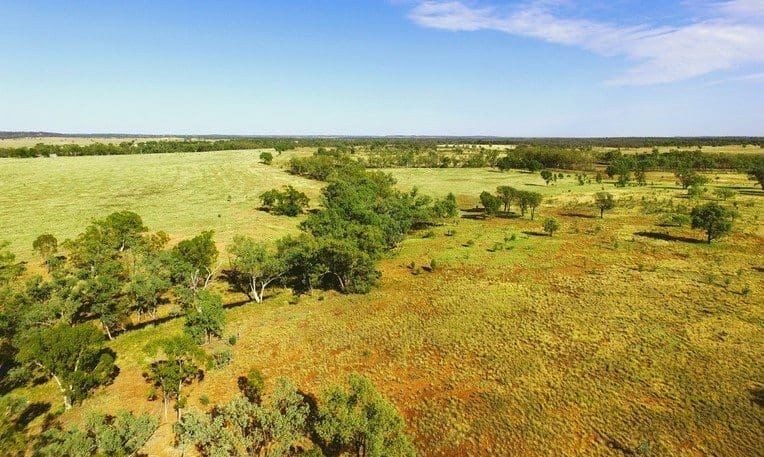 The tightly-held Augathella grazing property Killarney Station has hit the market running, with Daven Vohland from Elders reporting he is flat out with inspections from a cross-section of interested producers.
The 10,412ha freehold property, including more than 2000ha of unfenced stock route, is situated 56km north-east of Augathella or 98km north of Morven.
Killarney is a cattle breeding, backgrounding and fattening property and Mr Vohland said while it was still lacking a good body of feed, the proof was in the cattle.
"They are absolutely magnificent and in very good, very sound condition. In fact, the property has a strong history of producing excellent feeder cattle for the feed-on market and prime cattle for domestic and export markets. The condition of the cattle on Killarney is the real testament and strength as to this properties ability to produce," he said.
Killarney boasts a diverse mixture of undulating fertile soil types, is well watered with 30km of double frontage to Hoganthulla Creek and has 23km of maintained Dingo Barrier Fence on the southern and western boundaries.
While the property is being offered bare, the successful buyer will have the option to purchase more than 1500 cattle at valuation.
Elders' Daven Vohland is also marketing the highly-developed, 8381ha Roma beef enterprise, Stratton, being sold for the first time in 50 years.
Described as sweet grazing country with a superb mix of soil types, Stratton (image below) is well watered by bores, dams and permanent and semi-permanent holes in the Muckadilla Creek with a 10km double frontage through the property.
Vendors Bill and Kellie McLean operate a successful backgrounding operation, annually turning off 2400 weaner to feeder cattle. However, the dual-purpose property, offered with a good body of established improved pastures, also lends itself to breeding or fattening.
The McLeans own country elsewhere and are wanting to consolidate. Stratton will be auctioned bare on April 18.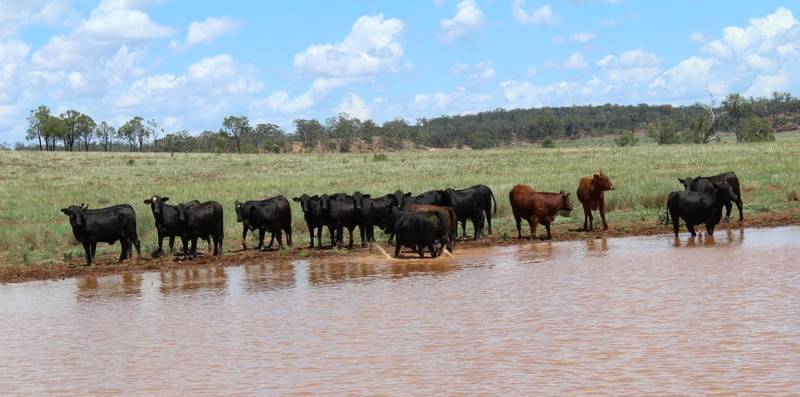 In Central Queensland, CBRE and Pat O'Driscoll Real Estate will auction the picturesque and highly productive Tallawalah next month, after the property was inundated with 400mm of rain. It was originally scheduled to be auctioned on March 23.
The 8200ha grazing property, pictured below, boasts extensive stands of native and improved pasture supporting a carrying capacity of 3600 adult equivalents. It comprises abundant water resources, providing significant future development potential.
Located close to the Queensland coast between the regional cities of Mackay and Rockhampton, Tallawalah is adjacent to the World Heritage Great Barrier Reef and eco-tourism opportunities.
Tallawalah will be auctioned on April 11.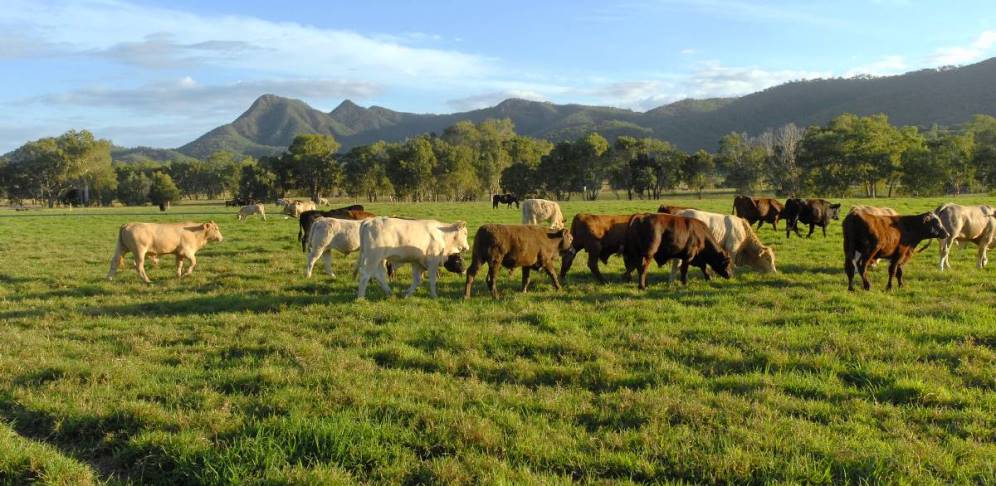 For sale: New South Wales
Expressions of interest seeking a joint venture partner in the New England-based Maria River Cattle Co have been very promising, according to Jim Guilfoyle from Colliers International.
MRCC operates 9686ha across three aggregations of prime grazing country – 2822ha St Helena, east of Armidale, 4836ha Benditi, east of Yarrowitch and 2028ha Glen Eagle, south of Walcha.
Together they produce Wagyu x Angus cattle for existing long-term relationships for premium domestic and export markets.
Mr Guilfoyle said a range of sources were showing interest in a minority shareholding.
"Inquiry so far is coming from local producers through to institutions, as well as domestic and overseas super funds," he said.
"The owners of MRCC are looking for opportunities to partner with someone with similar interests, who will help take the business to the next level."
Mr Guilfoyle described the offering as unique, on a scale of some of the best grazing country in New South Wales.
Expression of interest close on April 23.
Click here to access full list of significant recent property listings around Australia
Click here to access full list of recently completed sales