It's staggering to learn that just five declared weeds each cost the Queensland cattle industry more than $50 million each year in lost production and costs of control.
Prickly acacia, alone, now exists in problem concentrations across 9 million hectares of Queensland – double the footprint it had 19 years ago, according to Desert Channels Queensland. DCB stimates the impact of rediced stocking rate alone costs the livestock industry around $50 million each year – not accounting for increased mustering and maintenance costs.
While it is well accepted that woody weeds reduce primary industry productivity and profitability, does their presence in problem concentrations also impact on cattle property values?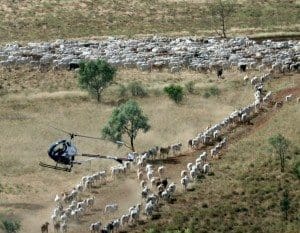 Veteran Elders rural property specialist Lorin Bishop, who operates across the Charters Towers, Richmond and Julia Creek areas, believes they do, but admits it is difficult to quantify.
"Woody weeds are a problem in this region, particularly further west where prickly acacia can get very thick unless it is managed, and there is better quality country."
He said although grazing properties were obviously easier to run and more productive without severe woody weed infestations, the expense and time involved in clearing them often did not make enough of a difference when it comes to sale price.
"You see properties that are side by side – one can be free of prickly acacia and one can be full of it – and they can make roughly the same values per acre," Mr Bishop said.
"While they are an eyesore and affect productivity, the property with the major weed infestation will still make good money."
Rockhampton-based Elders rural property specialist Virgil Kenny said however, the impact of woody weeds on property values was dependent on the type of weed and the severity of the infestation.
"I have seen some properties rendered virtually unsaleable by severe woody weed infestations. In fact, I saw one coastal property price slashed by 30 percent," he said.
Buyers acting selectively
Other views suggest woody weeds can make a grazing property harder (or perhaps more accurately, slower) to sell, rather than necessarily affecting outright value.
Certainly there is recent evidence of buyers acting selectively, based on their opinions about the impact of woody weeds in problem proportions in grazing country.
In Beef Central's recent report on the June sale of Dunrossie and Stenhouse Stations at Muttaburra in central western Queensland, buyer Arthur Hobbs said he had been looking for cattle land prospects in the region for a year or two, particularly 'low maintenance' country to grow steers, where he could 'see every beast' from a turkey's nest.
The Hobbs family, well established cane farmers from the Ingham region, extended their cattle interests with the purchase of the Stenhouse aggregation.
"Both properties had very clean country with very little prickly acacia, which was a key consideration for us," Arthur Hobbs said. "Having done a lot of woody weed control on our coastal country near Ingham, I don't think people know what they are in for in terms of cost, to clear woody weed infested country in the future," he said.
Valuer, Will McLay from Herron Todd White's Rockhampton office said most potential buyers considered the management costs in cleaner and more heavily impacted country, and factored that into the purchase price.
"The cost of treating woody weeds on a per acre basis is typically the same, whether you are in Western Queensland or the Brigalow Belt. If you are paying $100 per acre for country in the west and $600 per acre for country in the Brigalow Belt, the percentage that you are likely to spend on weeds has a greater bearing on your overall asset value, so I think in the west it is definitely more of an issue, as the expense is considerable," Mr McLay said.
It's an attitude shared by Chris Love, research and development manager for Dow AgroSciences, which produces a range of woody weed control products.
"Many Central Queensland graziers are prepared to spend up to 10 percent of their land value on clearing woody weeds, because they know they can double their carrying capacity," he said.
"This compares to coastal NSW where clearing is carried out to improve aesthetics and western NSW, where graziers would prefer to buy a neighbouring property because the capital value of the land is not there to clear weeds."
Woody weeds are a significant problem in some areas, but the belief is that most graziers have them under control. While most property owners manage their weed control and budget for it, it is driven by the economy of their returns.
Dow sales manager for Queensland, Tony Marshall, says properties that are free of woody weeds are of greater value than those that carry problem infestations.
"But it varies, depending on the type of invasive weed. If graziers are undertaking good management, then property values will remain solid. However, woody weeds that haven't been treated are likely to have indirect impact on property prices," he said.