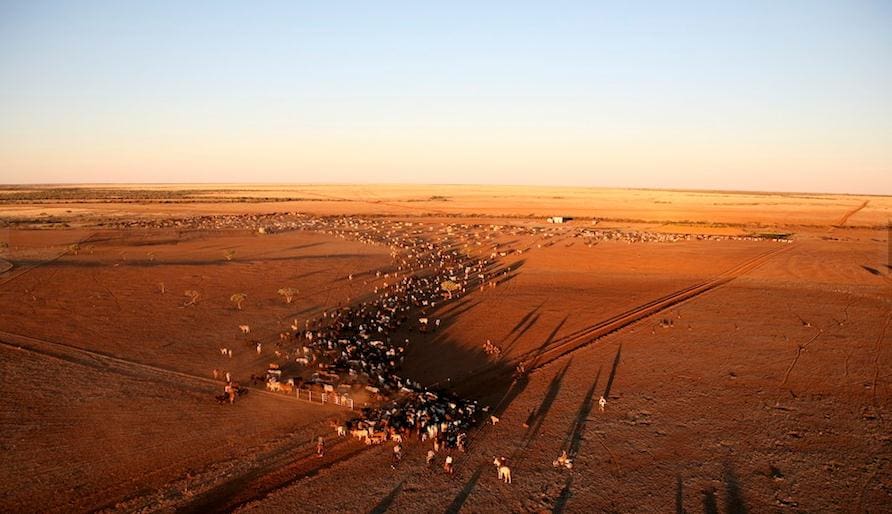 MARKETING cattle properties to overseas investors has changed with the Federal Treasurer last month overhauling Foreign Investment Review Board rules.
The reforms mean vendors seeking 'top dollar' by attracting foreign competition now need to publicly advertise properties for 30 days before any deal with an offshore investor is done – effectively ending the trend of 'off-market' sales campaigns.
While the move may serve to ease some public concerns about Australian icons slipping into foreign hands, what do the changes mean for producers considering selling up?
Jennifer Wainwright, the managing director and founder of boutique agribusiness investment advisory firm AUX Venture, has extensive knowledge and experience in finance and agriculture.
She has strong views on the new FIRB rules and is pressing Canberra to clarify the new decree's vague terms such as 'must be broadly advertised to Australian community.'
Ms Wainwright fears a lack of knowledge over the exact rules means the implications could be far wider than anticipated.
"There is no clarity," she said.
"There are mixed and conflicting messages coming from people consulting with the Foreign Investment Review Board and the government. Sweeping statements are open to interpretation, and the rules are retrospective, resulting in economic loss. Many deals have fallen into disarray because properties must now be publicly advertised," Ms Wainwright said
A current example is Twynam Agricultural Group, which is selling three of its Lachlan River frontage properties in central-western New South Wales (see recent report on Grains Central).
It is understood the Johnny Kahlbetzer-run company had negotiated a very good offer and contracts had been negotiated off-market. Days before they exchanged, the Treasurer made his announcement and the Kahlbetzers were forced to go public. As a result, it is believed one of the two foreigner investors has refused to participate and the deal has fallen through.
It could be argued no one has a better feel of this topic than Greg Campbell, the ex-chief executive officer of S. Kidman & Co, which in December 2016 sold to mining magnate Gina Rinehart and a Chinese company, after an 18-month, saga-filled FIRB process.
Mr Campbell explained the Treasurer made the changes, mindful of the past public pressure he was under about potential foreign ownership surrounding the sale of Kidman and Ausgrid.
"On this occasion, Scott Morrison is trying to ward off public angst and criticism by giving Australians 30 days to look over a business that is for sale, and then marshal their resources or syndicates to have a genuine crack," Mr Campbell said.
In the case of the cattle industry, he suggested it was pre-positioning the Treasurer for any public concerns over the upcoming sale of 'several big pastoral aggregations.'
In Beef Central's opinion, that's code for Consolidated Pastoral Co.
"Depending on the level of foreign interest, those sale processes may or may not raise a public profile that Treasurer Morrison has to deal with," Mr Campbell said.
"In any case, any foreign interest for any of those assets would have to come before the FIRB and therefore be subject to the Treasurer's decision."
Mr Campbell believes the Treasurer is genuinely keen that Australians are given a fair chance to buy any pastoral asset that comes on the market.
"He wants as much competition in the market as possible, and the changes encourage Australian syndicates to raise finances, so they can commit to buying an asset," he said.
However Mr Campbell fears the new rules are not transparent enough, with many of the concerns purely political – meaning applicants don't know where they stand in regard to the populist line adopted by the Treasurer.
"I also believe they are sending the wrong message to investors because there will be slower time-frames to allow Australians the opportunity to purchase local assets. The Treasurer has indicated more than 50 percent ownership of anything large will be frowned upon."
Rules "breathtakingly stupid"
CBRE's agribusiness regional director Danny Thomas is another outspoken critic of the Treasurer's policy changes.
"It is a further intervention in what is meant to be a free market. The rules are only being applied to farmland – no other asset class (houses, or commercial real estate or shopping centres).
"Vendors, particularly multi-generational-owned assets, should be allowed to do a deal with whoever they want to deal with – whether it is the best price or not, whether they are foreign or not," he said.
By speaking out on the issue, Mr Thomas said he had been inundated with hate mail from those who felt sales of land to foreign interests were intolerable, under any circumstance.
"People think I am selling Australia to foreigners. I make the point very clear, I have never sold a property to a foreign purchaser, but I have acted for a lot of vendors who have. At the end of the day, it is their choice who they sell to."
Mr Thomas describes the new FIRB rules as breathtakingly stupid.
"If we experience a stutter-step in terms of domestic sentiment and foreign investors view Australia's regulatory environment as a sovereign risk, then they might decide to go to South America, Africa or Asia and it will be very difficult to get them back," he said.
Jennifer Wainwright agreed.
"Retrospective rules are the most damaging. Foreign investors understand that the terms and conditions might change and they will have to navigate them, but what they won't stand for is rules that apply to the last two-and-half years of work, effort and investment," she said.
Ms Wainwright slammed the new rules as not only expensive, but nonsensical.
"The government should have drawn a line in the sand and said, 'From today, everyone who is entering into a contract must do this.' Instead, they have given off-shore investors the wrong impression, and as a result there is negative feedback from global investors at every level – from the private family farmers to institutions."
Even the law believes the changes are discouraging to overseas investors.
Duncan Bedford is a partner at McCullough Robertson Lawyers and heads up the company's Food and Agribusiness Group. His occasional 'Legally Speaking' column appears on Property Central this week.
"The new FIRB rules are sending a message that foreign investment is not welcome. However, at the end of the day, a property will sell to the highest bidder and if it is an off-shore investor, they will secure it."
Mr Bedford suggests the changes aren't necessarily discriminatory, just more red tape.
"The changes are politically-motivated and have been introduced to appease the public outcry that arose from the proposed Kidman sale to foreign buyers (and similar sales of farms to foreign investors) and the emotional attachment to the farm."
"But large aggregations are few and far between. They are using a sledge hammer to crack a walnut. Will the changes stop foreign investment? No, I don't think so," he said.
CBRE's Danny Thomas said the new FIRB rules were a further intervention in a market where there is a desperate need for capital to facilitate growth and succession.
"Every other sector, including mining, energy and renewables, can access foreign capital and it has been a fantastic success. For whatever reason, the public is extremely anxious about selling off Australian farmland. I just don't understand it."
Ms Wainwright said Australian agriculture is a capital-starved sector that requires a relationship with foreign capital to propel our best opportunity into the future.
"Government white papers, the Northern Australia Development Plan and the Northern Infrastructure Development Fund recognise that the Northern Australian beef industry has a large development opportunity, but it needs capital to move forward."
She said foreign capital had always been a driver of the larger-end agri-space and to our absolute benefit, foreign-owned companies develop properties, hire more people, drive productivity and participate in the industry. Consolidated Pastoral Co is a prime example.
On a final note and in regard to the Kidman sale, Greg Campbell said the general view was that foreign investment was fine if it was tied up with Australian investors who held more than 50 percent of the equity in the business.
"That is superficially appealing to some people who think that puts Australians in charge of foreign capital. Unfortunately, that won't bring foreign capital through the door, into food and agriculture, and that is what is absolutely required," he said.
"There are many foreign investors who don't want to be constrained by an Australian partner who is highly borrowed and doesn't move quickly enough to develop new markets, embrace technologies and make further investments to recapitalise or re-energise the business.
"They resist partnering up for less than 50 percent, because it means they don't have control of their destiny."
Next week: We take a closer look at a vendor's right to privacy, the potential flow-on effects and their impact on property prices in light of the new FIRB rules.