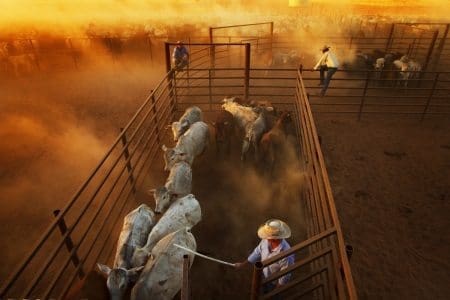 HOW does a cattle producer from the Top End come to grips with the carrying capacity of a grazing property for sale in southern Australia?
The simple answer is rating and comparing livestock carrying capacity between states and regions is often more complex than you might think.
Carrying capacity is often used as a benchmark when conducting property sales, determining property values or making property comparisons.
However, Australia has a number of standard measurement 'yardsticks' to compare the land area requirements of classes of livestock, and to assess the carrying capacity of a given property or paddock.
Those measures differ from state-to-state and include Dry Sheep Equivalent (DSE), Adult Equivalent (AE), Livestock Unit (LSU) and Cattle Unit (CU).
In an attempt to universalise the measurements, Meat and Livestock Australia says a Dry Sheep Equivalent is used as a method of standardising an animal unit and is the amount of feed required by a two-year-old, 50kg Merino wether to maintain its bodyweight (not necessarily to gain weight).
Applying this principle, one 50kg dry goat is equivalent to one DSE, and one yearling steer is equivalent to about 8 DSE, whereas a lactating cow may be equivalent to as much as 25 DSE, according to MLA's commentary.
"Graziers should treat it as a generic guide, rather than an absolute"
Tamworth-based livestock consultant Alistair Rayner said in NSW, carrying capacity is based on soils and pastures in a particular area.
"The Primary Industries Department determines Dry Sheep Equivalents firstly by the feed requirements of sheep (weaned lambs and mature sheep) and secondly by different pasture types (Coastal, Southern Tablelands, Southern Slopes, Southern Plains, Irrigation, Northern Tablelands, Northern Slopes and Northern Plains)."
"However, graziers should treat it as a generic guide rather than an absolute," Mr Rayner said.
According to the NSW DPI, a 50kg wether maintained at constant weight has a DSE rating of 1 (the standard). By comparison, Victoria uses a 45kg wether.
In NSW, a typical 450kg non-lactating, non-pregnant cow equals 6 DSE, while the average for a 450kg cow and weaner calf is equal to 13.5 DSE.
In Western Australia, where Cattle Units (CU) are used, a single unit is the equivalent of a 400kg steer at body maintenance (nil weightgain).
Mr Rayner, the principal of AgRayner, said carrying capacities, dry sheep equivalents, adult equivalents, livestock and cattle units should be a measure of what a property can realistically expect to carry, sustainably.
"A sustainable carrying capacity means having sufficient feed to carry livestock without degrading pastures and groundcover," he said.
"While DSEs, AEs, LSUs and CUs are important measures, they do tend to vary. Some graziers calculate the rates on government recommendations based on soil and pasture types; others assess property history, and there are those who do their own calculations."
Mr Rayner said if the season was good, there was a temptation by some vendors to over-estimate (or over-state) carrying capacity, but he prefers to use a long term average.
"I am currently comparing DSEs for a client on the NSW Southern Tablelands. We are assessing the 15-year history of that property because pasture and crops management have changed. I wouldn't want to be going to the bank on just a two-year average. I would be seeking more solidity," he said.
"While the DPI guide is a benchmark, it is important (for potential buyers) to undertake due diligence – to research what the current trends are, and what the variations might be – and then work on a longer average than the best year the property has had."
Mr Rayner believes graziers, buying or selling, should seek the advice of local real estate agents in assessing sustainable carrying capacity.
"Ask them, what is a typical carrying capacity for that area? Once you have determined a property's potential or realistic carrying capability, look at soil types and (in those areas where it applies) fertiliser history. This allows both buyers and sellers to make more informed decisions."
Mr Rayner said when selling a property, the generic stocking rates or carrying capacity claim is usually determined by the selling agent and the vendor.
"The vendor might look at the DPI recommendations as well as the property's history, while the agents will make decisions based on previous sales and current listings."
As part of his service, the principal of RaynerAg assists potential buyers with pre-purchase property inspections.
"I assess the long term average carrying capacity with the recommendations for that district, based on the science that's being collected by government. I also examine a property's pasture and fertiliser history – what the vendor is doing to achieve that actual carrying capacity. This enables potential buyers to financially compare grazing enterprises on a DSE basis."
In August last year, Mr Rayner told Property Central, "The number of head a place runs is almost irrelevant. In terms of beef production, what drives profitability is the kilos of beef that can be produced. The biggest variable is always the cost of production, so rather than talking about per head, people should look at average cost of production and the average price per kilo."
He said bringing livestock numbers back to a standard recommendation meant buyers could compare grazing enterprises.
"By using an AE or DSE, potential buyers can calculate how many head of cattle or sheep that property is capable of carrying. It is not a hard and fast rule, it is just a guide."
Leading North Queensland valuer Peter Honnef said many people confuse carrying capacity with stocking rates in his region.
"Stocking rates change with seasonal conditions and how a property is run. Carrying capacity is a long-term average. A landholder might have a really good wet-season one year and drought the next couple of years. The stocking rate changes, but the carrying capacity doesn't."
Mr Honnef, an agribusiness director with CBRE, said determining productive capacity is problematic, because it is based on subjective variables.
"In most instances, vendors will have a 'positive' view of their place's carrying capacity, which is understandable"
"Relying solely on a vendor's estimate isn't an accurate process. The best way is to understand the historical use of the property, the development, the management in terms of feeding and supplementation and what the property has carried in previous years."
Mr Honnef said in most instances, vendors will have a 'positive' view of their place, which is understandable.
"A property owner always has a bias towards their place. A selling agent or a valuer doesn't rely solely on what they are told. Instead, they look at the historical productive numbers, the property's condition and land type, and then apply district-recognised benchmarks to that data."
Mr Honnef said those standards are a moving feast.
"Over the past 20 years I have seen carrying capacity change. For example, forest country in north Queensland was one beast to 14 hectares. With water development, supplementary feeding and different cattle breeds, that same country is now carrying 1:8."
He said the improved carrying capacity was due to land development.
"I have also seen northern native pasture seeded with Seca stylo double its grazing capabilities. The more fertile the soil, the more productive the land is. Geographic and climatic regions are taken into account when calculating carrying rates, but season is not a factor."
Mr Honnef agrees with Mr Rayner that it is important to bring the carrying capacity of a property back to a common denominator.
"We are not comparing apples with apples, or oranges with oranges. The breeders in southern NSW are different to the breeders in Cape York. We want to know the type of animal and how many are being run every year. We break the numbers into age class, assess weight range and then work it all back to 450kg."
Mr Honnef said carrying capacities are valuable in terms of linking a property's worth or value to its productive capacity.
"Land area alone doesn't demonstrate productivity. A property's price divided by the number of AE (carrying capacity) does by demonstrating the dollar per beast rate."
Next week: Marketing agents have their say on how carrying capacity is determined, and how it should be interpreted.