Melbourne QC Allan Myers has sold 50 percent of his Tipperary aggregation in the Northern Territory's Top End to a syndicate of Australian and Hong Kong interests for a reported figure above $49 million.
Lawyer and property developer Jason Yeap, a Malaysian-born Australian citizen, who along with Mr Myers sits on the National Gallery of Australia Council, has put together a syndicate of investors including himself and Hong Kong business interests.
The deal, involving around 2700sq km of country, includes the Tipperary, Litchfield and Douglas West pastoral leases about 100km southwest of Darwin. The sale process has already been approved by the Foreign Investment Review Board.
Earlier, Mr Myers sold other components of his Darwin region cattle aggregation, including Fish River in 2011, Elizabeth Downs in 2014, and Douglas and Douglas South in 2015.
In 2011 he sold more than half his cattle herd to the Australian Agricultural Co for $26 million.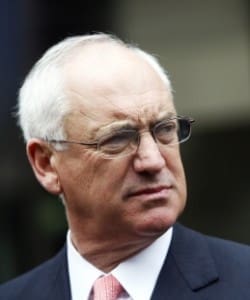 Mr Myers has been trying to sell the asset for the past eight years, going close to a deal to offload it to the Australian Agricultural Co in 2009 for a reported $105 million. That deal fell over when shareholders torpedoed the board's proposed purchase at a special annual general meeting.
AA Co reportedly spent more than $1 million on due diligence over that purchase, before eventually walking away. However the company continued to lease the Tipperary asset as part of its northern cattle and processing operations until last year.
Although Tipperary is large, by Top End standards, the country is no considered to be in the same league for grazing purposes as the better-known Barkly Tableland or Victoria River district grazing regions. However it does have plenty of water and strategic value, being easily the largest cattle property so close to Darwin.
Tipperary has been the site of a wide range of agricultural projects over the past 40 years, including a large-scale sorghum growing venture on cleared land that failed within two years of launch in the 1970s.
The property has had a colourful past, much of it linked to former owner, Warren Anderson, who made his fortune out of property, cold storage and supermarket distribution.
He spent millions at Tipperary in the 1990s, including a stadium-sized cutting horse arena, opulent accommodation for dozens of guests included gold-plated fixtures, bitumen airstrip for private jets and extravagant landscaping which included the importation of hundreds of full-grown date palms from southern Australia to form a kilometre-long esplanade leading up to the homestead complex.
More notorious was the development of a zoo, including a large hippo enclosure and other wild African game. Mr Anderson fought an animal cruelty charge over treatment of the zoo animals in the later stages of his ownership of Tipperary.
The property fell into the hands of current owner, Allan Myers, who represented Mr Anderson in his legal matters, in 2003. Reports at the time suggested the sale was to offset Mr Anderson's legal bills.
New investor Jason Yeap told ABC news yesterday that the option to buy into the venture was "very attractive."
"Just like almost everyone else in the country, I think there's a great opportunity in agriculture," he said. "I suppose knowing what I do about Asia, I agree with that and I've put my money where my mouth is."
Mr Yeap said the size of the properties, access to water and close proximity to the Darwin Port made it a strong investment for those joining the syndicate.
"This is a good investment in the first instance," he said. "It has good facilities and good potential with the growing demand for beef from the Asian middle class."
Chinese investor pays $55m to expand NSW/VIC grazing portfolio
Meanwhile in another large Australian grazing property deal involving North Asian investors disclosed overnight, Chinese buyers have paid a reported $55 million for two NSW aggregations of properties.
Chinese-owned pastoral and industrial machinery business, Rifa Salutary, has secured two aggregations of properties at Nowendoc and Warialda for an estimated $55 million.
The Nowendoc properties, covering about 8000ha, and an $18m Warialda aggregation covering 4000ha bought earlier this year, will form part of a beef cattle breeding and growing operation with the newest acquisitions, Kooroon and Middlebrook Park south of Tamworth.
Rifa bought the holdings on a walk-in, walk-out basis, including 8100 Angus and Shorthorn cattle worth $8 million, plus a 764 megalitre water license. Foreign Investment Review Board approval was granted in June.
Rifa earlier this year paid about $32 million for 23,000ha Gloucester district aggregation Cooplacurripa, not far from the latest acquisitions.
The company now controls about 40,000ha of beef breeding and backgrounding country in New South Wales and Victoria, having paid about $150 million for land, cattle and other assets over the past two years. Rifa says it now runs about 22,000 cattle, plus 5000 sheep and 3000ha of cultivation.
"We continue to find value in aggregating small farms to create large holdings with the scale and efficiency we desire," Rifa Salutary managing director, David Goodfellow said.
The country at Nundle will be used for an Angus cattle breeding operation initially comprising about 5500 breeders.