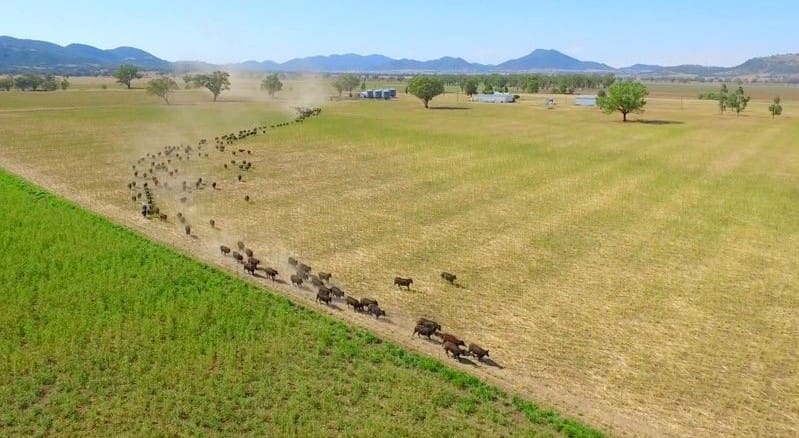 Currabubula Station, widely regarded as one of northern New South Wales' finest cattle and cropping properties, is back on the market after changing hands just three years ago.
Located 38km south-west of the regional centre of Tamworth and spanning 2400 hectares, Currabubula is a premium beef producing property running more than 1200 cows selling off weaner calves, with a carry capacity of 18,000 DSE.
The property was purchased in 2015 for around $8.5 million by the United World Enterprise Group (UWE) established in 1993 in Australia by Australian citizens, Jimmy Liu and wife Freda Feng. The couple have now decided to downsize and buy closer to their Sydney base.
They originally exported health products to China, but today UWE is a commodity trader specialising in facilitating agribusiness exports, especially grain, oilseeds and beef, and has recently moved into cottonseed exports on the back of strong demand from China. The company acts as a selling agent between Australian suppliers and buyers in China, which is currently the largest export market for Australian cottonseed.
Positioned in the heart of the Liverpool Plains region, the large-scale Currabubula Station cattle enterprise is blessed by some of the best soils money can buy – ranging from heavy chocolate to red basalt loams.
The areas of cultivation have grown a range of cash and fodder crops including barley, wheat, lucerne and forage sorghum.
Clean green emphasis in branded beef
Currently, Currabubula is run as a part of a vertically-integrated branded beef business generating processing grainfed and grassfed Black Angus and Wagyu beef products for export to China, Vietnam and south-east Asia as well as the domestic market.
Soon after it last sold three years ago, Mr Liu told Tamworth's Northern Daily Leader he had he purchased the property after seeing significant demand for quality beef from his existing customer base in China.
"The company is a true paddock-to-plate business, slaughtering Currabubula Station cattle and exporting direct to customers in China."
In consultation with an IT firm, the company developed a tracking process for cattle so customers from China could "see cattle on the station feeding and watering."
"Australia has a fantastic reputation for clean, green meat and as time passes, business on the back of this reputation will grow. Currabubula is not treating this as a commodity like grain or hay, but beef that we can differentiate and create a niche that will see continued growth. When customers visit the farm, they all comment on the calm, stress-free environment the cattle live in," Mr Liu said.
He said he was most proud of helping Australian producers to find market pathways overseas and helping overseas customers to import clean, green Australian products because it benefits everyone.
Luke Kenniff from Sydney-based Harvest Agents and Advisory said given the natural topography and infrastructure, the property could also be run as:
a cattle breeding enterprise selling off young weaners to the feedlot or store cattle markets.
a trade cattle enterprise sourcing young cattle to finish either on pasture and or grain assisted ration suppling local or export markets.
a self-replacing prime lamb or wool production enterprise.
a horse breeding or spelling enterprise being closely located to the major horse centres of Tamworth and the Hunter Valley.
Currabubula's blue-ribbon assets include water licences, a hangar and airstrip strip. Pastoria, one of the original homesteads, has been transformed into a premium function and accommodation centre sleeping 20 people.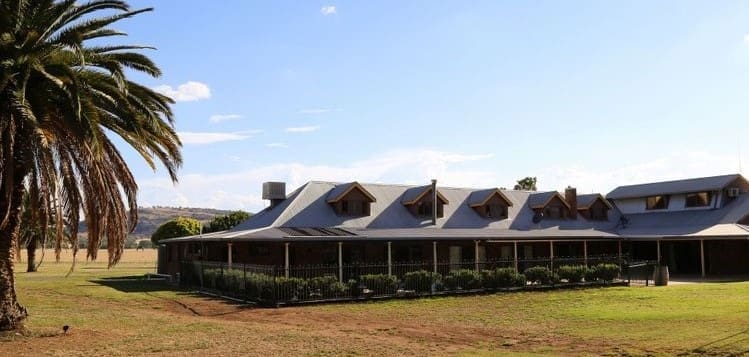 The property is supported by a 740ML unregulated water licence and is well watered by a storage dams and numerous bores.
Mr Kenniff said Currabubula was a wonderful property that would suit a range of people wanting to diversify in these current dry conditions.
"It is in a range and size that would suit a number of parties including high-net worth individuals, current industry players seeking a breeder or grazing enterprise, corporates and institutions. There's interest from domestics as well as overseas," he said.
Currabubula Station is being sold bare of cattle and plant, via an expressions of interest campaign closing on September 30. Local property contacts say it could make in excess of $12 million, due to recent capital improvements and developments.