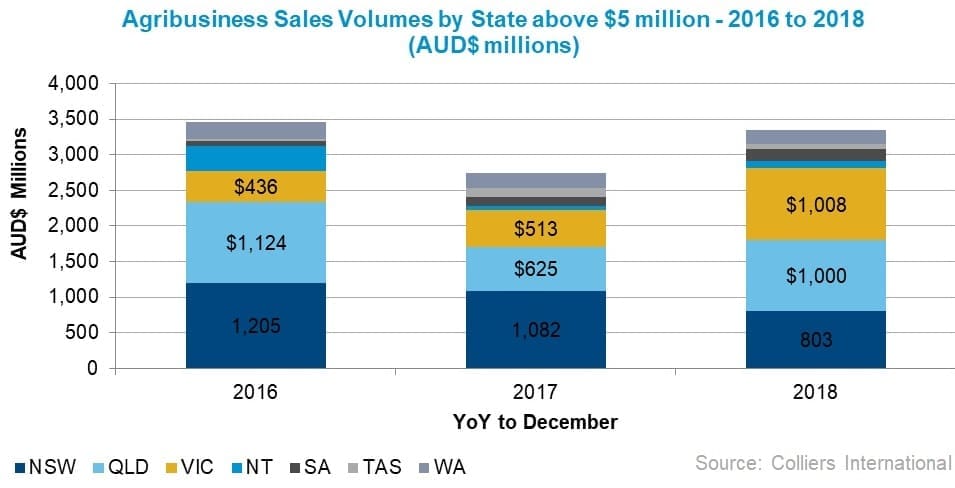 THE number of Australian rural property transactions in the $5 million-plus bracket has been largely unaffected by drought over the past three years, Colliers International told participants in a property webinar this week.
Drawing on data presented in the company's annual property research and forecast report, Colliers Head of Agribusiness Transaction Services, Rawdon Briggs said capital spent on agribusiness land in transactions worth at least $5 million had peaked in 2016, with 242 deals worth a total of $3.45 billion (see graph above).
The number of deals worth above $5 million grew in 2017 to 256, but total value that year declined to about $2.75 billion, the data showed.
Last year the statistics, which include related party transactions, rose again to $3.34 billion in value, from 254 deals.
"In 2017 and 2018, we have seen higher transaction numbers plus-$5 million, as the neighbour-to-neighbour market really kicked into gear, fuelled by cheap debt and higher commodity prices," Mr Briggs said.
However the 2018 calculation did not include three large deals executed late in the year which settled in the first quarter of this year.
"If these deals had dropped as planned in 2018, it would have created a new peak capital year for transactions above $5 million for agribusiness," Mr Briggs said.
Colliers research found that the drought had had no effect on total expended capital on land nationally – even with the declines in the Northern Territory (down 71pc), and NSW (down 33pc) over the last three years. Victoria, Tasmania and South Australia all more than doubled in total transaction value above $5 million over the same period.
Mr Briggs said Queensland was a rural property market on the rebound, after its lows of 2017, while WA had shown no volume, or deal volatility whatsoever over three years of the survey, despite excellent growing conditions for winter crop.
He said the active participants in the Australian agribusiness investment market were now very diversified, including neighbouring farmers, offshore agribusiness firms, institutional investors, wealthy private investors and private-family funds, all seeking to add to existing assets or diversifying their investment portfolio.
Overall agribusiness property activity had continued growing gradually in 2018, despite the key challenges imposed by the severe weather activity, the slowdown of Chinese economic growth and the trade war between China and the United States, Colliers personnel told this week's webinar.
"The long-term gradual growth of farm production activity and agricultural trade surplus support the view that agricultural business activity continues to boom and provide a solid economic environment for property investment, particularly for offshore institutional investors looking to diversify the risk exposure of their investment portfolio," it said.
However, the consistent drought in many agribusiness regions remained as the biggest threat to future investment mandates.
The beef cattle market in the southern part of Australia had largely been influenced by the prolonged drought in 2018, mostly affecting the eastern seaboard and South Australia.
Due to the decrease in feed, supply of young cattle to market had increased. Lotfeeders had experienced increased input costs on the back of solid finished cattle prices. 2018 slaughter numbers were slightly higher than 2017 with an increasing number of breeding stock sent to slaughter.
The flooding in February in North Queensland had had significant impact on local producers, with catastrophic cattle losses producing a profound effect on their future calf production.
Industry and Property Outlook
The 2019 year was shaping to be an interesting year for the beef market with a number of global factors set to impact the export trade, including trade tensions between the US and China, the effects of Free Trade Agreements, exchange rate and increased production from competing supply channels such as the US and Brazil.
Cattle supply and slaughter numbers will again be dependent on the season with the Bureau of Meteorology forecasting 'near-equal' chances of a wetter or drier second quarter in 2019.
"Demand for good quality grazing assets in higher rainfall areas should remain solid as the appetite for reliable beef production of both breeding and weightgain and finishing operations continues," Colliers said.
"Corporate, institutional and family enterprises continue to show strong interest in quality beef properties in southern Australia."