Our final property review for 2022 includes this wrap-up of interesting recent listings across the country, and a separate article of recently completed sales of note.
Interstate interest tipped for New England grazing
Pork investment opportunity
$3m+ for NSW high rainfall block
Historic New England cattle property withdrawn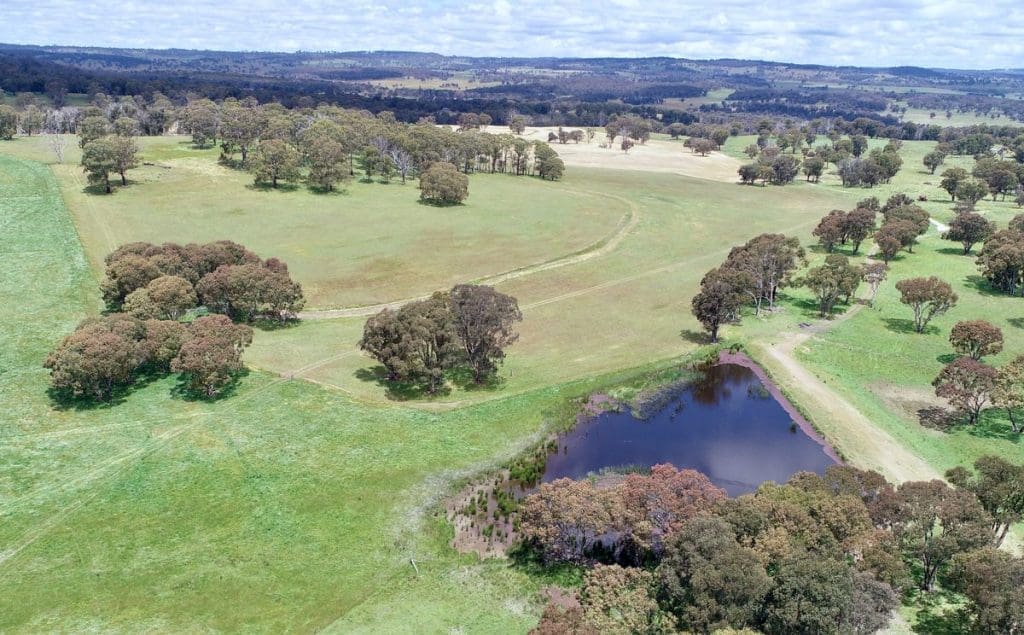 Interstate interest tipped for New England grazing
After 17 years ownership, Andrew and Sue Ross are listing their large-scale grazing property in the renowned New England region of New South Wales.
Midlands, pictured above,  is situated in a 900mm rainfall district, 22km north-west of Guyra and 57km from Armidale – close to livestock selling facilities at Guyra, Inverell and Armidale.
The 1006ha property is currently boasting an excellent body of feed. The country is gently undulating and consists of basalt and trap soils with some loamy creek flats. Around 75 percent is arable.
Midlands is running a cattle, wool and prime lamb operation with an estimated carrying capacity of 9500 dry sheep equivalents. Vendor Sue Ross believes with additional forage crops and pasture improvements this number could be increased.
The property features a 1.5km double frontage to George's Creek and is watered by 33 dams (mostly spring-fed), as well as two equipped bores.
Midlands has been developed with good fencing, laneways for ease of management and sheep and cattle infrastructure.
Sue Ross, who is also the principal of Sue Ross Real Estate Guyra, is anticipating good interstate interest.
"The most likely buyer is a cattle producer from Queensland. My husband and I hail from Longreach and secured Midlands in 2005 due to its reliable and high rainfall," she said.
Midlands is being offered for sale by expressions of interest closing on January 24.
Pork investment opportunity
Oxley Capital Partners is offering investors an opportunity to purchase or partner with one of Australia's largest privately-owned pork production enterprises.
Six years ago, five family-owned grower shareholders (the Salisburys, Taylors, Andersons, Fishers and Whitbys) combined their assets to form the Riverbend Pork Group.
Today, the operation breeds and grows up to 100,000 pigs on 12 farms spanning 1038ha, on six leased holdings and with an additional 20 contracts across south-east Queensland and northern New South Wales.
Based in Toowoomba, it supplies its 100 percent Australian farm fresh, whole pork carcases direct to butchers and processors locally, interstate and internationally.
Oxley managing director Ben Craw said the consortium was looking at broader opportunities.
"The pool of potential investors includes a new third-party equity partner, existing players (growers and/or processors), corporate operators or strategic investors," he said.
Mr Craw said the first stage (non-binding and indicative offers) of the expressions of interest campaign will close on December 19.
"A preferred investor or investors will then be shortlisted and invited to participate in a formal stage two which will run from mid-January to mid-February."
$3m+ for NSW high rainfall block
A high rainfall grazing property located on the renowned Southern Tablelands of New South Wales has been listed for $3.15 million.
Sunnyside is located 19km from Yass and 60km from Canberra and is being offered for sale for the first time in 72 years.
The 343ha block features commanding views over the Murrumbidgee and Yass River valleys and it has a history of carrying 2000 dry sheep equivalents together with sheep and cattle breeding.
Production is underpinned by improved and native perennial grass and clover pastures that respond strongly to produce quality forage regardless of the timing of rainfall.
Sunnyside is fenced into nine paddocks and securely watered by two creeks and a number of dams.
Selling agents Col Medway and Tim Corcoran said the high rainfall grazing property has subdivision potential.
"More than 5km frontage to three council-maintained roads provides efficient subdivision options to take advantage of the minimum lot size of 40ha – subject to council approval," he said.
Withdrawn from sale: Historic New England cattle property fails to sell
The historic high rainfall grazing property Stony Batter, located in the renowned New England region of New South Wales, has been withdrawn from the market by Sydney-based businessman Chris Nivan.
In February this year, the 1696ha Bundarra property was offered as an aggregation with the 1509ha Arabanoo at Bingara (which sold in October to Tim and Rebecca Brazier from the Choice Angus Stud for $5.2m or $3446/ha).
In April, Stony Batter returned to the market with a $13.5m (bare) price tag.
The picturesque 1696ha holding is situated halfway between Uralla and Bundarra.
Featuring a 7km Gwydir River frontage, the property is watered by a 16 megalitre water entitlement for irrigation, two solar pumps supplying 36 water troughs, 50 dams and two creeks.
Stony Batter has grassy box woodland areas which are equally suited to cattle and sheep.
Click here to access more properties listed for sale