THIS week's property review includes this wrap-up of interesting recent listings across the country, and a separate article of recently completed sales of note.
NQ's Camel Creek offered for first time in a century
Southern Tablelands' Kerrawary could make $7-$8m
Dramatic appreciation expected for New England's Khancoban
Blackall's Lorne listed for $16m
Eastleigh a fertile and productive gem
NQ's Camel Creek offered for first time in a century
A strong performing, large-scale breeding and fattening operation in North Queensland is being offered to the market for the first time in more than 100 years.
Camel Creek Station is being sold by the Atkinson family on a walk-in walk-out basis including 2250 mixed cattle.
The 26,100ha property, in a single rolling-term lease, is located 75km from Greenvale and 110km west of Ingham.
The country undulates into hills with large areas of river flats and hollows, as well as an extensive area of open and semi-open country.
Alluvial and large areas of strong dark soils are predominant and carry a strong mix of native pastures and stylo.
To date, Camel Creek has experienced an average wet season and is conservatively stocked with between 2800 to 3000 adult equivalents. However, the vendors estimate a long-term carrying capacity of between 3250 and 3500 head, season-dependent.
David Woodhouse from Nutrien Harcourts Charters Towers said opportunities like Camel Creek were rare at best, but even more so given the tightly held area in which it is located.
Mr Woodhouse said Camel Creek will attract different market participants.
"It could be a standalone operation as it is currently. It would also integrate well into a larger breeding operation, or as a supply hub for a backgrounding/fattening enterprise."
Camel Creek is watered by 130 dams, two bores and numerous seasonal and semi-permanent waterholes in the traversing water systems including the Camel and Redbank Creeks.
The highly regarded 'ZW7' brand will be sold with the property, as well as an extensive list of full working plant and machinery.
Camel Creek will be auctioned by Nutrien Harcourts on August 18.
Southern Tablelands' Kerrawary could make $7-$8m
After 160 years of ownership, the Loseby family is selling its 962ha grazing block Kerrawary, along Sydney's south-west corridor in the Southern Tablelands.
Settled in the 1860s, Kerrawary once formed part of a larger holding which has been sold off over the years.
Inglis Rural Property has been appointed to sell the property which is expected to make between $7 million and $8 million.
Situated at Big Hill, 25km from Marulan and 40km from Goulburn, the scenic country ranges from open plateaus to lightly timbered ranges and a portion of dense bushland.
Historically, Kerrawary has operated as a sheep enterprise. More recently it has been run as a beef breeding and backgrounding platform that can carry up to 3000DSE, with scope for further development.
Selling agent Liam Griffiths said Kerrawary will attract a large buyer pool.
"There has been good inquiry from Sydney investors seeking scale and a lifestyle change in a well-located area."
The 962ha holding comprising 21 freehold titles has the ability to be subdivided, subject to approval, with the minimum lot size 100ha.
Featuring 6.5km of Wollondilly River frontage, Kerrawary is also watered by a number of creeks and a large network of strategically placed surface dams, many of which are spring fed.
Kerrawary is being offered for sale via online auction on August 3, if not sold prior.
Dramatic appreciation expected for New England's Khancoban
After two years of ownership, Inverell's John and Sarah Thompson are offloading their New England grazing property, Khancoban, to consolidate their assets.
The couple secured the 703ha holding in May 2020 for around the $2.4 million ($3414/ha) asking price. That investment is now expected to double, with Simon Cudmore from LAWD anticipating the price to achieve north of $5 million.
Khancoban is situated 45km south-east of Glen Innes and 50km north-east of Guyra in a highly-regarded high-rainfall grazing district, widely acclaimed for its strong and consistent production performance.
The country is undulating to hilly boasting a productive blend of basalt, granite and loam soils.
Khancoban has a proven production history of carrying sheep and cattle with capacity to run 5600 dry sheep equivalents. It is conservatively stocked with 2500 Dorper ewes and lambs, but previously carried 550 cows (50 with calves) and 700 Dorper sheep.
Water is a feature of Khancoban. It benefits from 1.7km double frontage to Moggs Swamp and has 41 dams (23 spring fed), as well as a solar-equipped bore.
The property is subdivided into 32 main paddocks and has recently undergone significant upgrading of internal and external fencing, including 8km of exclusion fencing.
Khancoban is being offered for sale by LAWD (Land, Agribusiness, Water & Development) via an expressions of interest campaign closing on August 3.
Blackall's Lorne listed for $16m
The well-grassed cattle backgrounding property Lorne in central western Queensland has been listed for sale for $16 million after failing to sell at auction.
Spanning 15,803ha, the property is located 60km south of Blackall and 100km west of Tambo.
The country comprises deep cracking clay soils growing a mix of Mitchell, buffel, Flinders, button grass, herbages and native succulents. The downs country is lightly timbered by gidgee, coolibah and bauhina trees.
Exclusion fencing is in place on the western boundary and part of the southern boundary.
Lorne is watered by eight dams and an artesian bore that is reticulated to 27 tanks and troughs.
The successful purchaser will be offered early access for 2000 backgrounders.
The marketing and sale of Lorne is being handled by Mark Scherwin from Ray White Rural.
Eastleigh a fertile and productive gem
A picturesque and productive grazing block on New South Wales' Southern Tablelands is being offered to the market for between $6.175 million and $6.475 million.
The 520ha Eastleigh is situated at Golspie, 20 minutes from Laggan and 25 minutes from Crookwell – just under three hours from Sydney.
The property boasts picturesque and undulating protected eastern fall country in an 800mm rainfall region.
Eastleigh features fertile and productive pasture improved country currently running 3200 ewes and lambs, and 90 cows and calves.
Water is secured by the Blade of Grass Creek, 18 dams and a bore.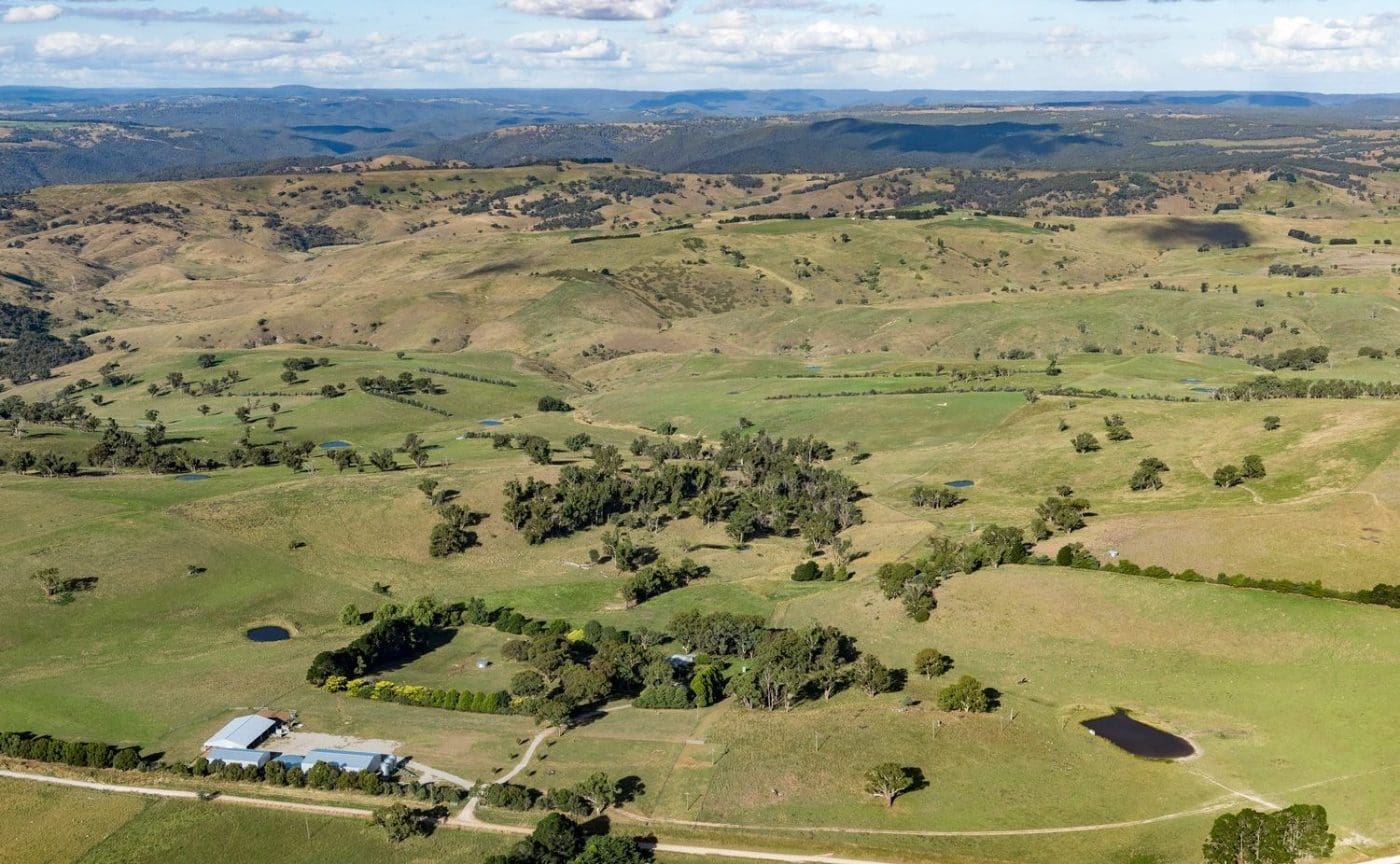 Click here to access more properties listed for sale