Local SA cattle producers buy Kidman's Anna Creek
More WA holdings sold to one of Kidman's new Chinese owners
Assets held by sovereign wealth funds surpass $6.5 trillion
Treasurer confirms no Kidman decision before Federal election
Former RM Williams boss sued over $100 million farm failure
Processing assets will attract interest
Property on the menu at Barcaldine beef forum
Local SA cattle producers buy Kidman's Anna Creek
South Australia's Williams Cattle Co has reached terms to buy the world's largest station Anna Creek, on the south western corner of Lake Eyre in the state's northwest.
Anna Creek was originally offered as part of the S.Kidman dispersal, but was excised after overseas investment security concerns were raised by the Federal Government over its proximity to the Woomera test area. The property's immense size at 23,677sq km also greatly lessens the overall S. Kidman 'footprint', from around 100,000sq km to 75,000sq km.
The purchase of Anna Creek will bring the total holdings of the Williams Cattle Co to about 45,000sq km and allow it to increase its cattle herd from 25,000 head to about 35,000 head, the Adelaide Advertiser reported.
The deal was revealed in the sales agreement on Tuesday but it will be subject to Foreign Investment Review Board approval for the sale of the rest of S. Kidman and Co to a Chinese-Australian consortium.
Williams Cattle Co managing partner Wayne Williams said that as proud South Australians, the family would be honoured to become the custodians of Anna Creek station and continue the sustainable practices undertaken by S. Kidman and Co.
More WA holdings sold to one of Kidman's new Chinese owners
One of the largest shareholders in the newly formed Kidman buying consortium has separately bought a group of properties in Western Australia.
The West Australian reports that Shanghai-based company has signed deals to buy stations in the Kimberley and Goldfields and farms on the edge of state's Wheatbelt.
The Shanghai CRED investment around cattle production in WA is separate to its investment in the winning $371 million offer for the Kidman interests.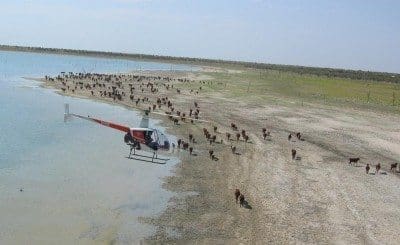 Shanghai CRED has bought Yakka Munga and Mt Elizabeth stations in the Kimberley through Australian operating arm, Shanghai Zenith.
It will also own Mertondale, Riverina, Perrinvale, Clover Downs, Jeedamya, Melita and Kookynie stations in the Goldfields region, subject to approval from the Foreign Investment Review Board and WA Lands Minister. The Goldfields stations cover more than 1.2 million hectares.
It is estimated Shanghai CRED may have picked up the nine pastoral leases and 14,000ha of farmland near Marvel Loch for about $25 million, including the $8.75m it paid Buru Energy for Yakka Munga (pictured) this year. The Marvel Loch farmland will be used to grow-out weaner cattle from the Goldfields stations for either live export or domestic processing.
The stations are thought to carry fewer than 20,000 cattle in total. Shanghai CRED plans to boost stock through investment in infrastructure. Its initial focus is on cattle, but plans include tourism and other land production.
Shanghai CRED has spent almost two years planning its investments in WA after enlisting the help of Elders corporate account manager Andrew Farson and Perth-based project manager Tony Cheng of legal firm Corrs Chambers Westgarth. Elders pastoral estate specialist Greg Smith, who helped handle the sales, said the Goldfields properties had failed to attract local buyers.
Source: The West Australian
Assets held by sovereign wealth funds surpass $6.5 trillion
An annual review of sovereign wealth funds has found that the total  assets under management of sovereign wealth funds globally has increased by $200bn over the past year. As of March 2016, these funds hold $6.51 trillion (that's a 't' at the front, not a 'b') in assets on behalf of their countries.
Preqin's 2016 Sovereign Wealth Fund Review says the growth has happened despite global market volatility and low oil prices. "This growth was driven by non-commodity funds which added $290bn in assets; hydrocarbon funds lost $10bn, while other commodities funds saw their assets under management more than halved from $130bn to $50bn," Preqin said.
Forty-five percent of sovereign wealth funds saw their assets increase over the 12 month period, while 19pc saw their figures remain the same as in March 2015. Although the rate of growth has been noticeably slower than in previous years, sovereign wealth funds now hold more than double the assets they did in 2009, when the aggregate assets under management totalled $3.22tn.
A rising proportion of sovereign wealth funds are now actively investing in alternative asset classes, like agriculture, although fixed income and public equities investments still comprise the largest proportion of most portfolios. About 55pc of sovereign wealth funds now invest in private equity, up from 47pc in 2015, while 62pc invest in both real estate and infrastructure.
Sixty-eight percent of all sovereign wealth funds have been launched since 2000, illustrating the rapid growth of the investor type. In the last six years, 14 sovereign wealth funds have been launched, with Bolivia and the Philippines reportedly in discussions to launch new funds soon.
Collectively, sovereign wealth funds based in the Middle East and Asia represent 76pc of all industry capital, and 45pc of the number of funds. North America accounts for just 3pc of aggregate sovereign wealth fund capital, while 14pc of funds are based in the emerging region of Africa.
Preqin spokeswoman Selina Sy said sovereign wealth funds were an increasingly active and important class of investor, now controlling more than six and a half trillion dollars' worth of assets on behalf of their countries.
"They have added more than two hundred billion dollars to their assets over the past year, and remain highly sophisticated and resilient investors who are increasingly becoming involved in alternative assets and direct investment," she said.
"However, recent macroeconomic conditions have posed a particular set of challenges to sovereign wealth funds, with falling commodities prices affecting the source of funding for many funds, and global equity markets remaining volatile. Given that many sovereign wealth funds are established by oil-producing nations, it is perhaps unsurprising that the rate of increase in assets has slowed; several of these funds have been fulfilling their function by providing for budget deficits in more challenging economic periods."
Treasurer confirms no Kidman decision before Federal election
Treasurer Scott Morrison this afternoon confirmed that a proposal to sell S. Kidman & Co cattle stations to a foreign buyer will not be finalised before the Federal election.
Kidman yesterday announced a Chinese-Australian consortium as its preferred buyer for its aggregation of cattle properties, minus Anna Creek, but the deal must be approved by the Foreign Investment Review Board and the Treasurer before it can go ahead.
Mr Morrison said he signed an order last week that "prohibits the Kidman transaction from proceeding" until after the expected election date of July 2.
"This provides further time for me to consider the national interest implications of this complex and sensitive acquisition," he said.
ABC reported that the Treasurer had also announced that he has asked his department to launch an external and independent review of the Kidman tender process.
"I want to be absolutely confident when I finally consider this matter that Australians have had every opportunity to be participating in that process," he said. "We will continue to work through this process. I will not be rushed into this. I will make a careful consideration on these matters. This is a very big transaction and it's important we do the right thing by the national interest."
Former RM Williams boss sued over $100 million farm failure
Former RM Williams chairman and News Corp boss Ken Cowley is being sued for allegedly mismanaging a farming/carbon offset company that went bust owing nearly $100 million.
The Sydney Morning Herald reported that receivers are pursuing Mr Cowley and five other directors of the RM Williams subsidiary Agricultural Holdings for compensation and damages, alleging irresponsible purchases during the global financial crisis.
The deals at the centre of the Supreme Court case involved grazing properties in two states and a $30 million arrangement to offset News Corp's carbon emissions.
The receivers, PPB Advisory, alleged in court documents Mr Cowley and other directors paid too much for properties, assumed an unrealistic cattle price and failed to account for the severity of the financial crisis. The six are defending the receivers' court action and have denied breaching their duties.
Mr Cowley headed the board of RM Williams when he became the first chairman of its farming business in 2009. Agricultural Holdings soon bought two Northern Territory cattle stations, Labelle and Welltree, for a combined $48 million. To help purchase the Labelle station, the company entered into a $30-million deal to give News Corp 640,000 tonnes of carbon credits a year for five years.
As part of that project, it received $10 million in taxpayer funding to buy Henbury Station near Alice Springs to create what would have been the world's largest carbon farm. Henbury was bought for $13m in 2011, selling for around half that three years later when RMW Ag Holdings went under.
The receivers alleged Mr Cowley failed to exercise care as a director because he did not obtain fresh valuations or financial modelling after the crisis deepened in 2008 and 2009. They said the company had been cash-strapped, lacking the resources to make large purchases and then invest in them properly. Mr Cowley has filed a defence denying the financial modelling was too old.
Click here to view the original story.
Processing assets should attract interest
Movement at the Station does not often venture beyond cattle production assets, whether they be grass-based grazing systems or feedlots – but we thought we'd make an exception this week.
Two excellent Queensland meat processing/value-adding facilities have come on the market in the past couple of weeks.
Leonard and Co/Raine & Horne is marketing the Yarrill Meat Processors complete killing and processing facility at Stanthorpe. The plant has specialised in the processing of cattle, sheep and pigs, producing up to 10 tonnes of product each week.
The facility is built around two main buildings, situated on 40ha of land. The site last operated in 2015, distributing carcase and quarter beef locally, around the state and interstate to wholesalers and retailers and provided processing under service kill arrangements.
Meanwhile, Colliers International is offering a large, modern meat production and cold storage facility at the Gold Coast, formerly occupied by the well-known TopCut business.
This high quality food-grade facility includes some of the latest in food manufacturing and infrastructure technologies with recent extensions.
The property includes a 7000sq m food production/manufacturing facility with all infrastructure in place for immediate operation; raw meat and cooked meat plant, chillers, freezers, preparation and processing rooms, boiler rooms, washrooms; Substantial power, water and gas supply; extensive load-out facility (pictured above), air-conditioned offices and admin areas, change rooms, café and lunch room.
The plant is fully certified for HALAL, USDA and AQIS accreditation.
Expressions of interest close Wednesday 18 May.
Property on the menu at Barcaldine beef forum
Ruralco national property manager Andrew Adcock will be one of the panellists taking part in a Beef Industry Forum in Barcaldine next month.
Joining Mr Adcock as rural property specialist in the panel will be organic beef producer Russell Pearson, Bull Creek, McKinlay; Phin Ziebel, Senior Analyst at NAB Melbourne; lotfeeder Brett Campbell, Mort & Co livestock Manager; and Kurt Wockner, Oakey Beef livestock manager.
The event will be held'under the stars', at the Barcaldine Saleyards on Friday night, 6 May, where dinner and a bar will be operating.  Entry is free, and live music will be playing until late.
The panel discussion is aimed at identifying the direction in which the Australian beef industry is heading over the next 10 years. Emphasis will be placed on the opportunities and strengths of the industry which can be built on, together with outlining potential threats and current weaknesses the industry suffers.
RSVP for catering purposes – Beccy Plumb 0427511561