TURNING over a property profitably only works when the market is moving forward, and it has been making 'forward progress' – to say the least – for the past three years.
This week's property review examines grazing property re-sales – holdings that have transacted a number of times over the past two to ten years.
Re-sales are not all that common over shorter timeframes, but they do happen, and provide a graphic representation of recent market movement.
There is a long list of motives behind buying and selling a property over a short timeframe – from family issues to health or financial.
In some cases, it is a short-term strategy – purchasing country for grass can equate to the cost of leasing. Buyers hope to get their money back and are sometimes rewarded with capital gains. Others try to capitalise on the market and reposition their assets.
Rockhampton-based Will McLay, a property valuer with Herron Todd White, has unearthed some excellent examples of grazing property re-sales that clearly illustrate just how far the market has moved, and how quickly.
In the table published below, a series of re-sale property examples across Queensland showed percentage changes in value as high as 58pc per annum (a holding in Central western QLD, over 41 months from August 18), to 53pc PA (same region, over 17 months from December 2019) and 45pc PA (Central QLD coast over ten years to October 2021).
During a presentation at HTW's annual property breakfast in Brisbane, Mr McLay identified three key current markets drivers for grazing property in Northern Australia.
Until this point, low interest rates and rising equity levels have fuelled competition in the family/owner operator scale.
The flow of corporate capital into northern opportunities – grazing and irrigation assets.
Market strength underwritten by strong commodity prices.
He said grazing re-sales are interesting for valuers, because they provide good benchmarks on market direction.
"The sale and re-sale of a property which maintains the same physical characteristics in different markets provides one of the better examples of true market trends," Mr McLay said – however every property sale was different.
"There may be various reasons why a vendor chooses to sell or buy a property and that could distort the broader direction of the market. Assuming they are fairly typical buyer and seller scenarios then those transactions are the best evidence of where the market is trending."
Larger grazing operations are more likely to transact with some level of stock, however valuing striped properties back to a 'bare' basis.
"When there is significant capital uplift in the market cycle, expenditure undertaken on infrastructure can have minimal relevance in the context of the total increase in the value of the property."
"In other words, a really strong market can engulf property developments and improvements. More often than not, places return to the market in the same condition and still demonstrate solid levels of uplift," Mr McLay said.
He said each re-sale should be assessed on a case-by-case basis.
"If development on the property clearly justifies an uplift in carrying capacity or productivity, then the market is likely to recognise this in any stage of the cycle. However, when there are few properties on offer to the market, the general state of improvements has a reduced impact on values."
Central QLD hot-spot
In Mr McLay's view, Central Queensland is the most reactive grazing market in the state.
"The region has a large number of very high-value family operations with scale and the ability to chase properties when the market is strong – making CQ the most contested rural markets, particularly for grazing properties."
He identified the 23,159ha Comely and Mapala Stations near Bauhinia, south-west of Rockhampton, as one of Queensland's standout re-sales of recent times.
The holding has transacted four times since 1997.
Sales history (bare):
1997: $8m – Sold by Heytesbury Cattle Co to Prudential Pastoral
2008: Sold for $29.3m – Georgina Pastoral to Bill Reid (Pegunny Pastoral) (editor's note: sale of broader assets made it impossible to value Comely and Mapala separately in the earlier Prudential – Georgina transaction)
2011: Sold for $27.5m – Bill Reid to Consolidated Pastoral Co
2019: Sold for $46.5m CPC to Stirling Buntine's Baldy Bay Pty Ltd
The 22-year period of these sales reflected:
481pc or $35.5m increase in value over the period
22pc or $1.75m annual growth
Commencing rate of $1150/AE and last sale rate of $5800/AE.
When CPC purchased Comely and Mapala in 2011 it was primarily for cattle backgrounding and finishing. It is not known how much it spent on the holding, however it is understood to be extensive (other than general land management). It was offloaded by the corporate owner in 2019 as part of an asset sell down.
Other notable re-sales
Herron Todd White property valuers identified a number of other transactions across different regions in Queensland and New South Wales which demonstrate the big advances in value:
10,000ha Romulus, Jundah (Central QLD – see graph below)
Sold eight times over 33 years
Last transacted in 2021
480pc increase since 1988
55pc annual increase.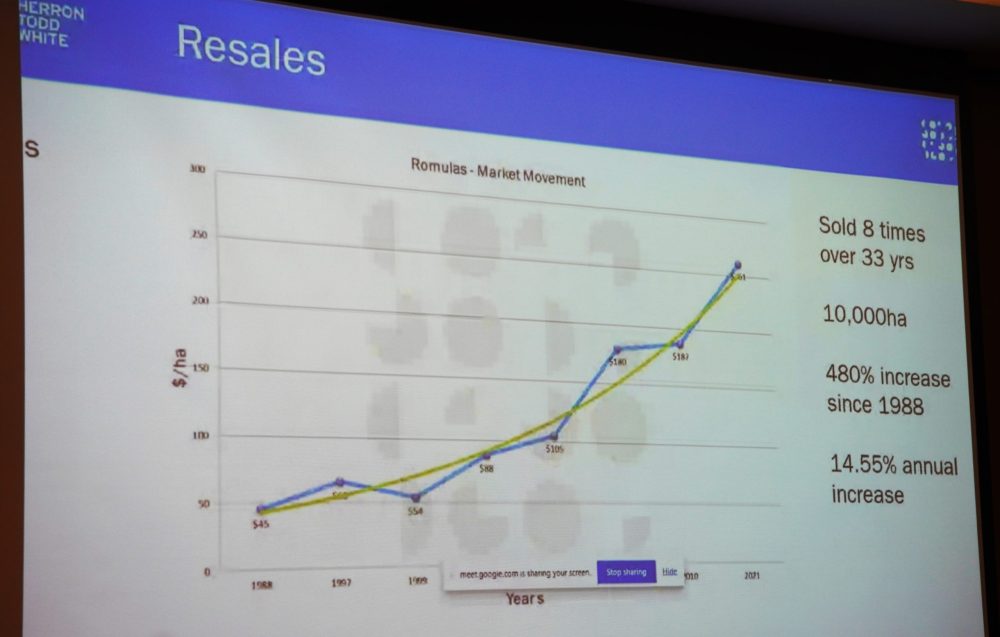 34,000ha Mt Harden, Blackall-Tambo (Central West QLD)
Sold twice in three years
Transacted in 2018 for $13.26m ($390/ha) bare
Last transacted in 2021 for $24.7m ($729/ha) bare or $7250/AE
Capital gain $11.44m representing an 87pc lift.
10,264ha Pauralos Park, Longreach (Central West QLD)
Sold twice in two years
Transacted in 2017 for $2.4m ($234/ha) bare
Latest sale in 2019 for $4m ($390/ha) bare
Capital value gain $1.6m representing a 67pc rise in two years
The vendor sold for quick, opportunistic capital gain after spending $300,000 on a new cattle yard (from sheep infrastructure to cattle), as well as water upgrades.
22,700ha Redrock, Einasleigh (Far North Queensland)
Sold twice in nine years
Last transacted in 2021 for $7.5m ($330/ha) bare
Previously sold in 2012 for $2m ($88/ha) bare
Capital gain $5.5m or resale factor of 3.75 times in just under nine years
The magnification reflects unfortunate initial sale circumstances and then strong current market conditions.
52,245ha Nimboy, Cooladdi (South West QLD)
Sold in 2020 for $3m ($57/ha) bare or $2000/AE
Previously transacted in 2018 for $2.7m ($52/ha) bare
$300,000 capital gain or 10pc improvement
After less than 2.5 years, the Chinese-based foreign investor owner had a change of strategy after purchasing several Victorian properties. The property is encumbered by two carbon abatement projects with payments maturing in 2026.
45,601ha Besm, Thargomindah (South West QLD)
Sold in 2020 for $3.9m ($86/ha bare) or $2600AE.
Previously transacted in 2017 for $2.25m ($49/ha bare)
Capital value gain $1.65m, an increase of 73pc.
Besm was purchased as a drought strategy.
Wirruna, Young (Southern NSW)
Sold in 2009 for $6.8m (1771ha @ $3830/ha) bare
Sold 2020 for $39.9m (2521ha @ $15,836/ha) bare
After adding 750ha, the capital gain over 11 years was $12,006/ha or 313pc
The vendor purchased country elsewhere.
5800ha Warragundi Aggregation, Mudgee (Central Tablelands NSW)
Sold in 2021 for $22m ($3793/ha) bare
Previously transacted in 2019 for $19m ($3276/ha) bare
Capital value gain $3m, representing 15.7 percent increase
After 18 months of ownership, South Korea's Hanwha Group cited a change of direction with its agricultural investment in Australia.